Disability is a complex phenomenon representing an interaction between one's physical impairments, the activities one needs to perform, and the architectural barriers within the space in which this situation occurs. Disability is not an age-related condition. The terminology and jargon used for disabilities evolve regularly, whereas "handicapped" is not widely accepted. Disability is no longer merely a description of intellectual or physical impairments. Each individual with similar impairments describes his or her limitations differently. The blind don't experience their world the same as a person with deafness. Some of our societal statistics that weigh into Aging in Place situations include reports stating that 19% of the population between the ages of 16 and 64 and 42% of those of us 65 and over have a physical disability affecting the activities of their daily lives. Aging in Place home remodeling in Dripping Springs for a progressive condition comes into play. This is the only way to ensure safety and mobility for the homeowner or family member requiring the home modifications. The two main groups driving elder construction and the Aging in Place market are those people who are 65 and over and the baby boomers. The first group reached 55 million in 2020. The baby boomer generation born between 1946 and 1965 today makes up 28% of the U.S. population and some 77 million people. The published guidelines for ADA accessibility for buildings and facilities are an excellent resource for ideas on making a home safer and easier to live in. Many of these published guidelines, particularly requirements for corridor and door widths, safety bars, and proper access to different facilities, can go a long way in extending the amount of time an elderly or physically impaired individual can live independently.
The situation holds for a disabled child, only on a smaller but changing scale. It is estimated that 5.4 percent of children five to seven years old are disabled representing a considerably large portion of the population. Sometimes, the living environment must be changed to impact the child's life significantly. Making your home accessible for a special-needs child will give your entire family a feeling of security and freedom. Your child with the disability will become more comfortable and be able to maneuver through and use the home more safely. They will be able to develop the life skills they need in their daily environment rather than just focusing on treatment. Fortunately, whatever is needed in the way of home modifications to create a safe and comfortable environment for your child is available through the registered and certified CAPS program. Accessibility should be a concern no matter what your age. If your concerns are not for you, barring any life-changing accident, they could concern the accessibility of another generation's independence in using the bathroom. Furthermore, today's multigenerational households exhibit accessibility issues affecting three to six generations, all of which must be addressed. CAPS professionals in the remodeling industry can help solve these issues while performing design/build home modifications.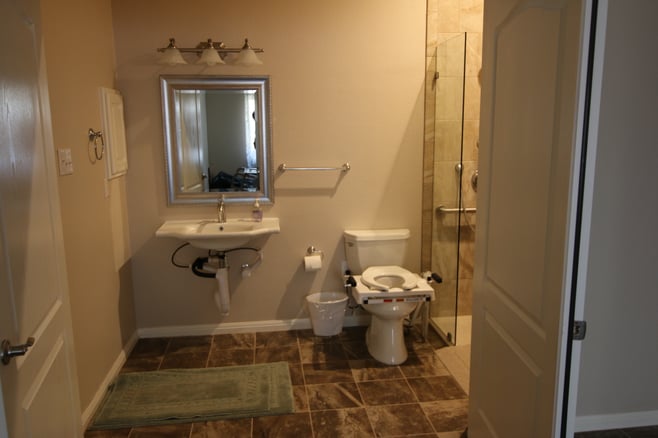 Modifications of existing homes are necessary because people aged 50 and older want to remain in their current homes for as long as possible. This desire is known as Aging in Place. Aging in Place home modifications in Dripping Springs should only be undertaken by a CAPS-certified remodeling company. This is the only way you can be assured that the home modifications are the right choices to satisfy your needs. There is no need to waste money only to discover that an inexperienced and unqualified remodeling company did the wrong alterations. Indeed, a trained CAPS professional and remodeling contractor with years of experience will cost you more than a handyman illegally playing among the trades at your peril. Still, then again, there are those professional guarantees to consider. The professional versus the handyman is more likely to seek your overall satisfaction that will follow him into his next job. An actual building professional can also orchestrate the job's smooth flow limiting the downtime of a most functional room. Always check their credentials to verify that the remodeler holds a CAPS certification. All registered CAPS program graduates and their remodeling companies will be listed in a national registry in Washington. The information can be found by simply visiting nahb.org/CAPS.
Being proactive and preparing for one of those highly likely events involving someone in your home needing room modifications for even a short time while recovering from surgery is undoubtedly an intelligent move. The new evolving concept known as Universal Design for home remodeling is catching on nationwide and has been a sign of the times for several years. These new home remodeling advances keep the living environments safer and will not compromise the home's aesthetics or resale value. Exhibiting Universal Design principles in a building makes a home more accessible to all regardless of their mobility or adaptive abilities and at any age. The evolution of new universal products used in room modifications making homes more accessible has come about in the remodeling industry. Homes can become more accessible to people as they age. Universal Design interior modifications include adding grab bars or handrails throughout the home, lowering upper cabinets and countertops, adding non-slip flooring, widening hallways, or installing stair lifts and wider doors. You might also consider lowering light switches and thermostats and installing easier-to-use door levers. Universally, you should try to provide a clear barrier-free path or accessible route to the most visited areas of your home.
David L. Traut, CAPS (#1636580), the owner and president of T-Square Company in SE Austin, is one of the select group of professionals nationwide to earn the Certified Aging-In-Place Specialist (CAPS) designation, identifying him as a home remodeler and builder with the skills and knowledge necessary to remodel or modify a home to meet the unique needs of the older population, disabled owners, or their visitors. We are a registered contractor with the VA to help our veterans. For more information about T-Square Company, visit www.tsquareco.com or call 512-444-0097.