Young Austin homeowners are always looking for ways to bring their existing older home's bathrooms up to date. Bathroom remodels for these smaller baths can incorporate a number of the items listed above in moderation to fit any budget. Using beautiful ceramic tiles in an interesting design, updating plumbing fixtures, and the use of neutral colors can create a small bathroom with a "wow" factor. It is quite possible to produce a small but charmingly remodled bath on a budget. A project that is affordable plus the fact that it will add resale value to your home cannot be denied. Check out all the options before committing to a plan and then stick to it. Always hire a local and professional builder. Remember that producing change orders because no one thought of "that" can be expensive. Create the style for your Austin bathroom remodel that best gives you a feeling of pride!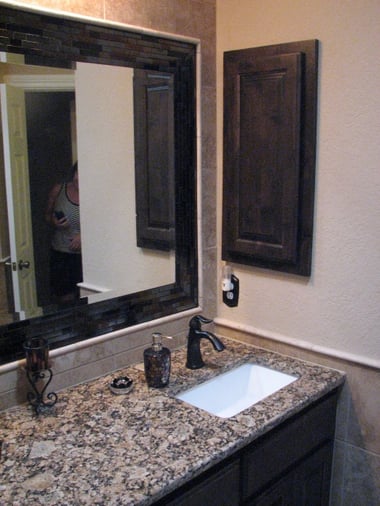 What makes a residential bathroom makeover more Austintaceous in a laid back Central Texas city like ours? What propels a bathroom upgrade to stand alone in Austin like the proud lone star representing our beloved state? What enhanced characteristics are shared but also contribute to all completed bathroom projects making them exclusive and individual? Personality with pride is the only way to sum up all the major characteristics adding up to create a great Austin bathroom remodel. There is a feeling within the new bath that only the great wide open spaces of Texas suggest denying the discomfort of confinement. We all express our individuality living here in Austin. We meld together our backgrounds and cultural differences to form a diverse but unique city with style. Certainly style is what is needed to compliment that pride that Texans feel so strongly.
What about the costs involved? In general, a typical small hallway bathroom remodel in the Austin area can run you about $19,000. However a larger master bathroom makeover can push up your budget to around $40,000 as an average. Don't forget that these are average costs and the client is limited only by their bank account. Just the conversion of a tub into a walk in shower design can set you back around $14,000 as a good medium price range. But what makes the costs appear so expensive? Basically time, the difficulty of the job, and the actual labor costs performed by all the trades involved on top of the expenses to purchase the products chosen for the project.
If you are fortunate to have a larger space to deal with there will be increased costs due directly to the larger area to finish -as in more tiles for a bigger area and the labor to install them. Your costs may go down per square foot but you are certainly dealing with more square footage and the associated increased costs. You need to consider that plumbers, electricians, tile setters, framers, drywall workers, carpenters, and insulation installers, just to name a few trades, will be involved in your bathroom remodel. Now how about the demolition that will be involved before the actual construction begins? Sometimes the preparations behind the walls or floors can take longer than building the new bathroom remodel itself. Perhaps there isn't enough water volume to supply your chosen bathroom shower fixtures requiring a supply line to be enlarged or there just isn't sufficient fall for a gravity drain to work naturally that necessitates a lift pump system be installed. What are the new electrical requirements and layout and do these require dedicated, GFI, or arc fault circuits and outlets and will the existing electrical panel handle the additional circuit breakers or is a sub-panel needed?
In general, bathroom sizes are usually dictated in some respect by the length of the tub which in most cases is five to six feet long. This is evidenced by a tub that has been installed opposite the entry wall to the bath producing a wall to wall tub situation. In this configuration the toilet and vanity are generally placed on one of the walls that are perpendicular to the length of the tub. Here is a great starting point to gain space for a larger custom walk in shower to replace the tub you never use. But if you are fortunate to have both wall lengths exceed the five or six feet norm then space is not an issue and you can proceed with ease. Just choose your finishes wisely and keep all choices within your budget.
Any bathroom transformation must stand out even to their owners after the job is complete and all the workers have gone away. The use of granite, marble, onyx, limestone, or glass tiles during a bathroom upgrade can only be further enhanced when any design utilizing glass blocks is introduced into the mix. Glass block designs can be inserted into an interior shower wall or on the exterior wall itself creating a waterproof window with both privacy and insulating capabilities. Glass blocks also make a great toilet partition when you don't want the confinement of a toilet room.
If you're current situation is cramped but you already have a double vanity, you might gain space for a new shower expansion by either shortening the vanity while keeping the two sinks or by going with one single sink located in the middle of a shorter vanity. This can be accomplished by capping off one sink drain completely and/or deleting the water supply stops. If your toilet is located between the vanity and tub then shortening the vanity is all for naught. You can move the toilet over but this means breaking out the floor to change the toilet plumbing floor flange plus the water supply. Be careful as this alteration can be costly and should only be done to allow certain specific situations to evolve.
Let's move on to either the tub removal to produce a larger walk in shower design or the tub's replacement. A modern free standing soaking tub will require replacing the tub filler with one coming out of the floor or out of an adjacent wall. An under mount tub will require a pedestal with a deck mounted faucet. Even replacing the existing tub/shower valve and tub spout will give you a shiny feeling of newness. A new glass enclosure for a tub/shower combination will provide a revived look plus the more expensive frameless models will bring your bathroom completely up to date.
If deleting the tub during a tub shower conversion to create a custom walk in shower design is your choice then you have a few options to consider. Do you wall in two thirds of the width of the old tub placing the new door away from the shower head? This new wall can be tiled in to match the shower. Using natural stone or glass tiles will certainly be an upgrade for any Austin bathroom remodel. Do you desire a more expensive frameless door set beside a glass panel? The enclosed shower can incorporate a couple of shampoo niches for convenience and clutter removal. The designs are limited only by your imagination and how you want the final product to turn out. Be sure that all your research is justified and don't try to cram too much into your new bathroom remodel. A good design is one that can come into being with the least time spent on alterations and additional costs. Austin bathroom remodeling should involve multiple shower head combinations in multiple locations within the shower to fit anyone's desires. Rain heads coming out of the ceiling, body sprays coming out of the walls in many locations, or hand held units attached to the shower walls can be very practical. These combinations of heads and locations can be used to create rain effects, provide relief for muscle aches through body massages, or simply provide pin point convenience with hand held variable heads. The possibilities are endless as you utilize your bathing environment. Steam generators are also being considered as an investment in today's fine bathroom designs. The steam heads can make the difference after a tough day when you're looking for that more therapeutic spa experience.
Fine cabinetry is a must for any bathroom makeover. As for the vanity, an upgraded cabinet top like quartz installed at the correct height for you is a personal must for function. Do you require a single or double sink configuration? Under mount or drop in sinks? The vanity should have adequately accessible storage satisfying your needs. Incorporating easy operating and properly sized drawers and pull out shelves within the design can be very beneficial. Linen, medicine, and "over the potty" wall cabinets need to be well thought out. The correct species of wood used for the construction of your fine cabinetry and the style of you cabinet doors are two very important factors to consider. Remember, you do have a choice and you are going to be looking at these new cabinets for a while.
Bathroom plumbing fixture choices are numerous to say the least. Always select reputable companies offering the best warranties especially when considering finishes for the faucets or fixtures installed in the project. Larger walk in shower designs should have seamless fiberglass liners or state of the art shower bases to avoid leaks if the house ever shifts. Toilets today come in array of choices. Don't just consider the shape of the new toilet but the height which is also important for universal design. Soft closing or night lit toilet seats are also an option.
Colors for bathrooms today are natural and earthy creating a calming effect. Accents of color reflected from the tiles, paint, fixtures, and woodwork are used to make things a little more interesting compared to a room's overall vanilla tones within your design. Help is just a phone call away but be sure the one who answers has the qualified experience you need for completing your new bathroom transformation. If you're uncertain about how to proceed with any bathroom remodeling project always rely on a local and trusted building professional. Sometimes spending a little money for experienced help with design and construction techniques can save you a lot during the construction process.
T-Square Company in Austin has been an accomplished design/build bathroom remodeling company for over three decades. Call us today at 512-444-0097 to schedule an appointment.