Accessibility should be a concern no matter what your age. If your concerns are not for you, barring any life changing accident, they could concern the accessibility and safety of another generation's independence. As we age, our society is beginning to realize that our homes need to accommodate future life changes. The aging in place phenomena deals with home modifications to existing homes while a universal design home would hardly ever need to address these abrupt issues even though we cannot solve all the future issues for everyone. Everyone ages differently and has their own list of specific needs.
There are seven criteria which must be met to be considered a universal design no matter which area of the home you are referring to. Any design must be equally useful to everyone, have flexibility in it's usefulness, be simple and intuitive, be perceived by everyone, have a tolerance for error, require little physical effort, and it must maintain an adequate area for approach and use. Any complexity or discriminating attribute to a design will doom it in terms of being considered universal in nature. However what better way can you improve on a home's total visitability? Universal Design principles involve the design of products and environments to be usable by all people, to the greatest extent possible, without the need for adaptation or specialized design.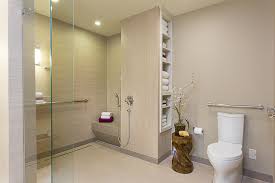 Can you envision building a house as a young adult that you can live in comfortably while you age no matter what your basic physical needs require? This evolving home will contain wide doorways and hallways that can accommodate both a stroller and a wheelchair or walker. There will be a wide open feeling throughout the house's main living areas in the bathroom, kitchen, and living area that do not restrict moving about. There will be blocking behind the finished walls to accommodate secure grab bar installations or the towel racks in the kitchen can double as grab bars as you become unsteady from lack of balance. All the entryways from the front door to the shower entrance are smooth to prevent tripping from high thresholds. All doors and faucets will be controlled by lever hardware. This universal designed home is barrier free without looking modified and is accessible to everyone no matter of their age, size, or capability of movement. This home will be accessible to everyone from your father to your son.
Universal design ideas do not strictly deal with accessibility or aging in place design and does not implement precise ADA standards but it does offer flexibility to add accessories now and later to those planning ahead or to the end user. It also provides for a wide range of human performance characteristics for the way people use spaces within their homes including well integrated usability features. These adaptations have a broad market appeal to everyone for achieving ease of use, safety, and convenience accommodating a certain reality. That reality is that all people exist along a continuum of human performance as per their personal traits and characteristics regardless of their age. A universal approach to design takes into account that everyone has varying degrees of ability and disability rather than someone is either fully-functional or disabled. A universal design build project is appealing to all users.
No matter how old you are you should periodically evaluate your residence to determine whether it suits you not just for the present but the future. Your home assessments will be rethought every time your living situation changes. Whether childproofing for a newborn, making a home more accessible following a sickness or unfortunate accident to someone in the family, or making a toilet area safer for an aging residing parent, there will be an immediate evolution to your primary domicile. These same life span design features are even more important if you believe you're past the age of wanting to move and are relishing the thought of aging in your own home, no matter what physical limitations you might later develop. Incorporating smart aging design concepts through universal design build ideas throughout a home will attract a larger group of buyers when you decide to finally sell your home. Everyone has special needs and there is no one size fits all solutions using universal design. A twenty five year old homeowner with a bad back is really not similar in needs to his or her aging eighty year old grandmother, although they both need added accessibility only in different but similar ways.
The National Association of Home Builders, in partnership with the AARP and Home Innovation Research Labs, created the CAPS program, which includes training and education on the technical, business management and customer service skills essential to compete in the fastest growing segment of the residential remodeling industry--home modifications for aging in place. David L. Traut, CAPS owner of T-Square Company in Austin, Texas is one of the select group of professionals nationwide to earn the Certified Aging-In-Place Specialist (CAPS) designation, identifying him as a home remodeler and builder with the skills and knowledge necessary to remodel or modify a home to meet the unique needs of the older population, disabled owners, or their visitors. We offer and incorporate universal design in all our remodeling projects to limit the expense and hassle of periodically adapting your home to your ever changing needs.
For additional information about the CAPS program, visit nahb.org/CAPS. For more information about T-Square Company, visit www.tsquareco.com or call 512-444-0097.