The concept of successful and independent aging has become increasingly important, while senior citizens dominate the population. An active independent engagement in life through participation in social and productive activities is a very important aspect of successful aging. However, the built environment oftentimes directly interferes with the successful engagements of older adults once their individual needs change. Therefore, it is necessary to provide modified living environments designed to suit the needs of aging adults. This is the essence of the Aging in Place market of today.
What can be done to solve this inevitable housing dilemma facing the growing number of aging Americans? Of all the design theories that attempt to accommodate the aging process, Universal Design is the most desirable option as it provides built environments that benefit everyone, regardless of their age, size, or ability. Universal Design is a promising voluntary philosophy that requires increased attention from designers and builders participating in Aging in Place. Taken as a whole, it is evident that the application of Universal Design to the home environment is a positive step toward successful aging and living for anyone. In fact, the principles of Universal Design segues directly into what is required for Aging in Place.
A Wheelchair Accessible Kitchen Incorporating Universal Design Principles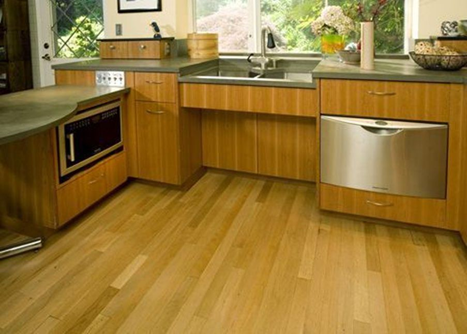 Our existing architecture does not lend itself well to accomplishing any simple Aging in Place home remodels. In fact, there are more inaccessible homes in all of the US than there are accessible homes and 45% of these existing traditional homes are owned by baby boomers. What is more, the baby boomer group represents the largest and oldest group of homeowners. This particular aging group desires to live in their existing home around familiar surroundings as they Age in Place. But what if, for some reason, a home that was once sufficient for all family members becomes no longer accessible. This involves the need for a certified CAPS professional.
Unfortunately, in most traditional residential US properties, there are commonly no easy ways to enter the home proceeding into bathrooms or utilizing kitchens without coming into contact with one architectural barrier or another-especially if a wheelchair or walker is being used to help with mobility issues. While an estimated 80% of aging homeowners have a firm plan to Age in Place, every mobility device requires the proper clearance and distance along a customized accessible route within the home to function properly. This comfortable route is identified during wheelchair remodeling projects.
The National Association of Home Builders, in partnership with the AARP and Home Innovation Research Labs, created the CAPS program, which includes training and education on the technical, business management and customer service skills essential to compete in the fastest growing segment of the residential remodeling industry--home modifications for aging in place. David L. Traut, CAPS the President and owner of T-Square Company in Austin, Texas is one of the select group of professionals nationwide to earn the Certified Aging-In-Place Specialist (CAPS) designation, identifying him as a home remodeler and builder with the skills and knowledge necessary to remodel or modify a home to meet the unique needs of the older population, disabled owners, or their visitors. T-Square Company offers complete services concerning disability renovations beginning with their design/build philosophy. Furthermore, David is certified in Universal Design in the United States and Australia. Call them today at

512-444-0097

to set up a professional assessment of your living situation.
After over a year of writing to fulfill his customers' requests, David's new book, "Age in Place At Home," is available for purchase from Amazon. Go to the link below to order his knowledgeable paperback book, which was released in late November, 2022. It provides a great guideline for using the principles of Universal Design in new home construction and/or remodeling for every room in your home. Get your copy today.
https://www.amazon.com/gp/r.html?C=2Z24ENUUAEWUK&K=13Y7YU7PKKYAC&M=urn:rtn:msg:20221010201802eb9acb7b24004a4785cd2ec1d4f0p0na&R=3R6MK9WDXJPH7&T=C&U=http%3A%2F%2Fwww.amazon.com%2Fdp%2FB0BHTV28RV%3Fref_%3Dpe_3052080_276849420&H=7FWEPMGCH0TT8LN6SKPMUOCVJNYA&ref_=pe_3052080_276849420