All new construction or any bathroom remodel should include an accessible shower with head combinations in multiple locations to fit anyone's needs. Incorporating universal design principles into your home's custom walk in shower design can facilitate aging-in-place goals, while comfortably addressing the diverse needs of all ages and mobility levels using your home. Rain heads coming out of the ceiling, body heads coming out of the walls in many locations, or hand held units attached to the shower walls can make things very interesting and relaxing. These combinations of heads and locations can be used to create rain effects, provide relief for muscle aches through body massages, or simply provide pin point convenience with hand held variable heads. The possibilities are endless as you dial in your bathing environment. Steam generators are also being considered as an investment in today's fine bathroom designs. The steam heads can make the difference after a tough day when you're looking for that more therapeutic spa experience. This has certainly led the way to the thermostatic shower valve with plumbed-in hand held shower that is being used specifically in homes today where owners are planning to retire or needing handicap bathrooms.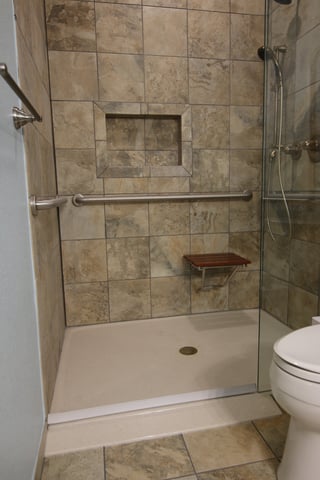 Many people find themselves needing accessible homes for themselves or family members. There are approximately 30 million Americans using wheelchairs and the number of people who need accessible homes will continue to increase as disabled and aging people are finding more ways to remain living in their homes. One important way to increase independent living is making a home accessible to an individuals personal needs which brought on the idea of wheelchair remodeling. Home modifications can increase safety, accessibility, and independence for people who want to live independently.
Universal design and aging in place services in Austin have finally taken hold in the residential remodeling industry. The current housing inventory doesn't offer the features needed for safety and accessibility in the numbers needed to accommodate the growing demand. It is ultimately up to the homeowners and their families to plan for future housing needs. Our existing architecture does not lend itself well to accomplishing any easy aging in place home remodels in Austin. In fact, there are more inaccessible homes in all of the US than there are accessible homes and 45% of these existing homes are owned by the baby boomers representing the oldest group of homeowners. Generally speaking in most residential US properties there are no easy ways to enter into bathrooms or utilize kitchens without coming into contact with one architectural barrier or another-especially if a wheelchair or walker is being used to help with mobility issues. Everything requires the proper clearance and distance for a new customized accessible route in your home to function properly. Please consider this aspect in your design if an elderly parent will be coming to visit or you yourself suffer an unfortunate accident or develop a debilitating disease.
Roll in showers without curbs are advised for everyone on a universal level for an accessible bath. The threshold is the most dangerous component in any shower. Not only is it impossible to overcome in a wheelchair but it isn't safe for those who are vision impaired or those with mobility issues. Low threshold shower bases with add on ramps can solve the shower entry problem when the floor cannot be lowered to form a true contoured roll in slope. ADA compatible curbless roll in showers are at a minimum 5 feet wide by 3 feet deep while a 5'x5' floor is optimum. Using a 32-36" clear entrance in a shower partition with an out-swinging door is advised for everyone. Remember wider is better. Upon exiting the shower a clear floor space having a five feet turning radius is desired. The shower should contain a shower wand on a sliding bar mounted at 48" above the floor to be available for varying heights of use accompanied by a regular height fixed shower head above both of which are regulated with a diverting controller valve. Always use a shower valve that is thermostatically controlled and pressure-balanced to prevent scalds. If you desire a full body wash, you can include a regular shower head as well. Installing fixtures with a scald guard or lowering the temperature at the water heater is a must to prevent burns. Fold down seats are useful if caretakers are involved. Secure grab bars on wood grounds around the entire shower perimeter at 34-36" above the finished shower floor increasing the safety factor and helping to prevent falls. A shower can light fixture needs to be installed above the shower area for proper lighting. All of the bathroom floor surface must be nonskid type to prevent slipping on a guaranteed wet floor.
Designing around specific physical conditions for handicap accessibility will lessen the impact of say arthritis, restricted mobility, or loss of vision by using combinations of products, concepts, and techniques available today. Working as a team, a trained CAPS specialist along with any family caretakers or therapists is able to identify the day to day problems weighing on those with health limitations. If you are considering an aging in place remodel for your home don't just contact any local remodeler in your area and expect a satisfactory accessible home modification. A professional design/build accessibility project can only be created for your specific needs by a qualified home remodeler having a nationally accepted CAPS (Certified Aging In Place Specialist) certification. This credential is backed by the NAHB. Only a CAPS home remodeler possesses the specific knowledge that will insure a successful outcome for your accessibility or aging in place project and what's more, keep you in your home longer.
The National Association of Home Builders, in partnership with the AARP and Home Innovation Research Labs, created the CAPS program, which includes training and education on the technical, business management and customer service skills essential to compete in the fastest growing segment of the residential remodeling industry--home modifications for aging in place. David L. Traut, CAPS the owner of T-Square Company in Austin, Texas is one of the select group of professionals nationwide to earn the Certified Aging-In-Place Specialist (CAPS) designation, identifying him as a home remodeler and builder with the skills and knowledge necessary to remodel or modify a home to meet the unique needs of the older population, disabled owners or their visitors. Call us at 512-444-0097 to see how we can help you design your bath for the future.