The best vacation spot can sometimes be in your very own backyard. Since interior space is always at a premium, a homeowner can make the most of their backyard effectively doubling their living space. A great deck design can capture a view, create a comfortable outdoor room, and add a feeling of spaciousness to your home by blurring the boundaries between inside and out. You are simply extending your conditioned living space into the outdoors. A partly sheltered deck serves as an indoor-outdoor space possibly connecting a family room with a patio. Classically simple, a custom deck design can create a great transitional element for nearly any style of house. A deck at the top of a sloping backyard can transform a space into an inviting destination for taking in a view.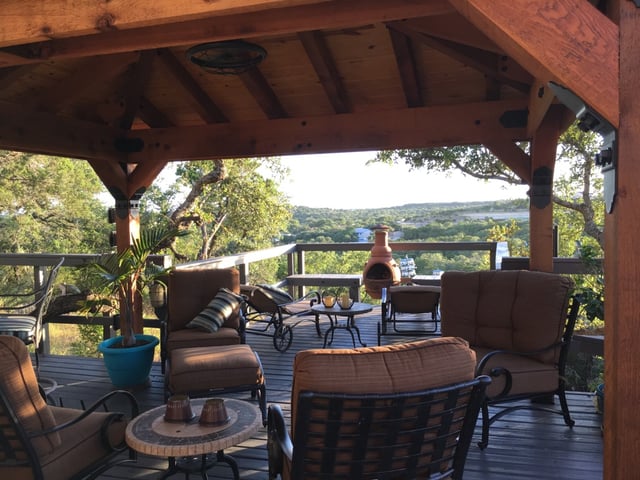 Today's decks are no longer basic rectangles attached to the back of the house. Rather, they integrate seamlessly with the house, landscape, and yard. Many factors will influence the design of your deck, such as the architectural style of your house, contours of your property, restrictions imposed by setbacks and codes, and location of major landscaping features. Whatever your needs, balance them against the budgetary bottom line. Remember to keep your form and function planning in touch with your financial situation. Overruns might increase project costs by as much as 30 percent, depending on unforeseen circumstances. Be open to that reality, and control costs by staying true to the original scope of the project.
When a roadblock presents itself, turn it into an opportunity to compromise and stay within your budget. For example; if built-in seating crosses the budget line, opt for weatherproof wicker seating that can be moved, rearranged, and updated easily.
What about including shading or weather protection for your deck? Open pergolas and three sided cabanas seem to be the answer without utilizing an addition to your home. By definition, a pergola has some sort of a roof, but the openness of it varies based on needs and wants. A narrowly constructed open series of pergola "ceiling" pieces gives more shade, as do inserts, either across the whole overhead area or in a pattern. Every pergola should relate in some way to the other structures in the yard. That might mean use of a color, material, or particular design detail -- for example, a sloping roof or a brick base -- that matches something elsewhere, either in landscaping, hardscaping, or on other structures. Style is another element that should be repeated to maintain cohesiveness. A very traditional home calls for a similarly built pergola, while a more casual cottage home might require a less formal pergola. If the pergola is roofed then the addition of a cupola will help with air flow and ventilation.
The use of details should extend to the pergola's columns. Pergolas generally rest on two or four vertical members for support and structure. Sometimes those columns are simple beams; other columns might have more decorative elements, such as brick, trim, or paint.
Builtin outdoor bench seating can provide plenty of seating for outdoor entertaining. Built around a railing post they contribute to the structure's clean, angular sensibility, and the linear slats quickly disperse rain. The benches can run long along the deck sides or be corner units. Simply add the colored cushions if desired and you're all set.
Before settling on a design, take time to brainstorm ideas for how you want to use your new deck. Consider which features will be most important for your needs, as well as other items on your wish list. Does your active family constantly occupy the backyard? Or are you just looking for a peaceful spot to relax with a morning coffee? Will you throw large, festive parties, or small family gatherings? A dining area makes sense if you often eat and entertain outside, and perhaps an outdoor kitchen, fireplace, or portable gas heaters will be essential for extending time outdoors into the cooler months. As you plan, keep in mind which conveniences will be appropriate. Electrical outlets, for example, make it easy to add or move outdoor lighting, hook up a sound system, or power a laptop or tablet. Once you have a list of desired features, rank them. Prioritizing your dream deck objectives can help during the budget process.