You've spent your time looking through the internet examples of bathroom remodeling. You've gazed at all the remodeling books offered at the local grocery and lumber box stores. Now you've come to the conclusion thatnone of them immediately suits your current situation. The pictures you studied of fine bathroom makeovers are composed of lavish bathrooms with huge footprints way beyond the scope of your modestly sized room needing a fine bathroom upgrade.
Bathroom sizes are usually dictated in some respect by the length of the tub which in most cases is five to six feet long. This is evidenced by a tub that has been installed opposite the entry wall producing a wall to wall tub situation. In this configuration the toilet and vanity are generally placed on one of the walls that are perpendicular to the length of the tub. Here is a great starting point to gain space for a larger custom walk in shower to replace the tub you never use. But if you are fortunate to have both wall lengths exceed the five or six feet norm then space is not an issue and you can proceed with ease. Just choose your finishes wisely and keep all choices within your budget.
If you're current situation is cramped but you already have a double vanity, you might gain space for a new shower expansion by either shortening the vanity while keeping the two sinks or by going with one single sink located in the middle of a shorter vanity. This can be accomplished by capping off one sink drain completely and/or deleting the water supply stops. If your toilet is located between the vanity and tub then shortening the vanity is all for naught. You can move the toilet over but this means breaking out the floor to change the toilet plumbing floor flange plus the water supply. Be careful as this alteration can be costly and should only be done to allow certain specific situations to evolve.
Moving on to either the tub removal bringing about a walk in shower design or the tub's replacement highlighted with a custom shower surround, you'll have to decide what will be of the most use to you. A tub surround limits your creativity but you can still enjoy a couple of shampoo nooks installed between your existing studs before any tiling takes place. Replacing the old tub/shower valve and tub spout will also give you a shiny feeling of newness. A new glass enclosure will provide a revived look plus the more expensive frameless models will bring your bathroom completely up to date.
If deleting the tub to achieve a custom walk in shower design is your choice then you have a few options to consider. Do you wall in two thirds of the width of the old tub placing the new door away from the shower head? This new wall can be tiled in to match the shower and can also have glass blocks inserted into it for natural light to prevent claustrophobia. Do you desire a full length curb to accommodate a taller ready made glass enclosure or even the more expensive frameless model set beside a glass panel? The designs are limited only by your imagination and how you want the final product to turn out. Be sure that all your research is justified and don't try to cram too much into your new bathroom remodel. A good design is one that can come into being with the least time spent on alterations and additional costs.
If you're uncertain about how to proceed during Austin bath transformations always rely on a local and trusted building professional. Sometimes spending a little money for experienced help with design and construction techniques can save you a lot during the construction process.
A Tub to Shower Conversion with Seat Derived From a Shorter Vanity with Glass Block Inserts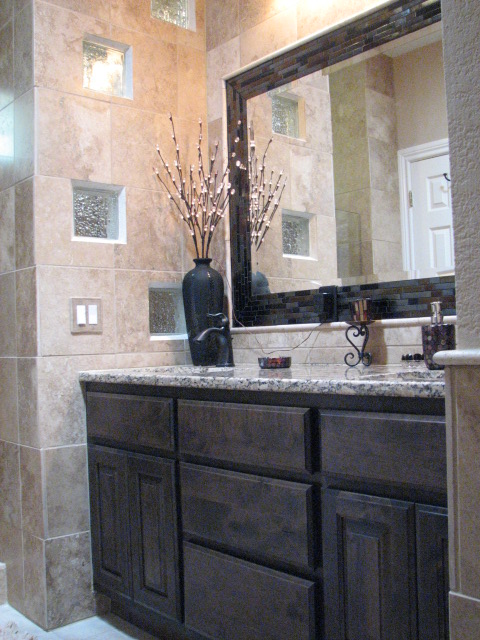 Accessible Bathrooms In Austin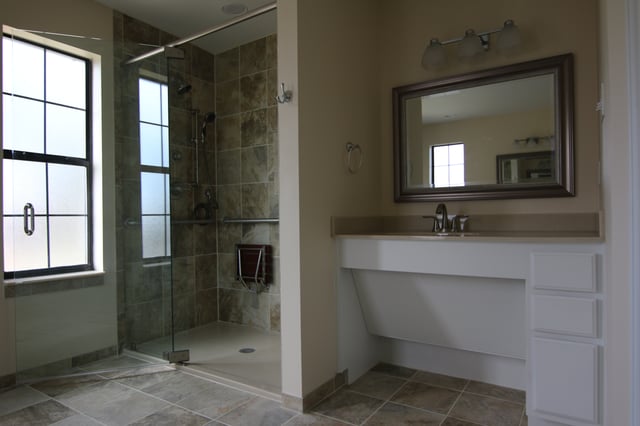 Universal design and aging in place services in Austin have finally taken hold in the residential remodeling industry. The current housing inventory doesn't offer the features needed for safety and accessibility in the numbers needed to accommodate the growing demand. It is ultimately up to the homeowners and their families to plan for future housing needs. Our existing architecture does not lend itself well to accomplishing any easy aging in place home remodels in Austin. In fact, there are more inaccessible homes in all of the US than there are accessible homes and 45% of these existing homes are owned by the baby boomers representing the oldest group of homeowners. Generally speaking in most residential US properties there are no easy ways to enter into bathrooms or utilize kitchens without coming into contact with one architectural barrier or another-especially if a wheelchair or walker is being used to help with mobility issues. Everything requires the proper clearance and distance for a new customized accessible route in your home to function properly. Please consider this aspect in your design if an elderly parent will be coming to visit or you yourself suffer an unfortunate accident or develop a debilitating disease.
The National Association of Home Builders, in partnership with the AARP and Home Innovation Research Labs, created the CAPS program, which includes training and education on the technical, business management and customer service skills essential to compete in the fastest growing segment of the residential remodeling industry--home modifications for aging in place. David L. Traut, CAPS the owner of T-Square Company in Austin, Texas is one of the select group of professionals nationwide to earn the Certified Aging-In-Place Specialist (CAPS) designation, identifying him as a home remodeler and builder with the skills and knowledge necessary to remodel or modify a home to meet the unique needs of the older population, disabled owners or their visitors. Call us at 512-444-0097 to see how we can help you design your bath for the future.