According to the Joint Center for Housing Studies (JCHS) at Harvard University, the nation's housing inventory is in no shape to accommodate the 70% increase in the number of Americans aged 50 and over that will occur between 2000 and 2030. Over the next two decades, more than 27.7 million people will join the 50 and over age group. Most of this increase will be among the population aged 65 and over which is projected to surge 65% by 2030.
Universal design and aging in place design and services in Austin have finally taken hold in the residential remodeling industry. The current housing inventory doesn't offer the features needed for safety and accessibility in the numbers needed to accommodate the growing demand. It is ultimately up to the homeowners and their families to plan for future housing needs. Just what are the most important design issues regarding aging in place home modifications in Austin?
To begin with, the JCHS data showed that one of the top priorities with aging in place consumers is low maintenance. They want their houses to look great and require as little maintenance as possible. There is a minimal need for landscaping and outdoor upkeep, exteriors that require periodic painting, and a preference for newer houses rather than older ones where things don't break down as easily. These are the main reasons why the aging population considers moving. However, the kitchen and bath in existing homes are the two main areas most referenced when considering CAPS certified remodeling improvements.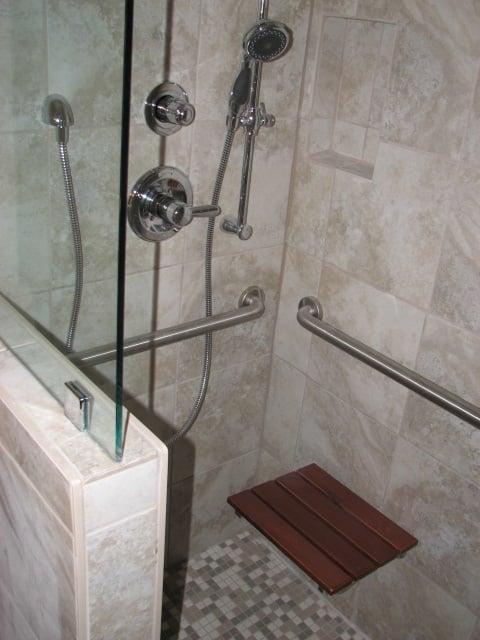 People who are interested in aging in place home improvements and elder living solutions are now looking for a level entry into their home alongwith the maneuverability that a more open floor plan having greater clear unobstructed floor space presents. They desire flat floors without transitions requiring steps or stairs to move around. Ramps having a correct 1:12 slope can be used to get them up to the level floor space at the exterior entries or the garage access.
Most aging baby boomers prefer one story homes in which to age in place and this has become a primary reason to relocate versus a remodel. They are looking for an accessible master suit and kitchen located on the same floor. However, some developments mandate building two story homes. The above requirement can be easily met by placing the guest bedrooms and accompanying bath upstairs. If the master suite for any reason needs to be upstairs, closets can be stacked between floors to house a future elevator installation.
Kitchens have evolved because fewer cabinets are needed within the more open designs. Fewer wall cabinets are needed because of personal reach limitations. For those that are used, they can be installed at 14" above the base cabinet work top instead of the standard 18" spacing. The cabinet top is now lowered by two inches and installed at a universal 34" height. This makes a net 6 inch lower installation height for the bottom of the wall cabinet. All types of cabinet inserts like pull out shelves and specialized drawers are now available for installation in both base and wall cabinets. These devices will certainly help solve the reach problem. Base cabinet kick spaces can be raised to 9" and deepened instead of the standard 4" to accommodate wheelchair access. Kneespaces can be incorporated into the design for roll under access at the sink, prep area, and cooktop.
The lack of bending motion and decreasing reach distances is changing the way we purchase and install appliances at comfortable heights. Placing dishwashers higher by a few inches to limit bending has become a reachable fad and the new height is changing the old look of our kitchens. Refridgerator drawers, dishwashing drawers, and double ovens that are no longer stacked are just a few changes within the present day appliance marketplace. Cooking ranges with the controls located on the front represents another metamorphosis helping with reach problems. Microwaves can be installed on the now lowered countertop or within the lowered base cabinet according to the consumers need for adequate reach.
The lack of doors represents a change in the cabinet market. The new open look lets homeowners access what is stored within the cabinet without an open door blocking their clear path for approach. No matter in what manner the doors are hung they always interfere with accessibility. The open cabinet look is seen in both the bath and kitchen.
Accessible bathrooms today contain stylish vanities set at a universal height of 34 inches with clear kneespaces. The sink faucets are easily controlled by either wrist handles or levers. Toilets are available in comfort heights eliminating the deep knee bend needed for seating. Toilet seats are available with a heat feature and some have the ability to self close or have a night light. Curbless roll in showers are advised for everyone. The shower should contain at least a shower wand on a sliding bar for varying heights of use alongwith a regular shower head and control if desired. Folding seats are useful if caretakers are ever involved. Grab bars around the bath and especially in the shower should be used while non slip floor covering should always be considered.
The National Association of Home Builders, in partnership with the AARP and Home Innovation Research Labs, created the CAPS program, which includes training and education on the technical, business management and customer service skills essential to compete in the fastest growing segment of the residential remodeling industry--home modifications for aging in place. David L. Traut CAPS owner of T-Square Company in Austin, Texas is one of the select group of professionals nationwide to earn the Certified Aging-In-Place Specialist (CAPS) designation, identifying him as a home remodeler and builder with the skills and knowledge necessary to remodel or modify a home to meet the unique needs of the older population, disabled owners or their visitors.
For additional information about the CAPS program, visit nahb.org/CAPS. For more information about T-Square Company, visit www.tsquareco.com or call 512-444-0097.