Even if you only use your tub to wash the dog or wash your mini-blinds, most real estate agents are adamant about having at least one bathtub in your house to preserve marketability. A recent Houzz poll agrees, with 58% of respondents claiming, "you'll never sell that house without a tub." However, bathtub to shower conversions are very popular for many households. Whether you are looking for a safer alternative to climbing over a tall bathtub wall or simply want to create a more sophisticated style in your bathroom many designs are available without extensive remodeling.
If your current bathroom is unsafe or if you find it inconvenient you may need to consider a complete bathroom remodel. Then you can build in ease of use, and you can add safety features that address slips and falls, and other concerns as you age. This is especially important if you live alone. A fall in the shower or the bathroom can be a devastating and frightening experience. Sometimes it's possible to address these problems by making significant changes. These can include options like adding a monitored alarm system to alert people to a fall or removing the bathtub and installing a large, low or zero threshold shower with slip resistant porcelain floor tiles.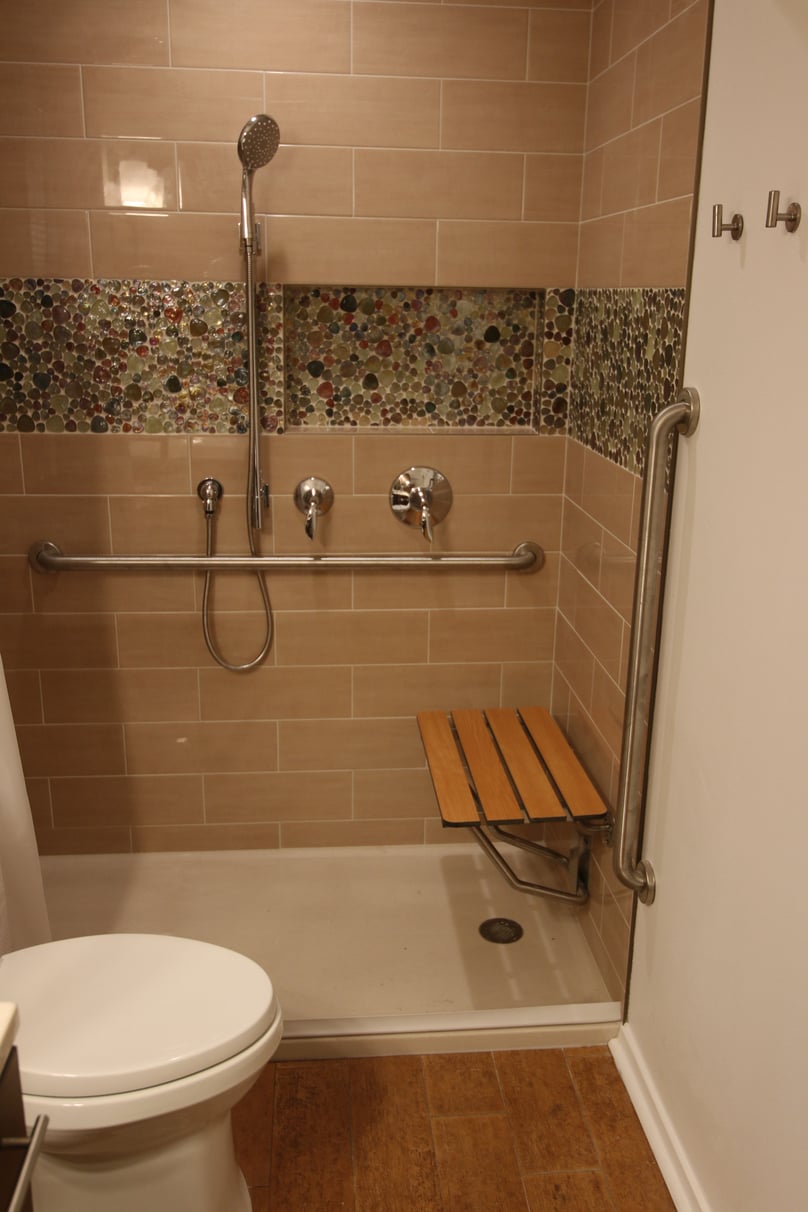 If your old tub is in an alcove, you can remove it and be left with a space that's about 30 to 34 inches deep and 5 feet wide. This is an adequate space for a shower. With some minor modifications, your water supply and drain lines will already be in place, saving you money on plumbing costs. With some limited framing alterations, you can enjoy future shampoo niches, folding seats, and grab bar placement. The floor of your shower has a lot to do with the style and cost of your tub to shower remodel. You have a choice of two basic types of pan: one contains water with curbs that you step over as you enter while the other recessed type is curbless. Liners or pans beneath the floor tile can be composed of either a custom fiberglass application or the proper vinyl material. Waterproofing is the most important aspect of shower building and all precautions must be taken. One piece above the slab shower bases can solve any future problems that might arise using any type of shower pan. These can be equipped with add on ramps for wheelchair access if the floor slab construction will not allow lowering the shower floor for roll in capability. Prefab fiberglass sides are the cheapest way to complete the shower; but, a custom tiled unit will have better resale value even though it is more costly.
If you're a homeowner and contemplating aging in place the main area you'll need to consider is the bathroom. Accessible showers should be a part of any aging in place bathroom remodeling project. Even if your middle aged and planning for the future, an accessible shower is a smart investment because they can be built to be usable by anyone including those in a wheelchair. These showers are designed to provide for a person's safety in the shower by utilizing design elements like no or zero step entries, grab bars, non-slip flooring and more. A properly and fully designed bathroom will incorporate these and other features. This is called Universal Design, and the principal includes accessibility, hardware, and materials. This building technique works to help create a safe showering experience for people of all abilities and ages. If you're planning a bathroom remodel to aging in place, it is a different type of remodeling than one undertaken for merely aesthetic purposes. That's not to say that aging in place bathroom remodeling can't be aesthetically beautiful. It simply means that the choices you make will incorporate safety and independence for aging homeowners along with ease of use. For older homeowners, a walk in or low threshold shower is a smart choice. Both the lower threshold and the shower entry width are mutually important for accessibility. This will allow those using any mobile device like a wheelchair or walker to safely enter the shower.
Certainly there are many upgrades available when planning a bathroom transformation. A custom tub shower conversion for the replacement of the tub with a new walk in or roll in shower can create a bold look but will run you around $13,000. There are no spending limits for bathroom remodels. You can plan on spending around $12,000 to $15,000 for a hall bath remodel. The price tag can approach or exceed $35,000 for a complete master suite remodel. The type of fixtures and building components chosen along with the labor will compose the overall cost of the remodeling project.
The fastest growing segment of the residential remodeling industry is home modifications for aging in place and ADA accessibility. David L. Traut, CAPS the owner of T-Square Company in Austin, Texas is one of the select group of professionals nationwide to earn the Certified Aging-In-Place Specialist (CAPS) designation, identifying him as a home remodeler and builder with the skills and knowledge necessary to remodel or modify a home to meet the unique needs of the older population, disabled owners, or their visitors.
We here at T-Square Company know that quality and customer service has always been at the heart of our mission. We often go above and beyond making sure your new shower meets all your requirements for luxury, style, functionality, and safety. To get the process of replacing your old tub with a beautiful new shower started today, just give us a call at 512-444-0097 or fill out one of our online contact forms to request a free no obligation consultation. We offer a complete design/build service to our customers.