In designing for specific physical conditions, we realize that aging doesn't always bring on disease while the body declines making certain physical limitations inevitable. Arthritis is the most common chronic condition to appear as it restricts ordinary daily activities. The lack of hand strength and stiff knees are indicative of this illness. This most reported arthritic condition affecting people over the age of 65 is followed by heart disease and vision loss in that order. Smart aging design and concepts can compensate for the introduction of frailty, lack of mobility, and blindness in aging in place families. We are constantly coming up with new methods for home modifications and household products to increase the comfort of our residential environments.
Mobility limitations vary dramatically but, depending on the personality of the individual, any diminished capacity creates feelings of dependence or depression. When considering an accessible home remodeling project, anticipate that any conditions you are experiencing will only progress for the worst with age. Simple changes to help with hand grip strength or coordination within the home can include large rocker type wall switches, touch controlled lamp switches, and converting round door knobs to lever sets. Mobility aids like walkers, canes, and wheelchairs need to be available at any time. People utilizing these mobility aids may use them all but at different times during the day or hopefully not at all. Accessible home remodeling for elders must take this into account and be designed to accommodate them all as needed by the user.
Custom Walk In Showers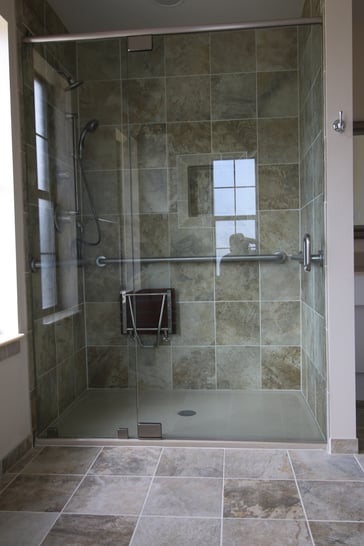 Most residential housing is geared to young healthy adults. Builders do not take into account age-related conditions such as reduced mobility or limited range of reach. Hence, dwellings do not support the physical and sensory changes that older adults encounter as they age. What appear to be insignificant home features can have significant effect: for a person with even minor aging issues.
Some permanent disabilities require constant wheelchair use. The home modifications must accommodate a person who is always seated. A five foot turning radius should be observed in the bathroom, kitchen, and living area so as not to restrict the movement of the wheelchair. An unobstructed barrier free accessible route will be determined during the assessment for wheelchair accessible remodeling. Clear wider hallways of at least 42" in width and doorways of at least a 32" clear width must be the standard. Light switches and cabinetry must be lowered where 48" is the reaching limit of a person sitting.
Impaired memory and think presents a different set of problems to the aging in place specialist's design. Every effort must be made to limit the confusion of those utilizing the remodeled space. As with all progressive diseases , a patient's needs will change over time, any modifications or solutions may be effective only for short periods of time. Restricting the entrances to rooms that present the greatest hazards like the kitchen and bathroom must be taken into account during the assessment.
Concerning visual challenges, good lighting that is not glaring, appropriate color choices, and contrasting elements within the room design are paramount as considerations for a design. Hearing limitations require LED lighting to indicate appliances being on. Doorbells, stove tops, and life safety devices need to be visual as well as audible.
Accessible homes look much like other homes but they still help with handicap accessibility. These homes often have a sunny open feeling since there are fewer walls between common areas. Level floors create a comfortable flow between living areas and make rooms easier to keep clean. The kitchen is more efficient having compact storage and the bathrooms are a little more spacious than in a traditional home. The house is safe designed to reduce the potential for falls. Adequate glare-free lighting is well positioned to prevent dark spots. The accessible home is the home of the future representing the way we want to live right now. Well-planned accessible homes lift the spirits and enhance dignity. They have the ability to transform our relationships with our bodies and our homes.
Knowledgeable construction and design professionals are utilizing their CAPS training across the nation. CAPS stands for Certified Aging In Place Specialist. This designation is taught through the National Association of Home Builders in collaboration with AARP. CAPS connects responsible professionals with home owners who need these services on an ever-increasing basis. CAPS is a nationwide initiative and all active CAPS members can be found at nahb.org/CAPSdirectory.
What really defines accessible home modifications and elder construction in Austin? Barrier free architectural design and accessibility for all who enter the structure while approaching the main living areas of the home in question is a fair definition. Universal design and aging in place trends have taken hold in the residential remodeling industry. The current housing inventory doesn't offer the features needed for safety and accessibility in the numbers needed to accommodate the ever growing demand. It is ultimately up to the individual homeowners and their families to plan for future housing needs. Once it is discovered that modifications to an existing home are not possible to accomplish total accessibility then it is time to consider a newer or custom built accessible home.
Aging in place home modifications are available through T-Square Company in the Austin area. We have an A plus rating with the local BBB and have over 30 years of remodeling experience. We are additionally a certified aging in place specialist offering complete aging in place services. Each design/build situation will be customized to fit your personal needs increasing your accessibility. Call 512-444-0097 today to begin the accessible second chapter of your life while remaining safe and secure in your existing home. CAPS #1636580