ADA wheelchair ramp guidelines are as follows:
The minimum ramp width must be 36 inches minimum but 48 inches is preferable.
Ramps must have edge protection to keep anyone from slipping off their surface in the form of a raised outer curb or railing.
All wheelchair ramps must have level or flat unobstructed landings at the top and bottom of the rise being overcome that are 60 inches by 60 inches to provide a proper five foot wheelchair turning radius. The landing areas cannot have more than a 30 feet long ramp separating them. If the rise distance requires longer than a 30 foot run to overcome it then a series of landings can be used creating a switchback design.
Thirty six inch handrails are required on both sides of all ramps that rise steeper than 6 inches from the ground below.
All surfaces must be slip resistant and stable.
A wheelchair ramp is basically an inclined plane installed in addition to or instead of stairs. Ramps provide wheelchair users or users of other mobility aids as well as people pushing strollers,carts, or other wheeled objects, better access to any building. When designing a wheelchair ramp, you need to consider the users physical limitations. The ramp should be wide enough to be safe and maneuverable and sturdy enough to carry the weight of an electric wheelchair and it's cargo (this can approach 6-700 pounds in many instances) and have a slope that is gradual enough for a manual wheelchair user to navigate.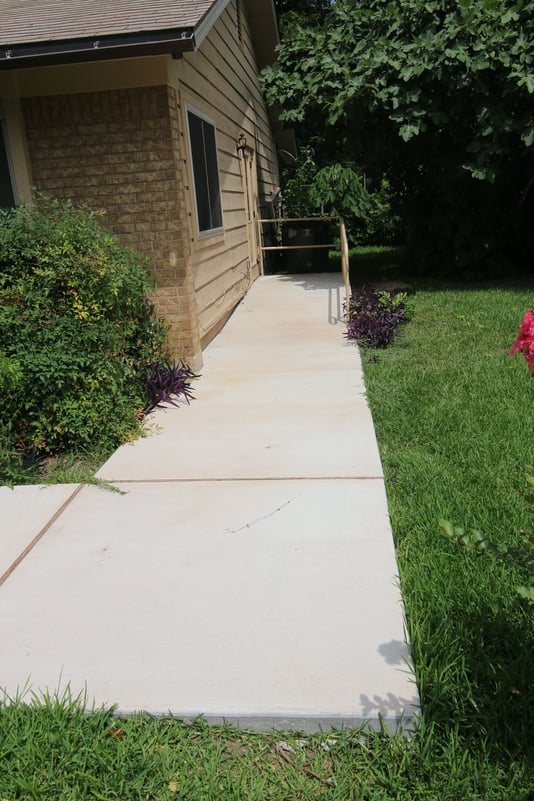 Let's say your front porch is 24 inches tall and you are needing easier access to your home while using a wheelchair or walker. A straight ADA prescribed 1:12 ramp will let you overcome the 24 inch porch rise over a span of 24 feet. This is as steep a ramp that is allowed but it may not work for everyone and it may need to be of less slope as in 1:16-1:20. However, if your porch is 36 inches tall, a maximum thirty feet long straight ramp will overcome only 30 inches of the rise of your porch and the remaining six inches can be overcome by an additional six feet long ramp which occurs only after a five feet by five feet flat turning area is installed. This is referred as a switchback and the additional six feet ramp can be added on any face of the flat area. It can be installed as a straight run or as a ninety degree turn in either direction. If adequate room isn't available for the above scenario, then the switchback can occur along the path of travel anywhere as long as the approaching ramp doesn't exceed thirty feet in length which is a maximum. Don't forget to include another flat 60" by 60" landing at the front door and at the end of the incline ramp to allow for greater maneuverability and door operation.
Upon entering the home, you can begin the accessible route which is designed to take you through the home to the most visited areas like the bathroom, kitchen, and living areas in that order. Our homes have always been exempt from any and all of the accessibility regulations that have been put in place since 1968 when our Viet Nam veterans were returning home. The new evolving concept known as Universal Design and specialized handicap remodeling contractors for home remodeling is catching on nation wide and has been for several years as a sign of the times. Universal design techniques used in building makes a home more accessible to all regardless of their mobility or adaptive abilities. An evolution of new products used for disability home modifications is making those homes more accessible and has finally come about in the remodeling industry.
The National Association of Home Builders, in partnership with the AARP and Home Innovation Research Labs, created the CAPS program, which includes training and education on the technical, business management and customer service skills essential to compete in the fastest growing segment of the residential remodeling industry--home modifications for aging in place and ADA accessibility in Austin, Texas. David L. Traut, CAPS the owner of T-Square Company in Austin, Texas is one of the select group of professionals nationwide to earn the Certified Aging-In-Place Specialist (CAPS) designation, identifying him as a home remodeler and builder with the skills and knowledge necessary to remodel or modify a home to meet the unique needs of the older population, disabled owners, or their visitors. Schedule an appointment by calling 512-444-0097 today.