Physical limitations affect many more people than the daily users of walkers and wheelchairs. Many members of our society experience a need for elder construction and disability remodeling having significant problems in dealing with their home environment. Today's conventional building standards conflict with most people's accessibility when you consider our created architectural barriers concerning cabinetry and door opening widths, individual strength, range of motion, movement, manual dexterity, balance, and coordination. Once the demands of our built environment exceed their capacities we become excluded from a room or even the entire home. The building world must work in unison to be sure the entire living environment meets basic needs in addition to affordability and structural integrity for the consumer and homeowner. This includes both the home and the components within the home being accessible to all inhabitants. Privacy, sense of belonging, sense of control, and the sense of safety and security make up the quality of life for any home and should be considered for any design.
The concept of successful aging has become increasingly important as senior citizens begin to dominate the population. An active engagement in life through participation in social and productive activities is one component of successful aging. The built environment directly impacts the engagement profiles of older adults so it is necessary to provide environments designed to suit the needs of aging adults. Of all the design theories that attempt to accommodate the aging process, Universal Design may be the most desirable option as it provides built environments that benefit everyone. Universal Design is a promising voluntary philosophy that requires increased attention from designers and builders participating in Aging in Place. Taken as a whole, it is evident that the application of Universal Design into the built environment is a positive step toward successful aging.
The new evolving concept known as Universal Design for home remodeling is catching on nationwide and has been for several years as a sign of the times. Universal Design principles used in building or remodeling make a home more accessible to all regardless of their mobility or adaptive abilities. Furthermore, the evolution of new products used for disability home modifications is making those homes more accessible and has finally come about in the remodeling industry. These new advances in accessible home remodeling in Austin not only keep the living environments safer but will not compromise the home's aesthetics. In fact, there are many benefits to using Universal Design techniques, including potential ease of use by aging family members, added resale value, and the fact that you'll be creating a space that can be used by anyone who visits your home, regardless of their range of abilities. Universal Design offers a clear path for Aging in Place within any home.
Simple Universal Design updates for Aging in Place home modifications and handicap accessibility can include adding grab bars or handrails throughout the home, adding a seat within the roll-in shower, lowering upper cabinets and countertops, adding non-slip flooring, widening hallways or installing stairlifts, and widening doors. You might also consider lowering light switches and thermostats and installing easier-to-use doorknobs. You should try to provide a clear barrier-free path or accessible route to the most visited areas of your home as recommended by the ADA. Remember that more open space gives room for maneuverability while using any mobility aid required.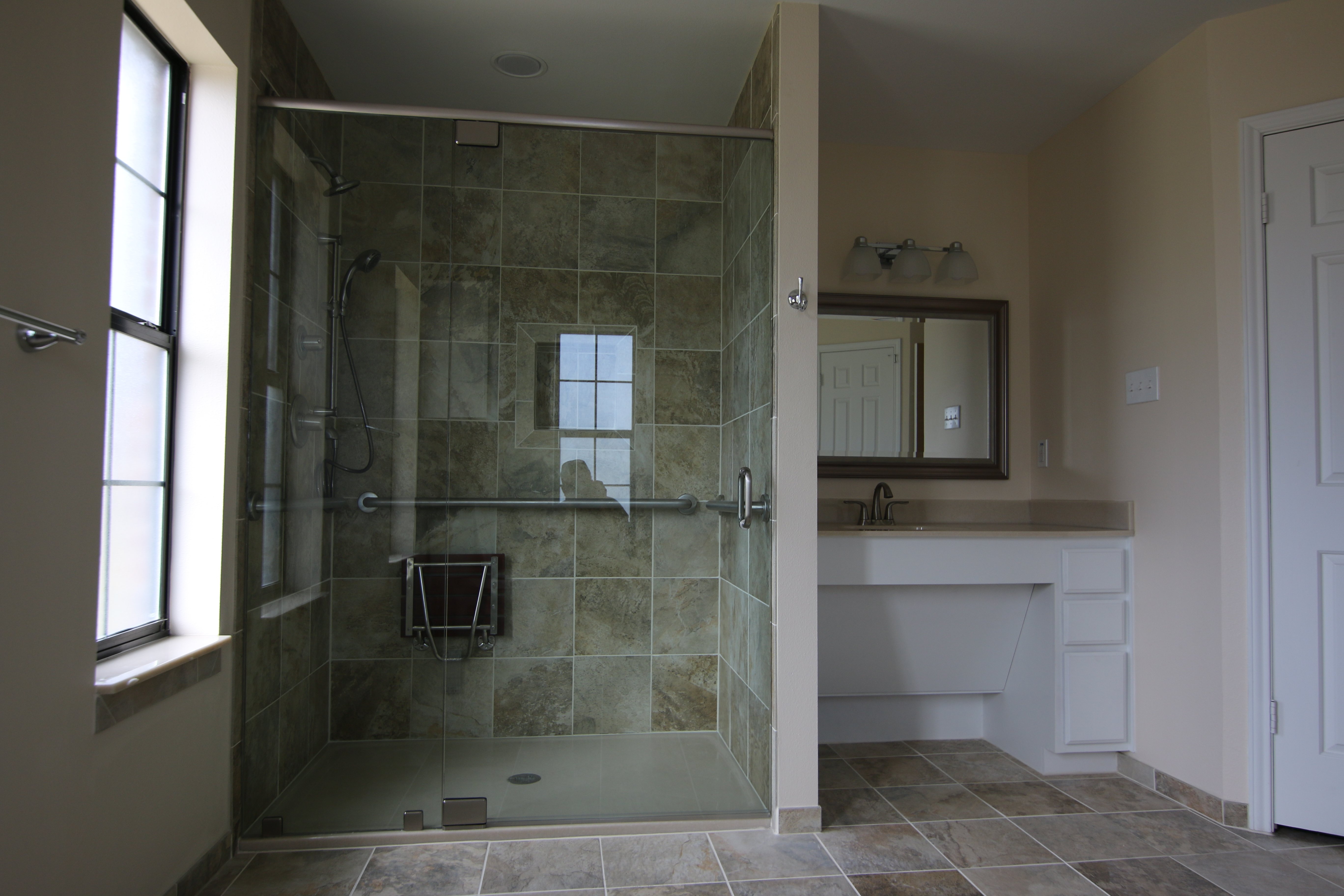 When mobility becomes an issue for any homeowner or family member, regardless of age, the question arises concerning physically moving to a different home on one level with at least a bath that is more accessible. Austin handicap remodeling can help in preparing for one of those highly likely events involving someone in your home needing room modifications for even a short time while recovering from surgery is surely a smart move. Solving Aging in Place issues will soon become the number one challenge concerning the present obsolete housing inventory in our country. Our present-day obsolete homes now inhabited by the baby boomer generation will slowly and increasingly raise their outdated and obsolete ugly heads and expose their true lack of accessibility to those very people inhabiting them. The situation will only become ever more expanding in time. When these homes were previously purchased, they represented an absolute castle in the world of their owners in which to prepare for a day and they also acted as a retreat from life's tough interactions. They housed our families, our memories, and our stuff. They represented a place where we could be ourselves. Our homes have always been exempt from any and all of the accessibility regulations that have been put in place since 1968 when our Viet Nam veterans were returning home.
Let's face it, accessible homes are needed by all of us at some time in our lives even for a short time. This is true whether it's for ourselves, a family member, or a guest. The need is certainly not driven by age but is a result of life's experience sometimes requiring wheelchair remodeling. Any family living with a disability among any of its generations within its group can always benefit from additional home accessibility.
Everyone ages differently and has different needs and wants. The factors that constitute the Aging in Place market for all individuals are based on a person's genetic makeup, their lifestyle including the choices they have made while living their life, and their environment. These factors have brought about the need for universal design principles. This is the design of products, services, and environments that are usable by as many people as possible regardless of age, ability, or situation without the need for adaptation or specialized alterations. It provides for the greatest safety and access for any home guests or occupants and is undetectable when done well. Since so very few homes share the accessibility offered by Universal Design, to satisfy the needs of a particular household member brought about by an accident, an illness, or simply the aging process there will always be a need for customized accessibility features. This will be accomplished by a CAPS accredited remodeling professional producing a truly functional design. This same competent home remodeling company that understands and practices accessible home modifications in Austin should carry out the work to fit the design and ensure your safety and accessibility. The criteria for home accessibility are not common knowledge among builders. It is acquired and practiced knowledge.
The National Association of Home Builders, in partnership with the AARP and Home Innovation Research Labs, created the CAPS program, which includes training and education on the technical, business management, and customer service skills essential to compete in the fastest-growing segment of the residential remodeling industry--home modifications for Aging in Place. David L. Traut, CAPS owner of T-Square Company in Austin, Texas is one of the select group of professionals nationwide to earn the Certified Aging in Place Specialist (CAPS) designation more than a decade ago, identifying him as a home remodeler and builder with the skills and knowledge necessary to remodel or modify a home to meet the unique needs of the older population, disabled owners or their visitors. We generate handicap accessible floor plans for our clients with special needs. Our design/build projects have helped countless homeowners through the VA, HUD, and the private sector. The home modifications we offer will in turn increase safety and independence for all involved as they go through life.
For additional information about the CAPS program, visit nahb.org/CAPS. For more information about T-Square Company, visit www.tsquareco.com or call 512-444-0097.