If you have been considering a fine bathroom makeover or remodeling project in Austin there are a few things you should take into consideration. Bathroom makeovers in Austin, Texas can take on many looks and facets. The scope of work you choose to accomplish this feat should effectively solve your problems and most importantly, your needs as the home owner. The identification of these specific needs belongs to you the home owner and is extremely important. The way your home is structurally altered to accomplish these needs is the job of the professional remodeling contractor. Universal design and accessibility should be a concern no matter what your age. If your concerns are not for you, barring any life changing accident, they could concern the accessibility of another generation's independence is using the restroom. CAPS professionals in the remodeling industry can help with solutions in solving these Aging In Place issues to increase home access.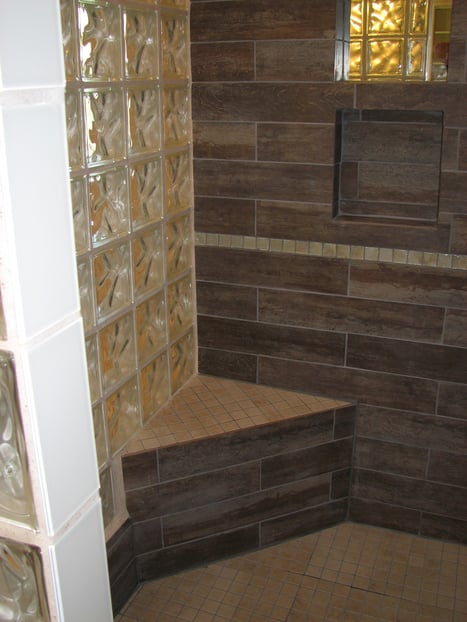 Just look at the different types of housing represented throughout Austin and the surrounding areas. Smaller homes, cottages, sprawling historical town homes surrounded by architecturally pleasing fences, rustic ranch homes, "Macmansions", and sleek high rise condominiums are just a few examples of the structures that define Austin's diverse housing landscape. Economic situations along with personal preference formulates where we choose to live in a town with such diversity. Most people remember how the old style bathtub/shower combination was a standard part of any bathroom design. Some residential showering areas were enclosed using the multicolored vinyl shower curtain option while others had by-passing or sliding shower doors on silver tracks. The doors were framed with either chrome or gold colored aluminum matching the sliding tracks. Modern bathroom designs have become much more sophisticated because the many available bathroom products are easier to be discovered by the homeowner. There are millions of pictures representing fine bathroom upgrades or bathroom remodeling all across the internet.
Living with a dysfunctional bathroom layout reduces the total feeling of relaxation your master bath is capable of providing. During those much deserved private moments you long for your bathroom's surroundings to provide both luxury and function. There isn't adequate lighting for the many daily personal duties like applying makeup. There needs to be adequate ventilation so you don't always feel as though you are housed in a "sweat box" while getting dressed. The outdated plate mirror extending from your vanity top's splash upward toward the drywall furrdown above has never been a design you thank the world of. You have always disliked that box above housing the poorly illuminating fluorescent tube lamps that are concealed by the yellowing plastic fluorescent light panel. You are sick and tired of the poor storage facilities inherited when you purchased your home. The height of the vanity is out of line according to your needs and it is also inadequate for your storage needs. The existing cabinet layout contains unusable drawers beginning to come off their tracks and the cabinet doors have their own particular issues. Your cabinets are either too deep to access what they contain or their storage capabilities have been limited by their total improper design. What were those guys thinking? What's more the out of fashion ceramic tiles are either partly missing or they are totally the wrong color for the day along with the colors within the rest of the room. Having improperly working plumbing fixtures that are now also antiquated with their own set of problems is yet another quandary within itself. The fixtures themselves can also be finished in a color that is long out of style. So what do you do?
If deleting the tub during a custom tub shower conversion to create a custom walk in shower design is your choice then you have a few options to consider. Do you wall in two thirds of the width of the old tub placing the new door away from the shower head? This new wall can be tiled in to match the shower. Using natural stone or glass tiles will certainly be an upgrade for any Austin bathroom remodel. Do you desire a more expensive frameless door set beside a glass panel? The enclosed shower can incorporate a couple of shampoo niches for convenience and clutter removal. The designs are limited only by your imagination and how you want the final product to turn out. Be sure that all your research is justified and don't try to cram too much into your new bathroom remodel. A good design is one that can come into being with the least time spent on alterations and additional costs.
If you have the luxury of combining the tub and nearby shower areas into one large custom walk in or accessible handicap shower design your problem will be taking full advantage of the larger spatial situation. A huge shower area is just that if it isn't efficient at using the new enlarged space. Remember that multiple heads like rain and body sprays require more water volume and this can only be accomplished by re-plumbing the water supply lines increasing their diameters from the 1/2" pipes commonly supplying baths. Seats can also be incorporated into the design process and must be no taller than eighteen inches high. Tiled niches recessed into the existing wall studs are a great place for shampoos and body washes. Corner shelves are a good idea if they are out of the way. Hooks and hangers for towels and wash cloths must be installed for efficiency and not be in the way of traffic or in a place to harm yourself once your eyes are closed fighting soap invasion. Glass block designs can be used as a means of obtaining natural light through shower demising walls with individual installations or as a complete splash wall dividing the wet area from the rest of the bathroom. This type of wall can be either straight or curved according to your preference.
Redoing or enlarging your existing shower can also give you a feeling of comfort. You can incorporate any entrance situation from walk in to roll in thresholds and you are only limited by space. You will still have the feeling of a satisfactory bathroom remodel once everything is clean and new even if your new shower is the same size you started with. Austin bathroom remodeling should involve multiple shower head combinations in multiple locations within the shower to fit anyone's desires. Rain heads coming out of the ceiling, body sprays coming out of the walls in many locations, or hand held units attached to the shower walls can be very practical. These combinations of heads and locations can be used to create rain effects, provide relief for muscle aches through body massages, or simply provide pin point convenience with hand held variable heads. The possibilities are endless as you utilize your bathing environment.
Keep in mind that moving plumbing, especially drains, is one of the more expensive aspects of a fine bathroom makeover. It always involves floor demolition. Changing water supply line placement for new faucet locations is not as difficult as moving drains which rely on gravity flow for function.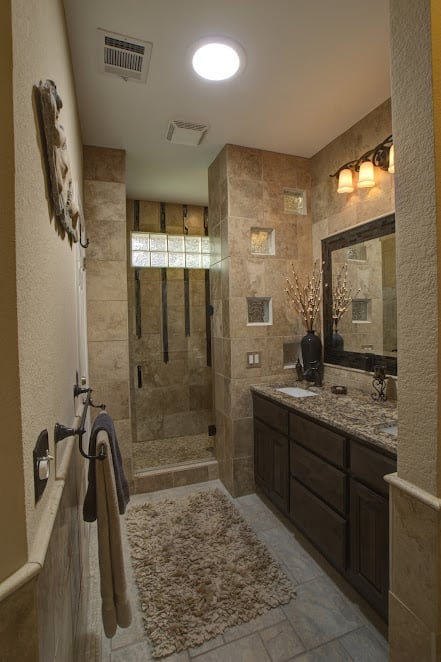 Proper lighting is always an important aspect to be installed during a bathroom remodel. It can be broken down by task. Recessed cylindrical can lighting is used today to provide the overall luminescence for the room. Trims with lenses can be installed above baths and showers by code to brighten darker areas. Light strips or single wall fixtures can be designed around the new framed beveled mirror that you have chosen. The choice of bulbs utilized is yours for now at least. Try using dimmers to control your new lighting creating mood.
Ventilation is so important when planning a bathroom upgrade because of the humidity involved. Too many times a single exhaust fan is installed above the toilet, or what is much worse, in the center of the room. Heat and humidity naturally rise and will overtake the entire room if given a chance. Today's quiet bathroom exhaust fans should be sized according to the room's air volume. They should be located above any bathing or showering facility and above the toilet. Conditioned air along with adequately sized duct work supplied by your central unit will further accentuate a pleasant feeling within the bath.
Bathroom plumbing fixture choices are numerous to say the least. Select reputable companies offering the best warranties especially when considering finishes used on control valve trims and the fixtures installed in the project. Larger walk in shower designs should have seamless fiberglass liners to avoid leaks if the house ever shifts. Using natural stone or glass tiles while additionally designing in glass blocks will certainly be an upgrade. As for the new walk in shower design, you can design the space to not need a door for splash protection or you can take the route of a clean looking frameless glass shower enclosure. This will surely set you back at least $900. The end result will be a sophisticated clean look of beauty enclosing your new shower. Whether the door sits upon a curb or you have a specific need for a curbless wheelchair accessible situation you will be satisfied with your choice.
Who do you choose to help you with your dream? It is true that a professional remodeling contractor with years of experience will cost you more than a handyman illegally playing among the trades at your peril but then again there are those professional guarantees to consider. The professional verses the handyman is more likely to seek your overall satisfaction that will follow him into his next job. A true building professional can also orchestrate the job's smooth flow limiting the down time of a most useful room. Subcontractors will not be covered up and each skilled trade is brought onto the sight as needed in an orderly fashion. Professional builders normally have insurance to cover on the job accidents to protect the homeowners from having legal action brought against them personally. Be sure you ask for a certificate of insurance from your chosen professional contractor so that you aren't held personally liable for medical experiences covering a worker's accident while on your property.
I tell my customers all the time that one of their main ways of choosing a reputable contractor with a good track record and BBB experience rating is the ability for them to do work with the particular residential building contractor they are interviewing. Can they communicate easily relying on the contractor's experience and reputation and can they get along throughout the sometimes long and detailed construction process? Are they compatible as human beings because the only energy that should be spent during the project should be directed toward it's completion.
After choosing your residential construction contractor you should never pay for everything up front. Payments should be associated with aspects of the job and you should always get something for your money. Soft costs like designs, permits, or fees can be paid in advance to get the project rolling plus any custom made entities or materials ordered and stocked on the job sight. Never let the contractor draw ahead of what is actually happening no matter how much you are caught up in the building process. Paying for a little overhead to a legitimate construction professional will generally cost more but usually saves you a lot in the long run. It's not always about the cheapest bid because you'll always get what you pay for. Get every aspect of the job in writing and both you and the chosen residential construction contractor must sign the document for it to be a binding contract.
The National Association of Home Builders, in partnership with the AARP and Home Innovation Research Labs, created the CAPS program, which includes training and education on the technical, business management and customer service skills essential to compete in the fastest growing segment of the residential remodeling industry--home modifications for aging in place. David L. Traut, CAPS the owner of T-Square Company in Austin, Texas is one of the select group of professionals nationwide to earn the Certified Aging-In-Place Specialist (CAPS) designation, identifying him as a home remodeler and builder with the skills and knowledge necessary to remodel or modify a home to meet the unique needs of the older population, disabled owners or their visitors.