How do you go about designing an Aging in Place bathroom? This is a common question weighing heavily on the minds of today's aging homeowners. Truly, Aging in Place is all about living independently for as long as possible within your existing home. It is also about being safe and healthy within your home which has had architectural barriers or dangerous areas removed using proven practical home modifications. Trained and certified CAPS professionals are working throughout the residential remodeling industry demonstrating how you can Age in Place with the greatest freedom of movement and maneuverability. Aging in place home design is a concept promoting independence and livability for all types of living environments no matter the age or level of abilities of the occupants. The principle is not entirely age related as recuperation periods from injuries or the progression of debilitating diseases like MS happen to anyone at any age.
Just imagine being an active 60-70 year old adult who is able to participate in a full array of activities. This person may continue to work well beyond retirement age, enjoy sports, and travel wherever he or she desires. Then imagine how this same person might react to recovering over a six to eight week period while recuperating from a hip or knee replacement. The inability to move from the bedroom to the bathroom or kitchen without the use of a cane, walker, or wheelchair can be psychologically devastating. Or imagine a person whose hands are now disfigured from the crippling effects of arthritis and they have lost the ability to grasp objects. Just turning on a sink faucet or opening drawers can seem insurmountable to a person with such disabilities. The homeowner has become a prisoner within their own realized inaccessible home in one way or another. This scenario can be avoided by proactive bathroom designs.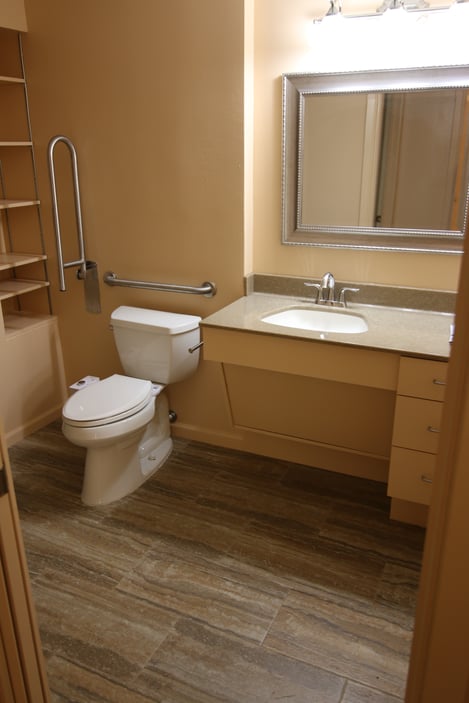 The physical challenges brought about by narrow hallways and doorways or high thresholds at the home's main entrance or shower area can create an impasse as they now have become physical barriers within the home. Not only has the ability to step over these barriers diminished but standing up from being seated on a low toilet seat has become almost impossible. Imagine the psychological impact of this limited environment on an individual who previously was accustomed to being fit, useful, and independent.
To accommodate the prospect of such physical challenges, dramatic changes to one's home may be necessary in order to Age in Place. Effective home adaptations and modifications can make any home safer and more manageable. Making important design decisions early in our lives can minimize the physical barriers and restrictions in one's home and secure access to the most essential areas like the kitchen and bathroom. This forethought will insure the dignity and independence for the homeowner in the event their mobility becomes restricted.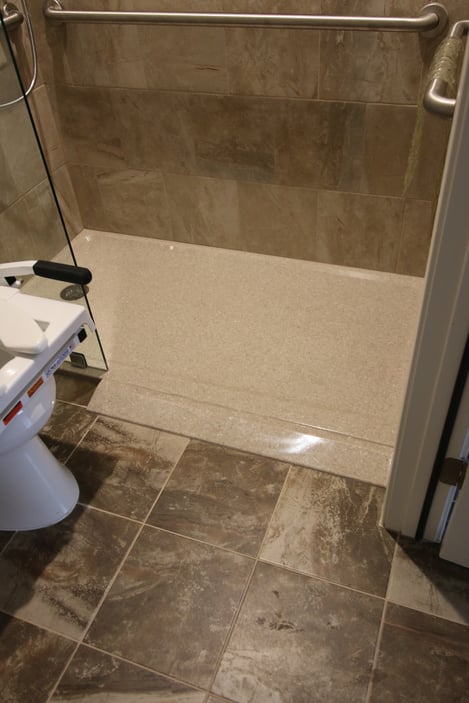 Universally, the Aging in Place bathroom is a little more spacious than in a traditional home with a five-foot turning radius observed. The new bathroom design is safer by reducing the potential for falls. In fact, there are many benefits to using Universal Design techniques, including potential use by aging family members, added resale value appealing to multiple generations, and the fact that you'll be creating a space that can be used by anyone who visits your home, regardless of their size or range of abilities. Bathrooms can be both functional and attractive when planned using elements of Universal Design like cabinetry that allows someone to sit at a barrier free bathroom sink. Either wrist handles or levers control all the faucets throughout the bathroom. Incorporate simple Universal Design updates for aging in place home modifications and handicap bathroom accessibility. Add secure ADA-compliant grab bars or handrails mounted on wooden blocking throughout the room around showers and accessible toilets, install adequate glare-free lighting in the shower and over work areas to prevent dark spots, perform a custom tub to shower conversion, add a seat within the curb-less roll in shower, provide recessed shelving within the shower to reduce floor clutter and tripping hazards, install a taller comfort-height toilet with a bidet attachment, lower upper cabinets and countertops or provide multiple layers for greater adaptability, add non-slip flooring, expand traffic ways, and widen entry doors. You might also consider lowering light switches and other electrical controls and installing easier to use door levers. Many considerations should be taken into account to provide safety and independence. You should try to provide a clear barrier free path or accessible route to this most visited area of your home as recommended by the ADA. Don't be afraid to spread the room out, because if the new design works well for wheelchairs, it works for everyone. Well planned accessible Aging in Place bathrooms lift the spirits and enhance dignity. They have the ability to transform our relationships with our bodies and our homes.
The National Association of Home Builders, in partnership with the AARP and Home Innovation Research Labs, created the CAPS program, which includes training and education on the technical, business management and customer service skills essential to compete in the fastest growing segment of the residential remodeling industry--home modifications for aging in place. David L. Traut, CAPS owner and President of T-Square Company in Austin, Texas as a handicap remodeling contractor is one of the select group of professionals nationwide to earn the Certified Aging-In-Place Specialist (CAPS) designation, identifying him as a home remodeler and builder with the skills, training, and knowledge necessary to design and remodel or modify a home to meet the unique needs of the older population, disabled owners, or their visitors.
By the way, David has recently published a book entitled "Age in Place at Home: Adapting the Home Environment for All Generations". It is available on Amazon and stands as a reference book for increasing home accessibility through Universal Design.
For additional information about the CAPS program, visit nahb.org/CAPS. For more information about T-Square Company, visit www.tsquareco.com or call 512-444-0097.