The number one safety hazard for elderly or disabled people of any age is negotiating level changes both outside and within the home--steps at the entry, stairs between floors, curbs to step over when entering the bath or shower, and being able to access patios, decks, and terraces. When Universal Design is correctly incorporated into a home's layout, these flexible houses accommodate the needs of their owners and their visitors even as those needs evolve over time. Barrier free homes are functional and comfortable as well as accessible to everyone.
Visitability or the lack thereof begins at the curb for every home. This term refers to how easy it is for all people coming by to pay a visit or stay with the homeowner regardless of their physical abilities. Occupants and visitors are capable of entering an accessible bathroom located on the same floor representing the visitability of the home. Ideally, the entry into the house is through a 36 inch wide door having an ADA threshold to create a no step entry. Entrance is obtained using an easily graspable lever style lock.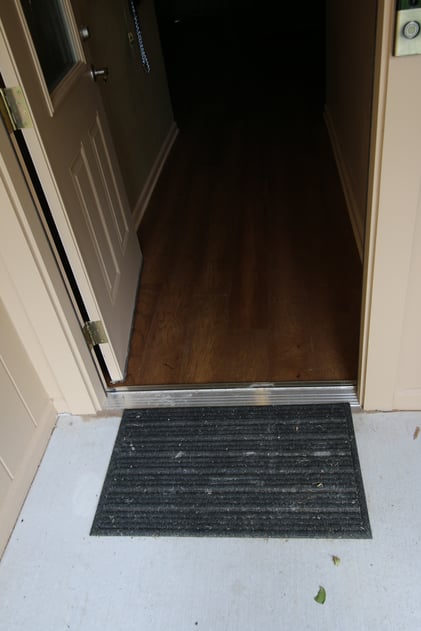 The accessible entrance is a great place to begin an accessible route for most homes. Once inside the structure a new set of problems concerning accessibility are discovered along the extended accessible route if the entire first floor is not on one single level. The designated accessible route continues into all of the most used rooms increasing accessibility. All swinging doors are minimally 36 inches wide using Universal Design along the accessible route producing a clear 32 inch wide opening when the door is opened to ninety degrees. Sliding, pocket, and bi-fold doors require less operating approach space because the door is better contained along the wall in which it is mounted.
With increasing age or following a temporary health setback, simply maneuvering around inside the home is increasingly more difficult. This designated route includes a 5 x 5 foot clear turning space required for wheelchairs in the main living area, kitchen, the bedroom, and one bathroom. The selection, placement, and design of doors and doorways influence a wide range of people. The location of the doorways affects furniture placement and usable space within the associated room. This in turn affects the clear floor space and usability of the living environment for someone confined to a wheelchair utilizing the accessible route.