I feel the information contained within my book, "Age In Place At Home" is so important for families searching to find answers concerning their traditional home once any family member has experienced health changes interrupting the family's daily cadence. These changes might include a broken limb, the affects of a constantly degenerative disease like MS, or a stroke, just to name a few. Once the afflicted person can no longer enter their bedroom or have adequate use of at least one bathroom's facilities, the family is aware their home has an architectural problem. The interrupted family becomes aware they need some sort of home modifications to help cope with the personal changes of the affected family member, but do not know where to turn for help. This is where the book comes into play. The news of my book's availability warranted reposting because it is an invaluable reference tool for any family unit going forward in reference to their home's possible modifications to increase accessibility. After over a year of writing to fulfill my customers' requests, my new book, "Age in Place At Home," is available for purchase from Amazon. Go to the link below to order my paperback book, which was released in late November, 2022. It provides a great guideline for using the principles of Universal Design in new home construction and/or remodeling for every room in your home to accentuate universal accessibility for those needing it the most. Get your copy today.
https://www.amazon.com/gp/r.html?C=2Z24ENUUAEWUK&K=13Y7YU7PKKYAC&M=urn:rtn:msg:20221010201802eb9acb7b24004a4785cd2ec1d4f0p0na&R=3R6MK9WDXJPH7&T=C&U=http%3A%2F%2Fwww.amazon.com%2Fdp%2FB0BHTV28RV%3Fref_%3Dpe_3052080_276849420&H=7FWEPMGCH0TT8LN6SKPMUOCVJNYA&ref_=pe_3052080_276849420
A home's adaptability is one of the most desired qualities within a person's home during some point in their life as their or their family's physical needs change. The need for specific modifications to enhance accessibility can be short term while recovering from an accident or illness at any age, or these home alterations may become permanent. The special individual needs within a family may concern an adult or a child. Universal design principles don't discriminate between any family members regardless of age, size, or ability because they are inclusive. Hence, every family member is accounted for. Learn how to adapt your home environment to satisfy your family's needs in David Traut's new book, "Age in Place at Home".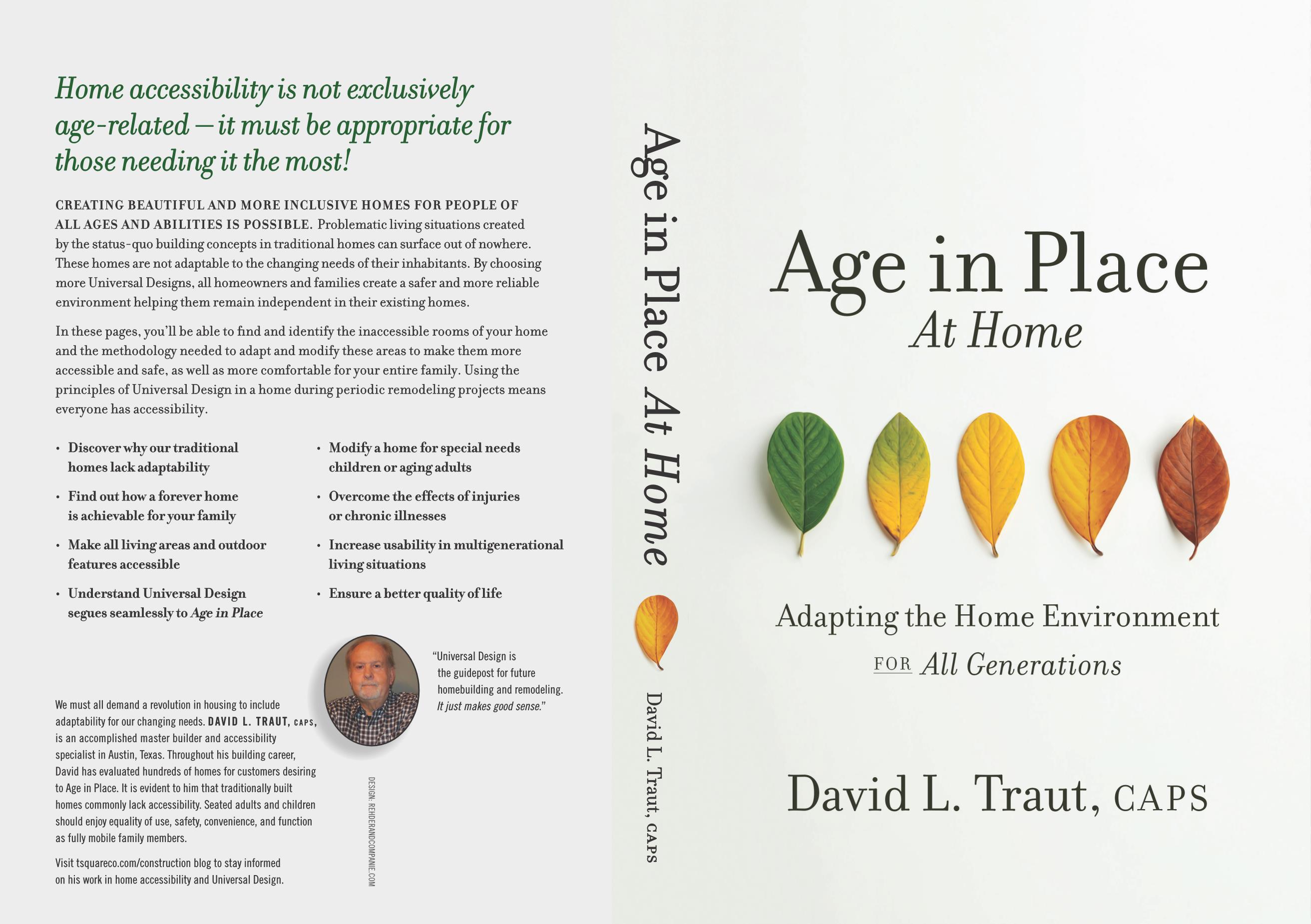 T-Square Company, in Austin, Texas, practices Universal Design/Build ideas for accessibility to seamlessly segue into what is generally needed for Aging in Place. The essence of my book is to advise people so they understand why our traditional homes are obsolete to us, the homeowners, the minute they are completed and we take possession. The book offers advice to overcome these overwhelmingly problematic areas of the home. This understated and overlooked fact is represented by the methodology used to create the traditional home. These homes are built to satisfy our immediate lifestyle and physical needs on the day we close on the house, with no regard for the future. The new home lacks adaptability to satisfy our needs once our bodies physically change beyond the purchase date. If we had incorporated the Universal Design principles into these new homes, those same homes would adapt to our changing family needs including every inhabitant regardless of age, size, or ability. The lack of home adaptability is not the consumers fault, they have always been unaware of how to reference the problem and accepted what the housing market produced. They were unaware of what to ask for. Hence, the status-quo of homebuilding has been perpetuated for over a hundred years.
T-Square Company offers all types of Universal Design home modifications to better prepare you and your family for your unforeseeable future home accessibility needs on a design/build basis. It is a fact, existing, traditional homes must be modified to increase their accessibility using correct designs. Become aware and embrace the knowledge that the principles of Universal Design offer greater home accessibility for every one of your home members, from your father to your son. This is why the process is known as inclusive design.
David L. Traut, CAPS, has been involved with accessibility for nearly thirty years for the VA, HUD, and private residences. He is nationally certified in Universal Design in the United States and Australia. Contact him at 512-444-0097 for a professional home assessment to guide your future accessibility needs or at www.tsquareco.com. Simply fill out your information on the contact us page.
.