Custom Tub Shower Conversions In Austin
In general, smaller bathroom sizes are dictated in some respect by the length of the tub which in most cases is four to six feet long with five feet being the common dimension. This is evidenced by a tub that has been installed opposite or adjacent to the entry to the bathroom producing a wall to wall tub situation. In this configuration the toilet and vanity are generally placed on one of the walls that are perpendicular to the length of the tub or the tub can be installed on an opposite wall where the toilet and vanity line up. The tub is a great starting point to gain space for a larger custom walk in shower replacing the tub you never use. If you are fortunate enough to have wall lengths exceeding the five or six feet norm then space is not an issue and you can proceed with ease. Just choose your finishes wisely and keep all choices for your new shower within your budget. Bathtubs are good for soaking, but how often do you actually use them? In today's fast-paced society, most people prefer showers as opposed to extended time sitting in a tub. A tub to shower conversion is not only a great way to update your outdated bath, but it also provides you with a lower maintenance, safer and more accessible bathing solution. Most designers and builders do not recommend eliminating the only tub in the home for resale value considerations. Young families need the tub for bathing their young children.

In The Photo Below The Rarely Used Tub Was Removed And A Walk In Shower Created In It's Place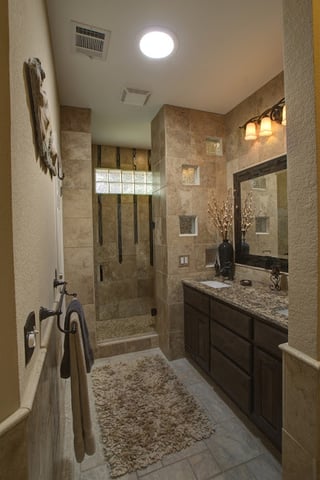 We hold a nationally registered CAPS (Certified Aging in Place Specialist) credential and a Universal Design (UD) certificate specializing in accessibility for our aging in place home modification customers
Along with aging in place, universal design is becoming more of a household term. Essentially, it's about building or modifying places and spaces—both public and private—to accommodate people of all ages and abilities. More than just an architectural concept, universal design is a win-win for sandwich generation boomers caring for aging parents and their children at home, for grandparents raising grandchildren and great-grandchildren, and for all who are facing the challenges of caring for a loved one with Alzheimer's or other chronic diseases.
Whether your family needs the support now or down the road, universal design features are a good long-term investment for the home itself.
Custom Roll In Showers In Austin
The Tub In The Picture Below Was Removed To Provide Wheelchair Accessibility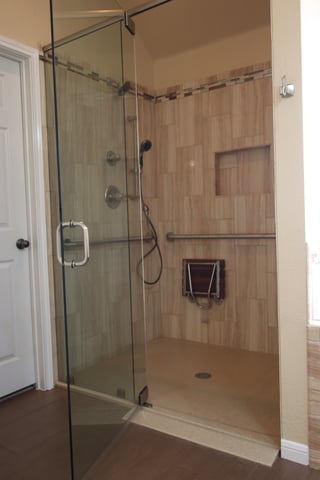 All new construction or any bath transformation should involve multiple shower head combinations in multiple locations to fit anyone's desires. Rain heads coming out of the ceiling, body heads coming out of the walls in many locations, or hand held units attached to the shower walls can make things very interesting. These combinations of heads and locations can be used to create rain effects, provide relief for muscle aches through body massages, or simply provide pin point convenience with hand held variable heads. The possibilities are endless as you dial in your bathing environment. Steam generators are also being considered as an investment in today's fine bathrooom designs. The steam heads can make the difference after a tough day when you're looking for that more therapeutic spa experience. This has certainly led the way to the thermostatic shower valve with plumbed-in hand held shower that is being
Fill out the form below and discover how a traditional custom tub shower conversion or a low threshold accessible shower can help keep you healthy, independent, and safe.
Custom walk in shower designs
Austin, Texas bathroom remodeling
Handicap accessibility
Wheelchair accessible roll in showers
Accessible home remodeling
ADA accessibility
Austin Tub To Shower Conversions