Perhaps your getting a break at the workplace and are given the chance to work remotely from home or maybe it's just something you've always wanted to create for your own privacy. For what ever reason customized home offices are becoming very popular in this day and time in our digital world. There seems to always be emails that need to be dealt with or personal research endeavors on the internet. Many homeowners are feeling the need for a defined space within their home.
Well thought out home office transformations and home office designs in Austin can provide you with that secluded space to both function and concentrate away from all of life's minor distractions. In order to make your new working area fully functional for all your specific needs you must first identify those needs. What do you want to accomplish on a daily basis within your new office? Plan out the command center, starting with your desk, and visualize your monitor's new location. Know where items like the printer, CPU, keyboard, or mouse will be located. Will they be visible or concealed? The careful design of fine cabinetry in your new office can provide for any specific needs. Good planning will solve any other problems you might face concerning storage that weren't better served by one or more of the fully shelved closets.
A typical custom desk can utilize a pullout keyboard unit with mouse tray, either an open CPU storage or one concealed by a beautiful hardwood door, plus the standard file and other specialty drawers. The printer can be concealed on a pullout tray behind a drawer front or simply placed on the desk top with the monitor. Storage for small office items can be accomplished using an upper unit which sits on the desk top in the old "Roll Top" fashion of design. (See Attached Photo) Your desk can sit against the wall or out in the middle of the room. Again, function!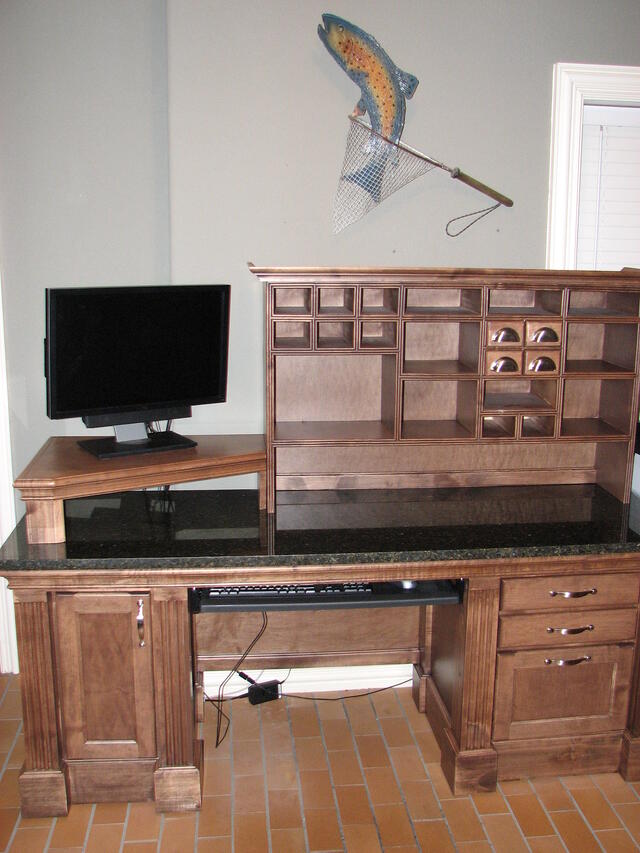 What other custom office cabinetry would help you to function properly? Do you have a lot of books and want to display them? Maybe you want to display only a select few. Should you protect the visible books with a pane of glass set into a door or leave them out on an adjustable shelf within your new bookshelves? Do you have enough books to go from floor to ceiling in one unit or can you use a credenza near the floor that is even deeper than the upper bookshelves? The credenza can contain a series of drawers over pairs of doors hiding adjustable shelves.
If your design requires hardwood raised panels on the finished sides of the desk this design can spill over onto the walls creating that "courtroom" look. The wooden raised paneling can go from the base board to the ceiling's crown molding or used only as a lower wainescot with cap molding. And hey let's not forget about the ceiling to share some of the new woodwork. This repetition of style can also enhance a more sleeker European look formulated in the framess appearance of the fine cabinetry. With only imigination to slow you down remember to design for function.