Life happens and your present way of going about it includes newly discovered physical barriers which were never an issue before. You've lost your mobility and are now forced to rely on a wheelchair for assistance at least for the present time. The maneuvering of familiar areas within your home you'd always taken for granted are now presenting barriers that are limiting your new means of mobility. Clear openings of 32" or greater, elevation changes steeper than 1:12, and being able to have access to all your home's facilities have been affected springing forth handicap remodeling. The removal of these home grown barriers that now disrupt your accessible route for handicap bathrooms in Austin, Texas needs to be done by a qualified building professional holding a CAPS certificate. Any ADA remodeling should comply with both ADA and local building code standards along with the TDLR guidelines. A handicap bathroom remodel is not age related but becomes a major aspect concerning remodeling for seniors.
Problems encountered while accessing your home when you are wheelchair bound generally begin before or at the front door. Given that you can reach the front porch approach without obstruction is surely a great start. The stairs leading onto the front porch are yet another matter all together. A correctly designed ramp having the correct slope can adequately solve this problem. The use of grab bars and any railings will be dictated by the ramp's design and the regulations involved. Once your safely upon the porch, your home's front door width can become an issue. Any entry door less than three feet in width will cause a problem in maintaining a required 32 inch clear entry way that starts the new accessible route within your home. Once inside the structure a new set of problems concerning your accessibility will be discovered.
An accessible bathroom for your convenience becomes the first issue. The disability access bathroom will be located within the accessible route. Any barriers encountered while approaching the bathroom entrance will need to be removed. The minimum clear widths have to be observed. This will include the bathroom door itself. Twenty four to twenty eight inch wide doors are commonly used during the construction of American homes for accessing the bathroom and must be widened during a bathroom transformation. Anything below three feet does not meet the clear 32 inch requirement mentioned above and will need to be altered for clearance of your wheelchair. This work may involve moving light switches. These alterations should be done by a licensed electrician assuring your safety.
Once inside the accessible bathroom you should try to maintain a five foot turning radius for your wheelchair if at all possible. You will need to have your plumbing facilities brought into compliance to enable your freedom and safety. Bathroom modifications for the disabled involve the use of grab bars within the tub or shower and around the toilet which can be very helpful insuring your safety for maneuverability. These should be installed at 34 inches above the finished floor to safeguard your use of them. Having roll under capability for the new 34" high ADA compliant vanity can be very helpful while you are in the wheelchair. Exact clearances should be complied with underneath the vanity. The proper safety equipment should be installed on the plumbing pipes that don't allow scalding of your legs. The toilet may need to be replaced providing a comfort level height for easier access. The handicap bath or roll in shower may need to be altered to become only a shower with roll in or possibly transfer capabilities. Roll in showers are always easier to deal with than handicap baths having walk in ability. However, these tubs are not for everyone especially those with dementia so do your homework before buying such an expensive addition to your bathroom. All of these changes must be done along the ADA guidelines for your safety but these are only to be used as a reference. At this point every individual has their own set of needs according to their disabilities.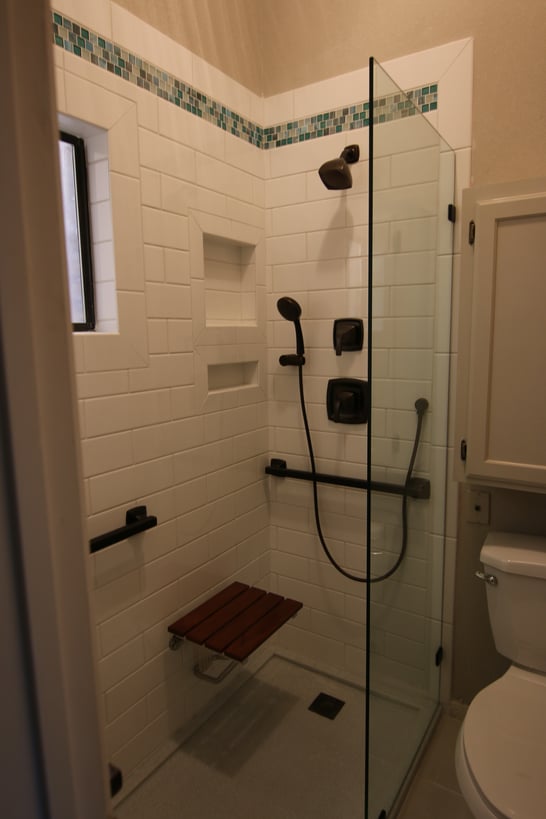 The referenced door situation above will be true for any room in the house if you are to enter them barrier free. The kitchen, your bedroom, and any other rooms you require accessibility to enter could be affected. Even the closet door within your bedroom will need to be wide enough so that you can manage getting your clothes to dress. Any other bedrooms that you may need to enter with your wheelchair will need alterations.
The accessible kitchen is another story altogether. You will at least need the roll under capability as mentioned above at the sink. Upper kitchen cabinet heights may become an issue if you still plan to do meal preparations. No matter what you end up doing, make sure to hire an experienced building professional who understand the ADA guidelines for your well being.
Aging in place design is mostly used for homeowners who require home modifications to allow them to remain in their home safely and comfortably as they age while their physical abilities change over time. Universal design is a much broader term covering the design of products and environments that are usable by all members of the household, from the youngest to the oldest, to the largest extent possible, without the need for further alterations, adaptations, or specialized design. Universal Design provides a pathway to seamlessly age in place. It is truly thinking ahead when it comes to accommodating the living environment for better home access.
Aging in place home modifications are available through T-Square Company in the Austin area. We have an A plus rating with the local BBB and have over 30 years of remodeling experience. We are additionally a certified aging in place specialist (CAPS) offering complete aging in place services. Each design/build situation will be customized to fit your personal needs increasing your accessibility. Call 512-444-0097 today to begin the accessible second chapter of your life while remaining safe and secure in your existing home. CAPS #1636580