Designing for specific physical conditions during a handicap retrofit will lessen the impact of say arthritis, restricted mobility, or loss of vision by using combinations of products, concepts, and techniques available today. Working as a team, a trained CAPS specialist along with any family caretakers or therapists is able to identify the day to day problems weighing on those with health limitations. If you are considering an aging in place remodel for your home don't just contact any local remodeler in your area and expect a satisfactory accessible home modification. A professional design/build accessibility project can only be created for your specific needs by a qualified home remodeler having a nationally accepted CAPS (Certified Aging In Place Specialist) certification. This credential is backed by the NAHB. Only a CAPS home remodeler possesses the specific knowledge that will insure a successful outcome for your accessibility or aging in place project and what's more, keep you in your home longer.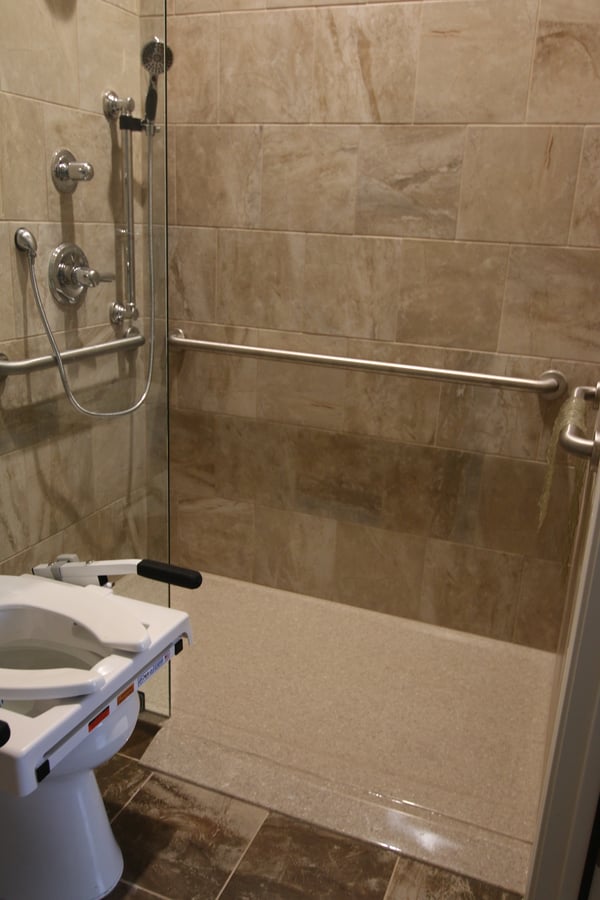 Disability is a complex phenomenon representing an interaction between one's physical impairments, the activities they need to perform, and the architectural barriers within the space in which this situation occurs. The terminology and jargon used for disabilities evolves regularly whereas, "handicapped" is no longer acceptable. It is no longer merely a description of intellectual or physical impairments. Each individual with similar impairments describes his or her limitations differently. The blind don't experience their world the same as a person with deafness and so on. Physically challenged has become the more socially accepted description of a person with an impairment.
Physical limitations affect many more people than the daily users of walkers and wheelchairs. Many members of our life experienced or elder society have significant problems in dealing with their home environment. Today's conventional building standards conflict with most people's accessibility when you consider our created architectural barriers concerning cabinetry and door opening widths, individual strength, range of motion, movement, manual dexterity, balance, and coordination . Once the demands of our built environment exceed their capacities we become excluded from a room or even the entire home. This has brought about the realization that handicap bathrooms are needed. The building world must work in unison to be sure the entire living environment meets basic needs in addition to affordability and structural integrity for the consumer and home owner. This includes both the home and the components within the home being accessible to all inhabitants. Privacy, sense of belonging, sense of control, and the sense of safety and security make up the quality of life for any home and should be considered for any accessibility design.
Wheelchair accessible bathrooms today contain stylish vanities set at a universal height of 34 inches with clear knee spaces. Plan on 27 inches of vertical clearance for a wheelchair. The sink faucets must be easily controlled by either wrist handles or levers. The faucets can be fitted on the side of the sink to make them easier to reach. Or install infra-red faucets that detect motion. Hang the mirror low enough for a seated person to see themselves, and tip the top of the mirror out. bathroom vanities with universal height cabinet tops and open knee spaces are taking over the marketplace. These new residential vanities do not need to look institutional even though they are wheelchair accessible. They can be designed like any other piece of fine furniture. Scalding must be guarded against by using either insulating pipe wrap or a removable panel for the plumbing.
The threshold is the most dangerous component for any ADA compatible shower. Not only is it impossible to overcome in a wheelchair but it isn't safe for those who are vision impaired or those with mobility issues. Curbless roll in showers that are 5 feet wide and 3 feet deep having a 36" clear entrance are advised for everyone. Low threshold shower bases with add on ramps can solve the shower entry problem when the floor cannot be lowered to form a true contoured roll in slope. The accessible shower should contain at least a shower wand on a sliding bar for varying heights of use along with a regular shower head and control if desired. Installing fixtures with a scald guard or lowering the temperature at the water heater is a must to prevent burns. Install the slider bar for the hand held shower hose and head 4 feet off the floor so that the head can slide up to 6 feet high. Always use a shower valve installed below or at 48" from the finished floor that is thermostatically controlled and pressure-balanced to prevent scalds. If you desire a full body wash, you can include a regular shower head as well. Always choose fixtures and fittings that are easy to control with a single hand motion or a closed fist. Motion controlled sensor fixtures are also a possibility when specifying fixtures and finishes. Built-in shower seats provide comfort and safety but can sometimes get in the way of accessibility. Folding seats are an option in the shower and are useful if caretakers are ever involved or a shower chair is ever required. These seats are much safer than a free standing shower seat which can collapse and cause a fall. Recessed shampoo niches located 48" above the floor help keep shower floors or seats free of trip hazards. Grab bars around the bath and especially on each wall in the shower installed at 34-36" above the floor should be used. All grab bars must be secured into either adequate wood blocking or existing wall studs so they can hold at least 250 pounds of downward force. Non slip floor covering should always be considered with a 0.5 friction coefficient rating. Enclosures can vary by the accessibility needed by all and can be everything from an out-swinging frame-less door to just a simple glass splash panel or even a curtain on a curved rod. Walk in tubs are also a consideration but some people get chilled while the tub is draining.
Austin handicap remodeling, aging in place home modifications, and ADA Accessible kitchens are available through T-Square Company. Each design/build handicap accessibility situation will be customized to fit your personal needs. Call 512-444-0097 today to begin the accessible second chapter of your life while remaining safe and secure in your existing home. CAPS 1636580