FOR IMMEDIATE RELEASE
September 8, 2014
David Traut earns Certified Aging-In-Place Specialist Educational Designation
Austin, Texas David L. Traut owner of T-Square Company is now one of the select group of professionals nationwide to earn the Certified Aging-In-Place Specialist (CAPS) designation, identifying him as a home remodeler and builder with the skills and knowledge necessary to remodel or modify a home to meet the unique needs of the older population, disabled owners or their visitors.
The National Association of Home Builders, in partnership with the AARP and Home Innovation Research Labs, created the CAPS program, which includes training and education on the technical, business management and customer service skills essential to compete in the fastest growing segment of the residential remodeling industry--home modifications for aging in place design and remodeling.
In 1974 while obtaining a graduate degree from the University of Texas at Austin an innate talent was acknowledged and T-Square Company was formed as a means to remodel both friends and Professors homes. This began a quest for constructive footprints leading to a lifetime of challenge. My researching practices evolved into the art of building the most efficient structures possible utilizing the ever changing technologies benefiting construction.
CAPS graduates include remodelers, builders, designers, architects, occupational therapists and others who help homeowners remain in their homes safely, independently and comfortably as they age.
The CAPS coursework curriculum incorporates market demographics, communication techniques, marketing, common barriers and solutions, building codes and standards, product ideas and resources and business management.
CAPS program graduates are required to maintain their designation by attending continuing education programs and/or participating in community service projects.
"As a certified aging in place specialist I look forward to helping homeowners in the Austin and surrounding areas make the changes they need to enable them to live in their homes for a long, long time. We can now offer certified aging in place services" said David Traut.
For additional information about the CAPS program, visit nahb.org/CAPS. For more information about T-Square Company, visit www.tsquareco.com or call 512-444-0097.
Millions of Americans are living longer and have more active lives. While this group is embracing newly found and changing lifestyles, a need to revitalize their home environments has come about. Elder living solutions require bathrooms with disability access and have become the norm for the baby boomer generation. Identifying this major opportunity while developing the skills to interact with those needful homeowners has created a new type of remodeling. A certified aging in place specialist performing elder construction or CAPS home remodeling contractor has completed the coursework and training in how to help keep existing homeowners in their homes longer. The CAPS certified remodeling contractor will be listed in a national directory compiled by the NAHB in Washington.
Aging in place design and aging in place services in Austin will provide a means for our customers to remain in their homes for as long as possible and this is why we offer this nationally accredited service. Gaining accessibility is the key component. Let us help you design and build a new accessible awareness for your existing home. We can show you how an accessible route can give you access to any part of your home no matter what your mobility situation is or will become. For obvious reasons, the bathroom and kitchen are the rooms most affected by a lack of accessibility when aging in place is a concern.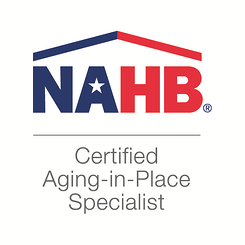 We are able to handle any remodeling project, and focus on collaborative client centered solutions. We are not afraid to think outside of the box for solutions that meet our client's needs. We are a company with extensive experience in physical and occupational therapy as well as construction, remodeling, and design. Services we offer include: individualized assessments, architectural design, interior design, accessible remodeling & construction, wheelchair lifts & ramps, stair lifts, residential/commercial elevators, ceiling transfer lifts, and other simple solutions such as grab bar & railing installations.