A universal design-build project is appealing to all users. When correctly applied, any home area will be accented universally with stylish function and appears virtually invisible. Bathrooms, kitchens, family rooms, and bedrooms will all benefit the homeowner once the principles of Universal Design are applied. Examples of increased usability provided by Universal Design include wider doorways and hallways, enhanced lighting, non-slip flooring, contrasting colors within rooms, more accessible electrical controls and devices, curb-less showers, lever door hardware, more pull-out shelves, and drawers over cabinet doors, varying cabinet top heights, and water faucets and controls operable by a single hand or closed fist. Be advised, Universal design ideas do not strictly deal with accessibility or Aging in Place design. They do not implement precise ADA standards, but offers flexibility to add accessories now and later to those planning or the end user.
David L. Traut, CAPS (1636580), the president and owner of T-Square Company, is accredited in Universal Design in the United States and Australia and has written many papers on the subject. David not only practices integrating Universal Design in his local design/build projects, but he acts as a consultant directing customers who live out of his service area. He has now published a book covering how Universal Design overcomes today's problematic living situations within traditional homes due to their association with status-quo building concepts. Additionally, Universal Design offers a common-sense gateway for increasing accessibility and adaptability in future homes. T-Square Company in Austin, Texas has been offering design/build accessibility projects to their clients incorporating the principles of Universal Design for over twenty-five years. They specialize in Universal Design Ideas.
Universal Design construction or inclusive construction is used when a homeowner is smartly preparing for future life changes and want to remain in their existing home. The most significant advantage of using this innovative concept is that it smoothly prepares a home for Aging in Place. By gradually applying elements of Universal Design during periodic home remodeling projects, those specific home areas affected are Age in Place ready without being noticed until needed. The concept provides various human performance characteristics for people using spaces within their homes, including well-integrated usability features. These adaptations have a broad market appeal to everyone for achieving ease of use, safety, and convenience, accommodating an inevitable reality. The effects of a disability, aging and disease are tempered because adaptability is built into the design. The reality is that all people exist along a continuum of human performance as per their traits and characteristics, regardless of their age. A universal approach to design considers that everyone has varying degrees of ability and disability rather than someone who is either fully functional or disabled.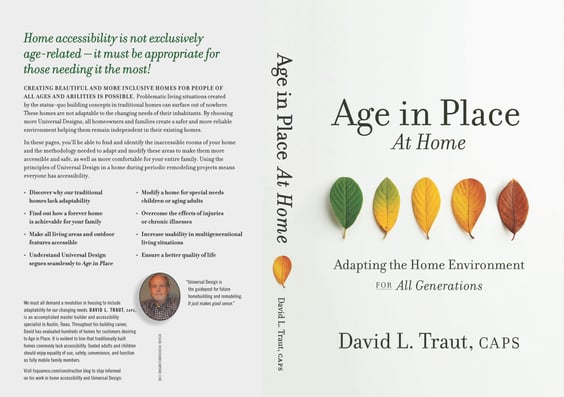 David L. Traut, CAPS, the owner-president of T-Square Company has published a book entitled "Age in Place at Home :Adapting the Home Environment for All Generations". The book is available through Amazon. This book covers identifying and overcoming common accessibility shortcomings found within a traditional home. Within it's pages, David takes you through a home's interior showing you how and where to apply Universal Design aspects in every room. Since Universal Design seamlessly segues into Aging in Place needs, it is a how-to book worth reading. Incorporating Universal Design principles into your home facilitate future Aging in Place goals, while comfortably addressing the diverse needs of all ages and mobility levels living within your home at any time. This book is a great reference for aging homeowners, parents of special needs children, homeowners moving in their elderly parents, and multi-generational living situations. Always remember, home accessibility is not exclusively age-related, but it must be appropriate for those needing it the most.
Universal Design construction and Aging in Place home modifications are available through T-Square Company in SW Austin, Texas. Each universal design/build project is customized to the homeowner's needs. Call 512-444-0097 today to prepare for the accessible second chapter of your life while remaining safe and secure in your existing home. T-Square Company will design and build an adapted living environment customized around your abilities. Whether your project concerns home modifications, an accessible addition or wing, or new construction, they can help you increase your accessibility. T-Square Company has over three decades of building and remodeling experience practicing as a disability contractor for people with special needs. They want to help their clients be as self-sufficient and independent as possible by offering handicap accessible floor plans. Let them show you how to increase safety and accessibility within your living environment.
After so long a time of blogging, soap box deliveries, and conversations with customers and other builders concerning the importance of Universal Design in the future of our home building industry, others have listened and agreed. David was humbled to find this article published in the Austin American Statesman. He takes pride in the fact that people are beginning to see the importance of this very forward-thinking design concept because it just makes good sense. May this article help to propel the needed universal building movement forward.

The trend toward 'universal design' in homes
Tuesday, Jan 15, 2019 @ 3:57pm
By David Wilfong


Simple adjustments like a sideways opening oven can make life a lot easier for a person in a wheelchair. | Jofre Essley / Flickr

For many years disabled people faced challenges at every corner of public life. Stairs, rough ground, or even just reaching objects on a shelf created obstacles at inopportune times. Then the Americans with Disabilities Act (ADA) came into play. Wheelchair ramps and handicapped restrooms became commonplace in common spaces, and the result has been an improved quality of life for millions.

Then there's the subject of home design. Homes have been modified for many years to meet the needs of the disabled, but now there is a new concept of "universal design," which means homes being built for all needs from the beginning, even if there is not currently a disabled person living there.
"Along with aging in place, universal design is becoming more of a household term," says T-Square Company (14141 Highway 290 West, Suite 800 in Austin) in is online blog. "Essentially, it's about building or modifying places and spaces—both public and private—to accommodate people of all ages and abilities. More than just an architectural concept, universal design is a win-win for sandwich generation boomers caring for aging parents and their children at home, for grandparents raising grandchildren and great-grandchildren, and for all who are facing the challenges of caring for a loved one with Alzheimer's or other chronic diseases. Whether your family needs the support now or down the road, universal design features are a good long-term investment for the home itself."

The trend toward 'universal design' in homes
Tuesday, Jan 15, 2019 @ 3:57pm
By David Wilfong