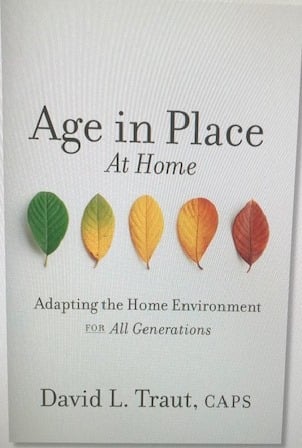 Everyone planning to remain in their home to Age in Place is looking for safety, security, ease of use, and comfort. Homeowners and families must plan for future housing needs. The current housing inventory does not offer the features needed for safety and accessibility in the numbers required to accommodate the growing demand. They have weighed the costs of institutional living compared to their home's expenses. They also realize the difference in adhering to stringent rules in a facility instead of independently and freely residing in their present home.
Before and after retirement is an excellent time to prepare the house for what comes next in life—before any significant health issues appear. Choosing to Age in Place earlier in life using Universal Design techniques means a family can longer enjoy the home without obstruction. Their relatives, visitors, and children have peace of mind assured the aging loved ones or the chronically ill are safer living at home.
The truth is, with professional help, you can adapt almost any home environment to enable you and everyone else in the family to live within it to the fullest extent safely. The process is not age-related. Disability can strike any family member at any age. The need for greater home accessibilty is the common thread. Universal Design or inclusive design is a design and building pathway that makes homes more accessible to all regardless of their age, mobility, or ability when appropriately used. The design process offers a seamless path for Aging in Place. It addresses the requirements of special needs families or multigenerational situations. Solutions for diverse living conditions are now becoming a possibility.
Regardless of size or ability, people are becoming more familiar with Universal Design and Aging in Place if considering a home remodeling project. Some people use these words interchangeably, but while they are similar, they do differ. Both are specific design techniques used in making a home more comfortable and accessible for individuals of different abilities. Universal Design deals more with customized new dwellings and a proactive remodeling approach for people wanting to Age in Place before any health issues arise. Aging in Place strictly involves remodeling existing homes to accommodate physical needs brought on by sudden health issues in a reactive manner. The costs for both processes represent a beneficial investment in your home for future needs as opposed to merely spending involving aesthetically pleasing remodeling projects.
I came to realize over my building career that including cramped twisting hallways with narrow doorways, bathrooms lacking maneuvering space and usability, kitchens without accessible storage and workspaces, and stepped home entries were repeating home design flaws. The home building industry has always lacked inclusion for all homeowners with their ever-changing needs.
As a Certified Aging in Place (CAPS) professional (#1636580), I am confident this book, which will hopefully be available toward the end of 2022, will introduce you to a new way of thinking about your home's future. It offers a guide for solving diverse home needs for all people affected by varying physical conditions and aging. I decided to write this book due to many customer requests for a summation of suggestions to improve their home's accessibility, comfort, usefulness, and sustainability and, ideas they could share with others. I based the information provided on countless past walkthroughs and home assessments. Inside, you can discover room by room the benefits of using the principles of Universal Design and how to incorporate them periodically throughout your living environment at your own pace. I guide you through a home, making suggestions for what will increase your and your family's future accessibility. You will notice the chapters involving the bathroom and kitchen are pretty extensive. They represent the most important rooms to consider when planning to Age in Place. The most utilized rooms in our homes must accommodate all diverse residents and visitors.
Would you please not allow your home to hold you or your loved ones captive within its walls and enable your home to conform to you and the needs of your family. Please think ahead positively and proactively while preparing for the future. IT JUST MAKES GOOD SENSE.
#accessiblehomes