The garage is often overlooked when planning an Aging in Place project. A uniquely specified floor plan, special attention in how the house is entered from the garage and adequate lighting for safety encompass a Universal Design in the garage. Wider and higher clearances are required for greater accessibility. Universal Design for garages deals with the garage footprint and the associated maneuvering space around vehicles. The Universal Design garage floor plan includes a wide enough door to accommodate over-sized vehicles. A typical garage measures 22-24 feet in depth and 15-18 feet in width. Potentially accessible van storage changes a current double garage into a single car garage when the wheelchair user is entering or exiting the garage from a side door of the van. A clear five feet turning radius at the loading spot is observed allowing the wheelchair to freely move about. The single vehicle consumes the entire garage space since 15 feet in width is needed for van access on the side. Storage of a second vehicle resumes following the transport and unloading of the wheelchair user. Eighteen feet wide by eight feet tall over-sized garage doors are adequate for most any over-sized vehicle clearance. If rear vehicle ramps are needed for loading or unloading the disabled passenger supplementary space is needed. The van is backed into the garage for this situation assuring the wheelchair user is underneath a protecting roof.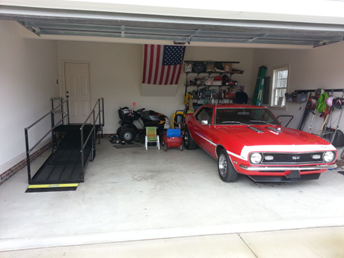 A typical garage has a 4 inch tire curb bump protecting the home from water flowing in. This curb bump requires at least a 4 feet long ramp to overcome the change in elevation. The overall garage space is reduced using this accessibility aid. If the sunken garage has multiple steps, consider a space saving vertical platform lift as opposed to an extended ramp. This ultimately saves precious maneuvering garage space. Universal Design entries into the house require a no step entry through a 36 inch wide door. One major advantage concerning garage entries is they provide total weather protection for a disadvantaged person transitioning into the home heading toward the accessible route. To make entering the home even easier, install an electric door opener operated from a smartphone or keypad. It opens with the touch of a button and the integrated electric strike eliminates the need to fumble for keys. The opener has a built in safety delay allowing a person to pass clear of the door entrance before closing.
If adequate lighting in the garage was never a consideration it must be upgraded per Universal Design concepts. Proper lighting is one of the key components in Universal Design. It will help eliminate tripping and falling. At least one or more additional lights are installed where needed to overcome this problem especially in the direct vicinity of the home entrance door. These additional lights can be controlled by a motion switch causing them to come on automatically when anything enters the garage.