While planning an Austin outdoor kitchen space, you'll need to think about how many people you intend to accommodate given size of the area you plan to include. What are your entertaining needs you plan on furnishing in your new outside space? Identify your budget. The next step is to determine the best location for your kitchen, the size requirements, design layout designating certain areas for certain functions, counter top placement and arrangement, and the appliances and amenities you require. Don't isolate the cook away from the rest of the party. Finally, you must choose the best materials and equipment for accomplishing all your goals that will endure the outside elements because more than likely they will be built into a fixed size placement.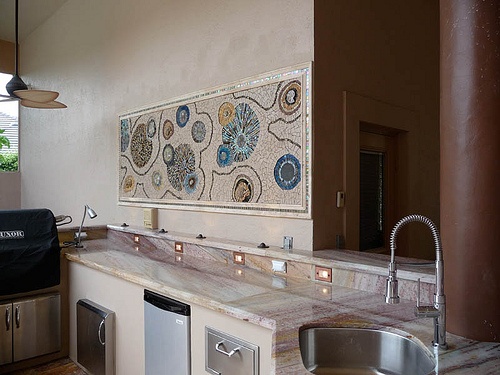 An outdoor kitchen is an excellent way to equip your backyard for entertaining and feeding hungry friends and family. Our Austin climate gives us the flexibility of expanding our living areas into the outdoors. Outdoor kitchens range from small prefab areas with little more than a built in BBQ grill to large, fully equipped custom kitchens complete with one or more grills, extended counter tops, sinks, bars, pizza ovens, and storage cabinets. A fully equipped outdoor kitchen can be a big investment, but one that is sure to add lasting value to your Austin home. Plan for utilities. When planning for an Austin outdoor kitchen design layout, keep in mind the best practical placement or installation of the necessary gas, water and electrical supply. Add music and other entertainment remembering that TV screens are burned out by sunlight making them hard to see. Extend the outdoor entertaining season with heaters, shade and rain shelter. Incorporate shade trees, pergolas and awnings in cooking and dining areas, but don't put a combustible ceiling or awning above an outdoor grill.
Your Austin outdoor kitchen concept should include designated free flowing zones for food prep, cooking, dining, and socializing. Apply good kitchen design principles for functional zones of the kitchen. Cold areas for refrigeration, hot areas for cooking, wet areas for sinks, and dry areas for food prep. The shape of your outdoor kitchen layout will depend on the location of your new outdoor kitchen to the proximity of your home. Traffic pattern and flow will determine most first steps when designing an outdoor kitchen while galley, C, and U shapes come to mind. Detached areas as in around pools or yard settings give you greater flexibility with your design as it has the capability to expand into your surroundings. More extensive outdoor kitchen designs will usually include side burners, searing areas, flat tops, and warming drawers to name a few amenities but most of these items will require precious additional space or totally designated areas. Provide adequate task lighting as well as ambient lighting to accommodate evening after dark cooking and entertaining.
Compliment your home's architecture and landscape with your outdoor kitchen design. Mix in some of the stone or brick that is on your home. If a cover is included you can make it look like the rest of your home or totally stand out like a gazebo. The rear wall of your kitchen will surely need to match your home at least on the outside elevation. The inside wall can be covered in anything you desire from tile, stone, metal or any other noncombustible components that are available. The counter top should withstand your climate conditions. Fortunately in Austin we can use tile in our designs because of decreased frosts but solid surfaces are better at being more bacteriastatic. Quartz sheet goods, solid surface materials, and UV resistant cultured granite are excellent choices for the top. Any use of natural stone like granite, onyx, or limestone will require sealing of the top at a higher rate than suggested because it is located outside.
Plan the entire outdoor entertaining space as part of a single functional plan. Know the choices for equipment and materials by doing your homework and be sure your choices are within your budget. Contact T-Square Company at 512-444-0097 for further information.