Austin Universal Design/Build Remodeling
Universal Design-Building For A Lifetime
We Are A Registered Contractor With The VA To Assist Our Veterans
Call Us Today at 512-444-0097 For An Assessment Of Your Home With A Certified Aging In Place Specialist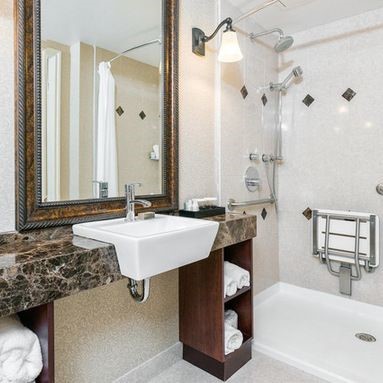 What Is Universal Design?
Universal Design does not strictly deal with accessibility and does not implement precise ADA standards but it does offer flexibility to add accessories now and later to those planning ahead or to the end user. Universal Design is about building and remodeling living environments that conform and adapt with the changing needs and abilities of the occupants throughout their lives. It also provides for a wide range of human performance characteristics for the way people use spaces within their homes including well integrated usability features. These adaptations have a broad market appeal to everyone for achieving ease of use, safety, and convenience accommodating a certain reality. The reality is that all people exist along a continuum of human performance as per their personal traits and characteristics regardless of their age. A universal approach to design takes into account that everyone has varying degrees of ability and disability rather than someone is either fully-functional or disabled. A universal design approach is appealing to all users no matter their age, size, or physical well being. Universal Design is important because our current design standards for housing do not address the design needs of more than one third of our population. Too often the designers of homes allow the built environment to define the capabilities of the resident. Universal Design allows for our antiquated architecture to be defined by both our changing human needs and abilities.
There are seven criteria which must be met to be considered a universal design no matter which area of the home you are referring to. Any design must be equally useful to everyone, have flexibility in it's usefulness, be simple and intuitive, be perceived by everyone, have a tolerance for error, require little physical effort, and it must maintain an adequate area for approach and use. Any complexity or discriminating attribute to a design will doom it in terms of being considered universal in nature.
T-Square Company can show you how to adapt your home and it's built environment to fit your ever changing needs-building for a lifetime. David L. Traut, the owner and president of T-Square Company, is a certified aging in place specialist (#1636580) or CAPS home remodeling contractor with over three decades of home remodeling experience. He has completed the coursework and training in how to help keep existing homeowners in their homes longer. Any CAPS certified specialist home remodeling contractor will be listed in a national directory compiled by the National Association of Home Builders in Washington. T-Square Company is a nationally registered remodeling company specializing in accessible home remodeling in Austin, Texas and has ongoing universal design/build projects for our Aging In Place customers. We offer aging in place home modifications in Austin, Texas. We cater to our veterans and are a registered contractor with the VA. Universal design refers to broad-spectrum ideas meant to produce buildings, products and environments that are inherently accessible to older people, people without disabilities, and people with disabilities.
Along with aging in place, universal design is becoming more of a household term. Essentially, it's about building or modifying places and spaces—both public and private—to accommodate people of all ages and abilities. More than just an architectural concept, universal design is a win-win for sandwich generation boomers caring for aging parents and their children at home, for grandparents raising grandchildren and great-grandchildren, and for all who are facing the challenges of caring for a loved one with Alzheimer's or other chronic diseases.
Whether your family needs the support now or down the road, universal design features are a good long-term investment for the home itself.
We provide a means for our customers to remain in their homes for as long as possible using universal design techniques and our many aging in place services. Universal Design does not equate to aging in place and accessibility design even though they both are concerned with ergonomics and human function issues. The ADA guidelines for accessibility were created as a means to help those people with extreme disabilities within our society who are a narrow and specific cross section of the masses. A Universal Design approach broadly takes into account moderate impairments or disabilities, temporary health conditions, and the varying abilities of anyone within a home regardless of their age or size. In other words, an ADA accessible home would be designed for the one person with the disability whereas a Universal Design home is designed for everyone.
Increasing accessibility is our main objective. Let us help you design and build a new accessible awareness for your existing home that will enhance it's current market value while it appeals to all generations. During an in home assessment, we will listen and observe carefully to identify the full range of needs of the client, incorporate a wide range of assessment protocols to guide the assessment process to address individual needs, and practice sensitivity toward the client as we discuss possible changes to their home. Our aging in place services can show you how an accessible route can give you access to any part of your home no matter what your mobility situation is or will become. We show our customers how to be healthy, independent, and safe. We also offer home automation services like remote controlled automatic doors and WiFi controlled light switches for the physically impaired. For obvious reasons, the bathroom and kitchen are the rooms most affected by a lack of accessibility concerning disabilities when aging in place is a concern.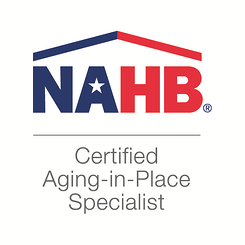 T-Square Company is ready and able to handle any remodeling project. We focus on collaborative client centered solutions. As accessibility specialists, we are not afraid to think outside the box to find solutions that meet our client's personal needs. Our goal is keeping them safe within their home. We are a company with extensive experience in the needs of physical and occupational therapy as well as construction, remodeling, and design. Services offered include: individualized assessments, architectural design, interior design, accessible remodeling & construction, wheelchair lifts & ramps, stair lifts, residential/commercial elevators, ceiling transfer lifts, as well as simple solutions such as grab bar & railing installations.
Home modifications, accessibility products, and barrier-free design will greatly promote the independence and functional ability of physically challenged and aging in place individuals.

Universal Design/Build Remodeling Ideas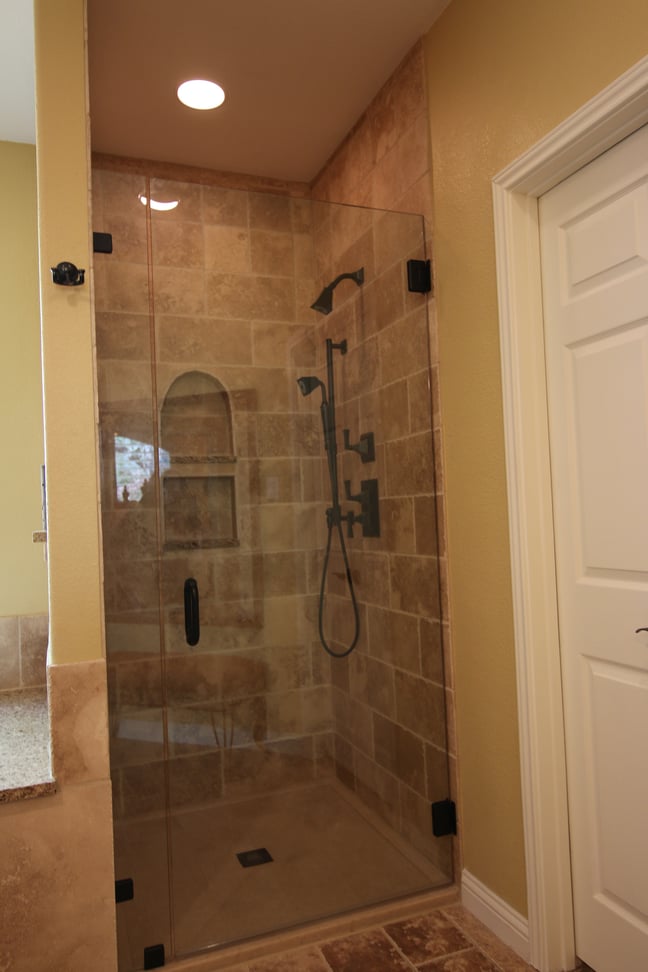 Above, the adequately sized universal design shower has wood blocking installed behind the finished walls for a folding seat and grab bars. These components can be mounted in the future at the appropriate time of personal need. The low threshold shower entrance accommodates all users and is capable of receiving a future matching ramp for roll in access. The lever operated shower controls are within a 48 inch height off the finished floor and graspable by all. Dual shower heads are definitely user specific with an adjustable mast and fixed head with diverting controller. The shower entrance door has a 32 inch clearance when fully open to accommodate a walker. There is adequate spacial and task lighting for showering. The floors both in the shower and connecting bath floor have an adequate nonskid surface rating.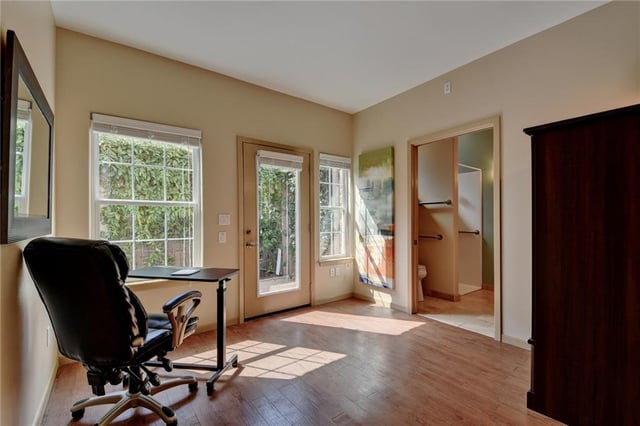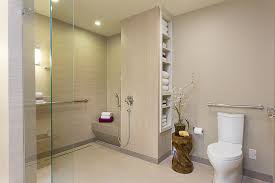 Aging In Place Is About Personal Accessibility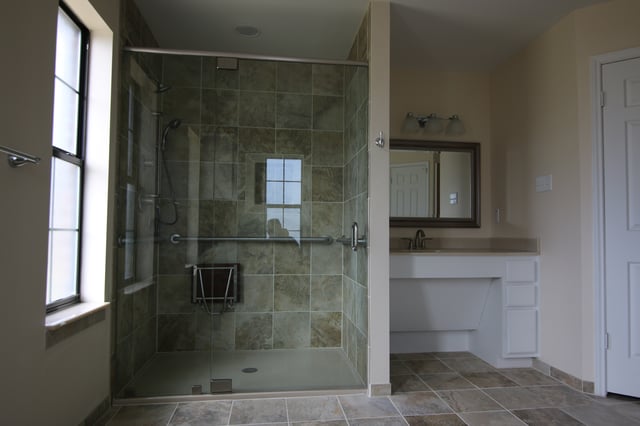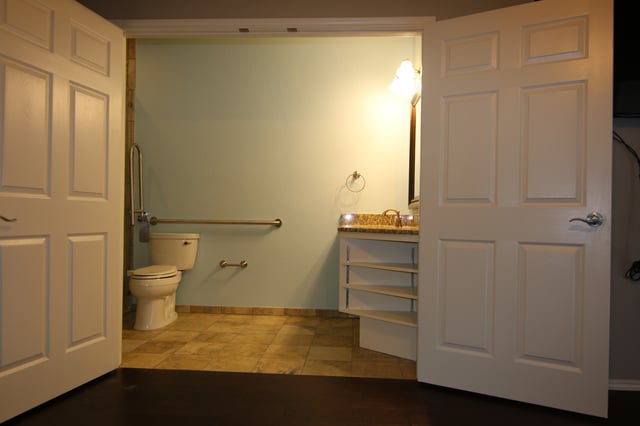 Aging In Place Home Remodeling And Universal Design Techniques Do Not Need To Look Institutional
Aging In Place Home Improvements In Austin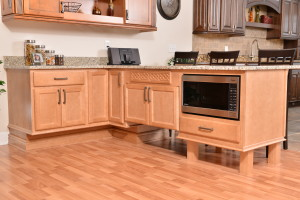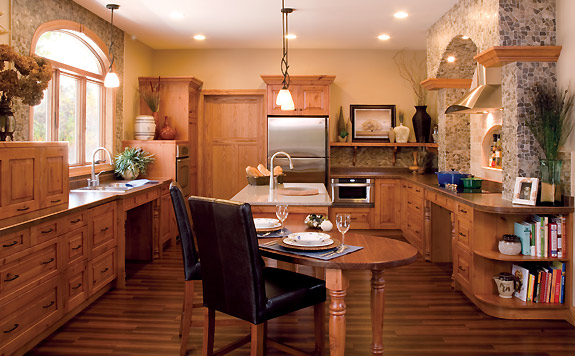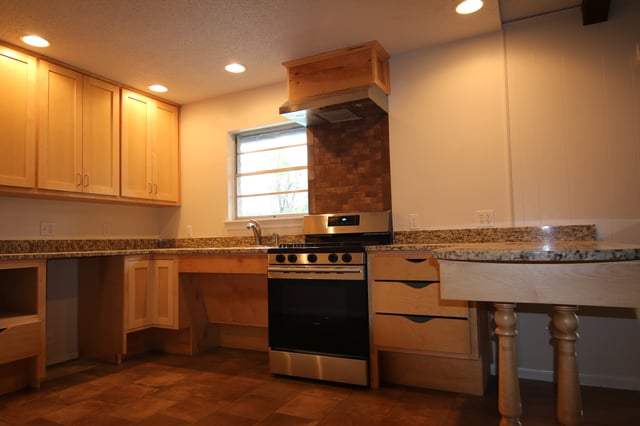 Accessible Bathrooms and Roll In Showers in Austin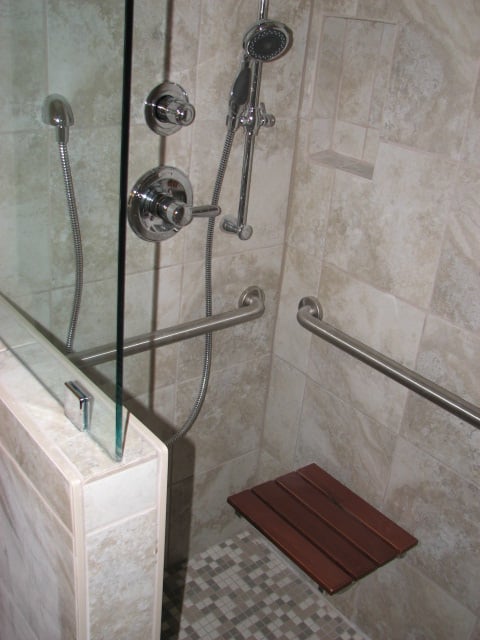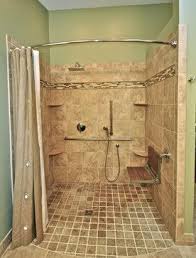 A Safe Accessible Shower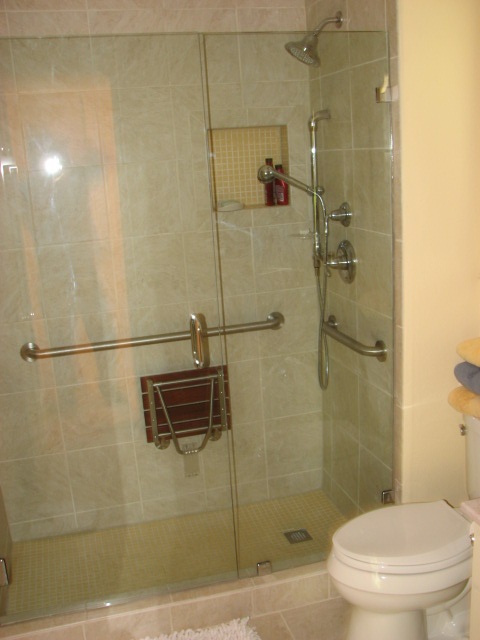 Wheelchair Accessible Toilets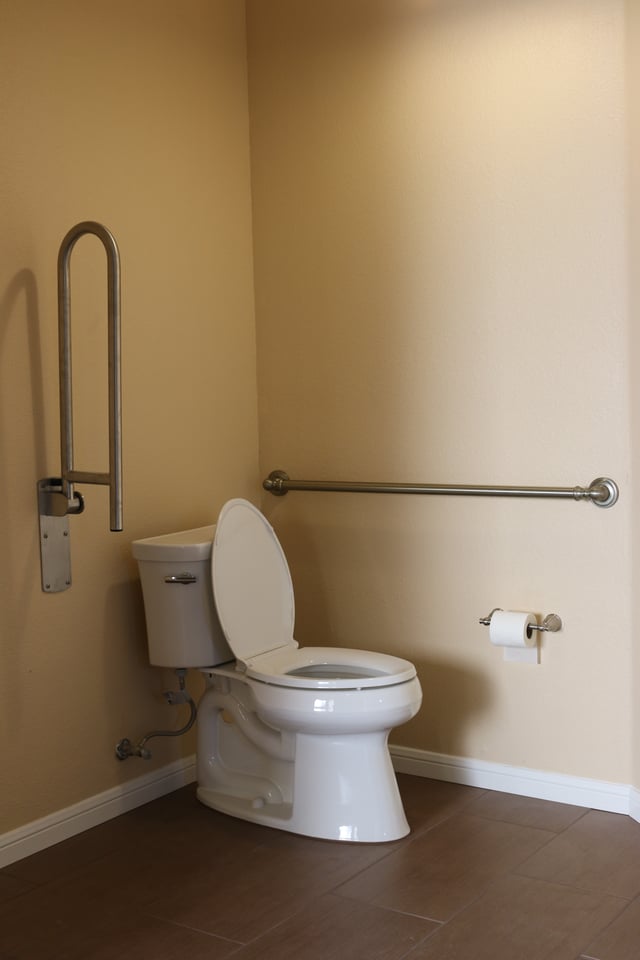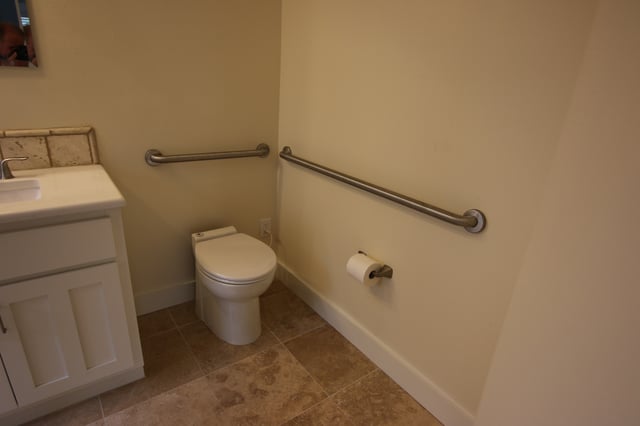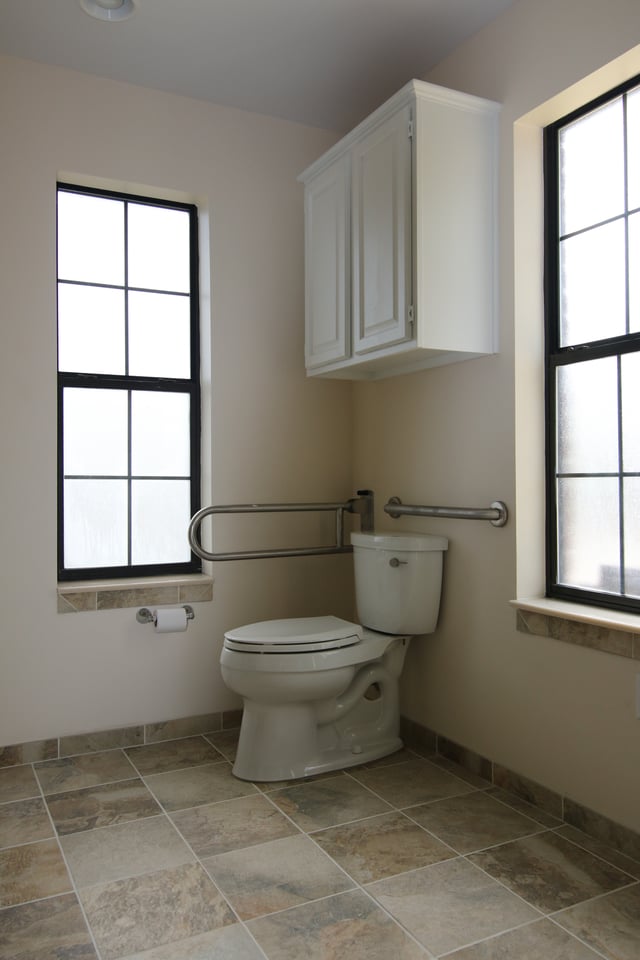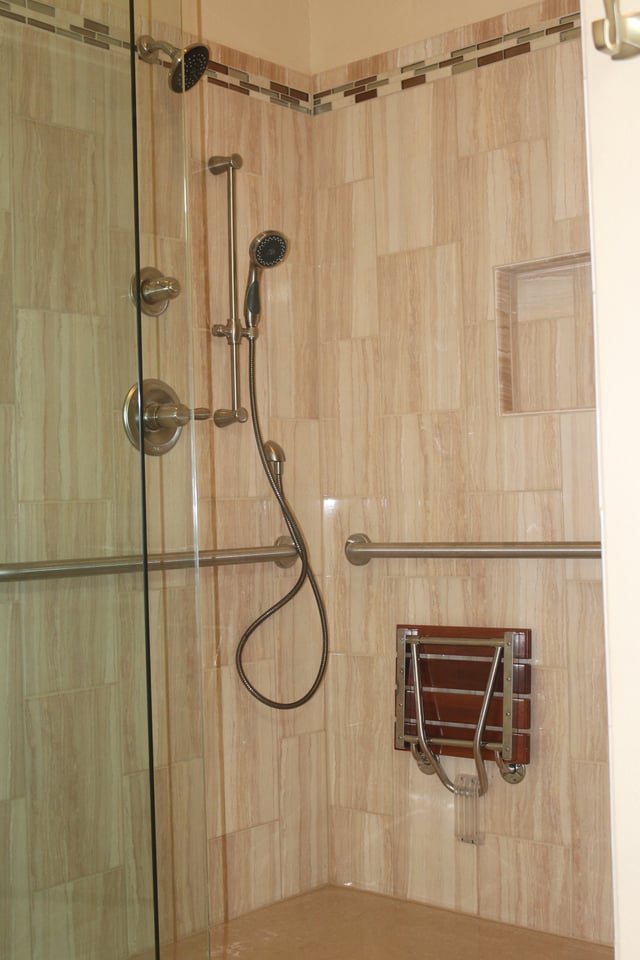 Roll In Showers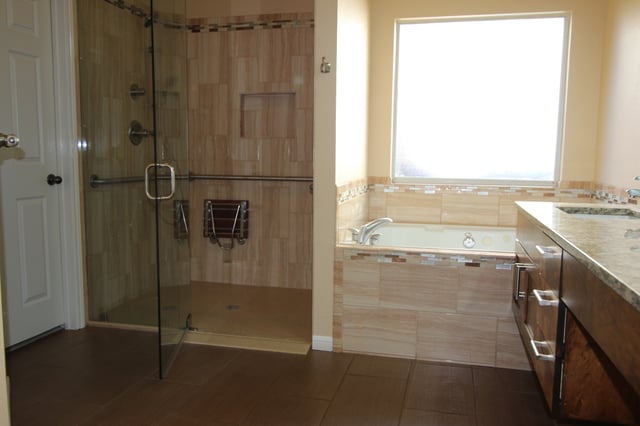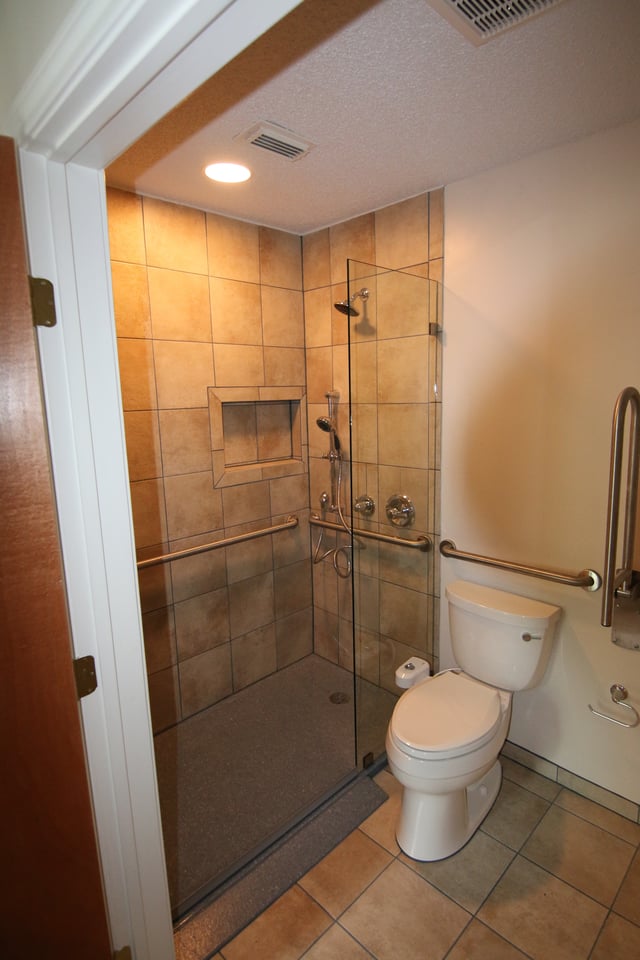 Roll Under ADA Vanities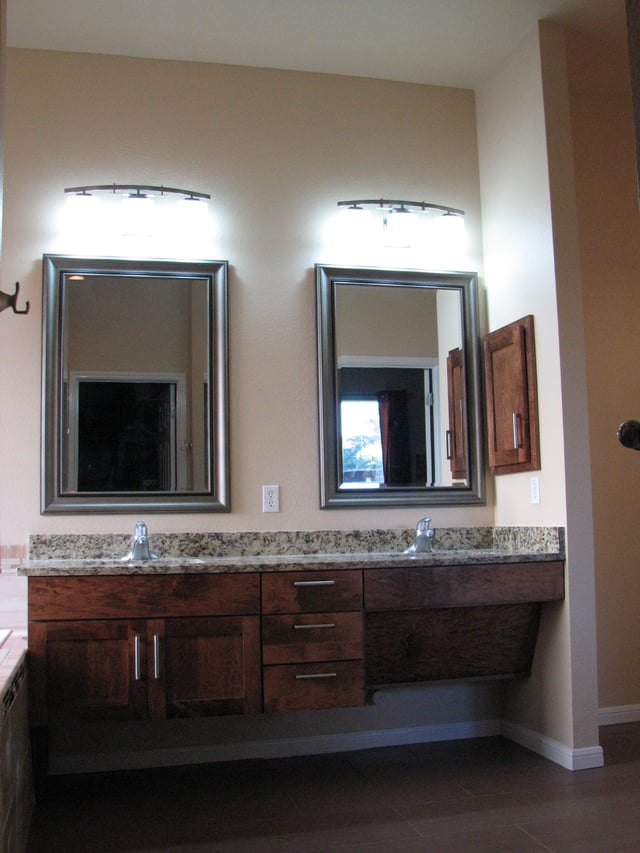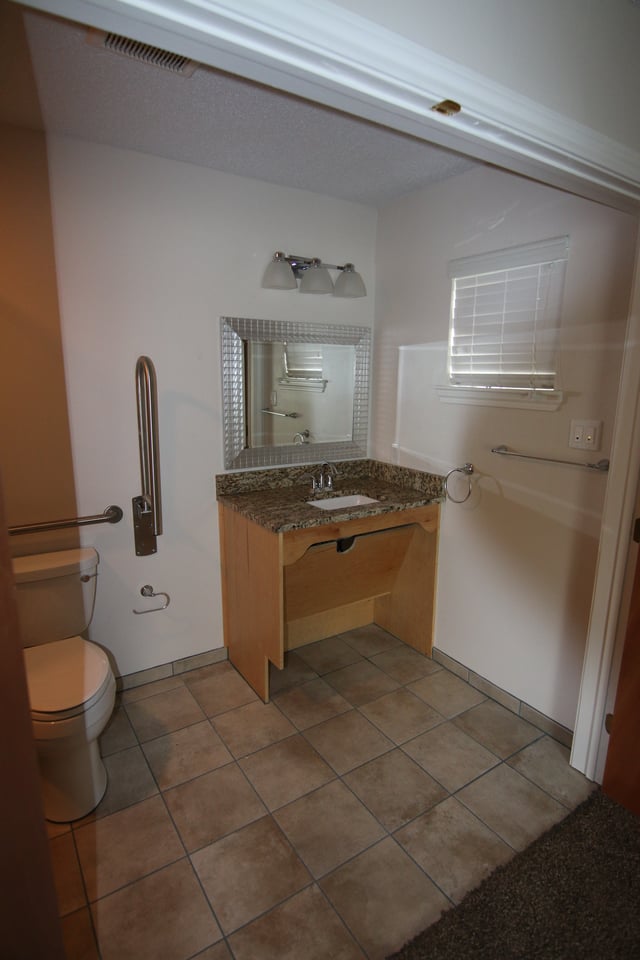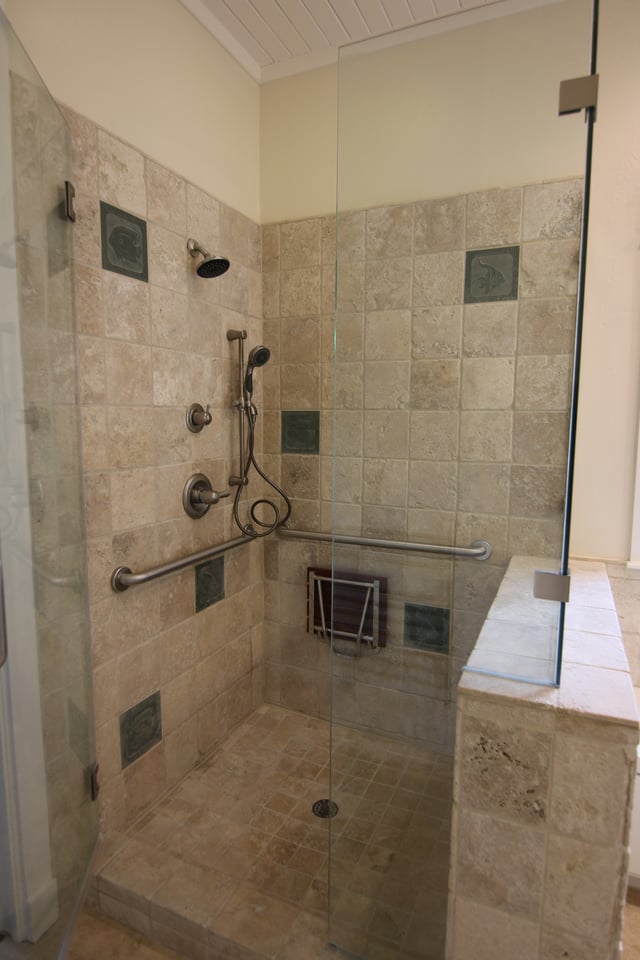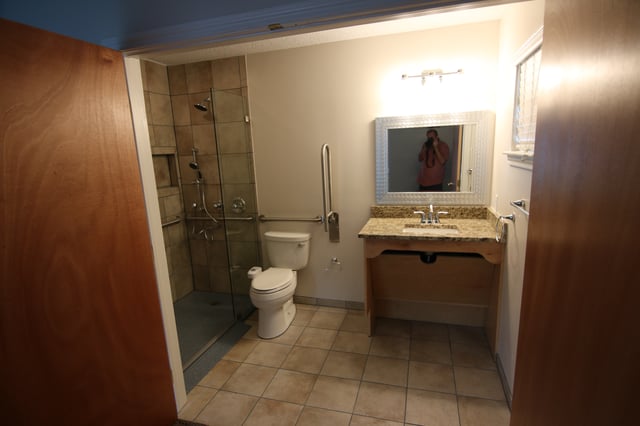 Universal No-Step Entrance Ramps To Overcome Elevation Changes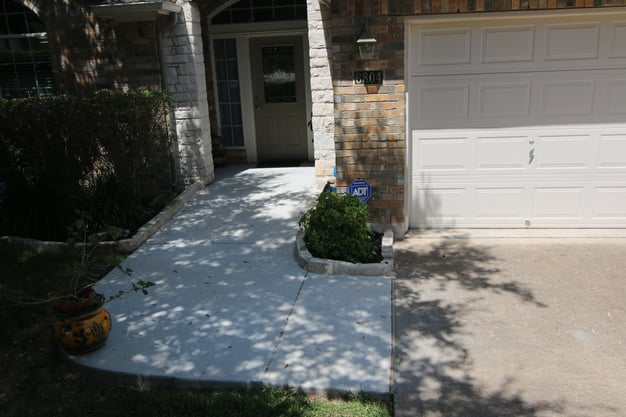 Automated Door Openers and Light Switches