The ADA refers to the Americans With Disability Act developed in the 1990's to be sure any person with a disability has equal access to all public facilities and spaces. There are no restricted codes or regulations to increase accessibility for private residences concerning residential bathrooms or disability access baths. However, the published guidelines for ADA accessibility concerning public buildings and facilities is a great resource and starting point for ideas on how to make any home safer and easier to live in. Using the ADA guidelines, every design is customized around the end users abilities and body size. Homes can become more accessible through bathroom remodels to people as they age or become disabled from an accident or chronic disease. Many of these published guidelines for wheelchair accessible remodeling, particularly requirements for corridor and door widths, safety bars and proper access to different types of facilities can go a long way in extending the amount of time an elderly or physically impaired individual is able to live independently. This is the primary goal for ADA remodeling.
Many people suddenly find themselves needing accessible homes for themselves or family members. When mobility becomes an issue for any homeowner, regardless of age, the question arises concerning physically moving to a different home with a bathroom that is more accessible. Preparing for one of those highly likely events involving someone in your home needing room modifications for even a short time while recovering from surgery is surely a smart move and is the essence of proactively planning to Age in Place. Solving Aging in Place issues will soon become the number one challenge concerning the present obsolete housing inventory in our country plus the fact that people are living longer. The situation will only become ever more expanding in time.
When our homes were first purchased, they satisfied the particular family needs of the day. These homes represented an absolute castle in the world of their owners in which to prepare for a day and they also acted as a retreat from life's tough interactions. They housed our families, our memories, and our stuff. They represented a place where we could be ourselves. Then something happens in life changing those family needs. Unfortunately, these homes have always been exempt from any and all of the accessibility regulations mentioned by the ADA.
In fact, there are approximately 30 million Americans using wheelchairs and the number of people who need accessible homes will continue to increase as disabled and aging people are finding more ways to remain living in their homes. One important way to increase independent living is making a home accessible to an individuals personal needs. Home modifications can increase safety, accessibility, and independence for people who want to live independently. T-Square Company, building in Austin, Texas, incorporates the ADA rules in all their design/build projects, but in a customized manner. All disability home remodeling or disability bath remodels in Austin must be done considering all the data provided by the client, his or her family, and any caretakers involved. Aging in Place design should always be carried out by a seasoned Aging in Place specialist like T-Square Company.
The new evolving concept known as Universal Design and specialized handicap remodeling contractors for home remodeling is catching on nationwide and has been for several years as a sign of the times. Universal Design techniques used in building makes a home more accessible to all regardless of their mobility or adaptive abilities, and seamlessly segues into what is needed for Aging in Place. An evolution of new products used for disability home modifications is making homes more accessible and has finally come about in the remodeling industry. These new advances in accessible home remodeling not only keep the living environments safer but will not compromise the home's aesthetics. They blend into the existing home and do not appear institutional. Universal Design principles never call attention to the family member needing them the most. In fact, there are many benefits to using Universal Design techniques, including potential use by aging family members, added resale value, and the fact that you'll be creating a space that can be used by anyone who visits your home, regardless of their range of abilities. Simple Universal Design updates for Aging in Place home modifications and handicap bathroom accessibility can include adding grab bars or handrails throughout the home, adding a seat within the roll-in-shower, lowering upper cabinets and multiple height counter tops, adding non-slip flooring, widening hallways or installing stair lifts, and widening doors. You might also consider lowering light switches and thermostats and installing easier to use door knobs. You should provide a clear barrier-free path or accessible route to the most visited areas of your home as recommended by the ADA. People who are interested in Aging in Place home improvements are now looking for a level entry into their home along with the maneuverability that a more open floor plan having greater clear unobstructed floor space presents. They desire flat floors without transitions requiring steps or stairs to move around. Ramps having a correct 1:12 slope can be used to get them up to the level floor space at the exterior entries or the garage access. ADA compliant kitchen cabinets and ADA bathroom cabinets in handicap bathrooms will more than likely come into play to complete any accessible home remodeling project.
Most aging baby boomers prefer one-story homes in which to Age in Place and this has become a primary reason to relocate versus a remodel. They are looking for an accessible master suite and kitchen located on the same floor. However, some developments mandate building two-story homes. The above requirement can be easily met by placing the guest bedrooms and accompanying bath upstairs. If the master suite for any reason needs to be upstairs, closets can be stacked between floors to house a future elevator installation.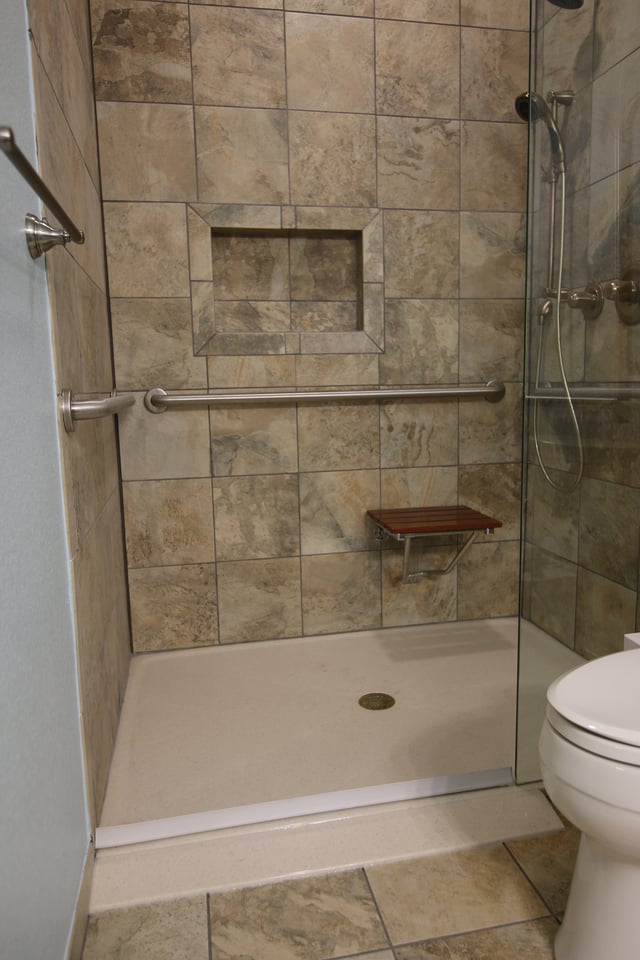 The National Association of Home Builders, in partnership with the AARP and Home Innovation Research Labs, created the CAPS program, which includes training and education on the technical, business management and customer service skills essential to compete in the fastest growing segment of the residential remodeling industry--home modifications for Aging in Place and ADA accessibility in Austin, Texas. David L. Traut, CAPS the owner and president of T-Square Company in Austin, Texas is one of the select group of professionals nationwide to earn the Certified Aging in Place Specialist (CAPS) designation, identifying him as a home remodeler and builder with the skills and knowledge necessary to remodel or modify a home to meet the unique needs of the older population, disabled owners, or their visitors. Additionally, he is certified in Universal Design in the United States and Australia. David has recently published a book called "Age in Place at Home: Adapting the Home Environment For All Generations". The book explains the importance of Universal Design in building and is available through Amazon.