As a universal design/build construction company located in Austin, Texas, T-Square Company realizes that building for your future changing needs is a very valuable consideration concerning all your periodic remodeling projects. We always design for the future for our clients, regardless of their age or abilities. This thought process is especially true when designing a bathroom upgrade. Being a nationally CAPS certified remodeler, we are very aware your personal needs can change in the blink of an eye. The daily tasks of getting into the bathroom, bathing, showering, using the toilet, or brushing your teeth can become almost impossible without assistance if you don't address your bathroom's inaccessibility in a proactive manner. Any revisions must be completed before you absolutely need the help. Design shortcomings become ever so noticeable if you have an accident and are recovering at home or a debilitating disease sets in. Most all problems caused by architectural barriers will be eliminated with a handicap accessible bathroom remodel.
We are certain that avoiding emergency remodeling while incorporating Universal Design techniques into your home whenever possible is a great way of enhancing your health, independence, and safety. This practice also provides a better overall quality of life. The sooner the main inaccessible areas in your home are addressed, the longer you and your family have to enjoy them. For those desiring to Age in Place, as in safely living in your own home for as long as possible, gradually incorporating the principles of Universal Design into all remodeling projects provides a seamless gateway for successful aging. So, what are the main concerns when designing a bathroom for the future?
Getting Into The Bathroom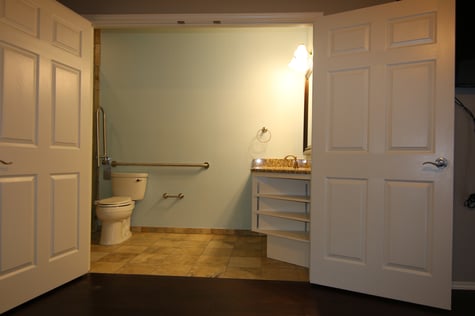 When possible, you should always install a 36-inch wide door into your bathroom allowing all mobility devices to enter without obstruction. Sometimes it's easier when walls cannot be altered or removed to make a large double door entry into the bathroom. Replacing the original twenty-four to twenty-eight-inch wide door offers maximum accessibility for anyone. This universal design element provides clear approaches toward all bathroom fixtures from an adjoining room. Additionally, an unobstructed 60-inch wheelchair turning radius is shared by the bathroom and adjacent room.
An Accessible Shower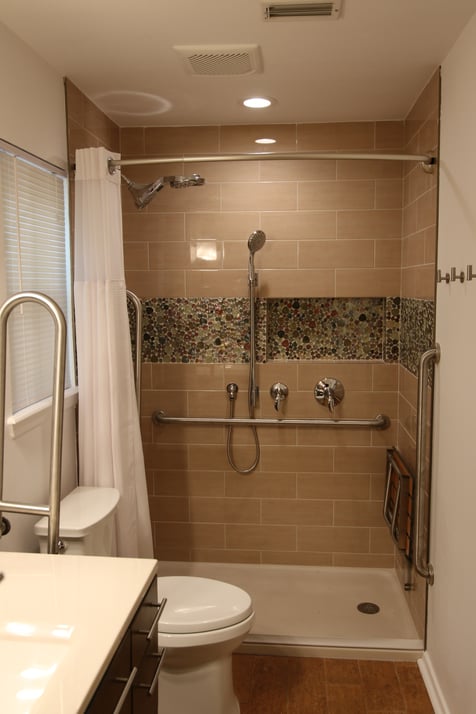 A safe, low-profile (1 1/2" tall) accessible shower with roll-in capability from an add-on ramp suits the needs of most diverse homeowners. Even if you don't require the grab bars during a particular phase of your life, installing adequate blocking before the tile is installed provides a universal path for your future needs once the bars are required. Take note, the grab bars must be able to withstand a shear force of 300 pounds. Their purpose is to provide support and stability when you need it most. Clutter within the shower and especially on the shower floor is a safety hazard. Recessed shampoo niches keep shampoo bottles and other items off the floor. Additionally, folding shower seats are far safer than free-standing models that are rarely ever in the right place. They save space when folded while not in use and never interrupt the use of a shower chair. It is a common misconception that shower controls must be mounted on one wall underneath the fixed shower head. Shower valves can be installed anywhere they are most convenient for the user, especially if a caretaker is involved. A recessed shower can light above the shower decreases shadows and further increases safety.
Using The Toilet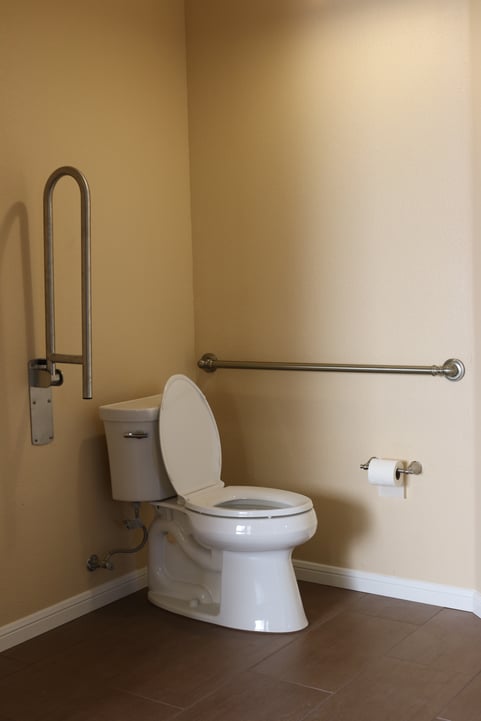 When a toilet exists in a confining room or space, there is no easy way of approaching it if you have mobility problems and especially if you are using any kind of mobility device. After all, safety is the predominant concern when using the toilet. Remove all restricting walls and narrow doors so everyone can freely approach and use the toilet. Once again, grab bars increase safety when they are required and must be adequately prepared for installation. Another problem with toilets involves those that are too short requiring deep knee bends for using them. A higher comfort height toilet offers significant help with this problem. Be sure the flush handle is toward the open side of the bathroom.
Brushing Your Teeth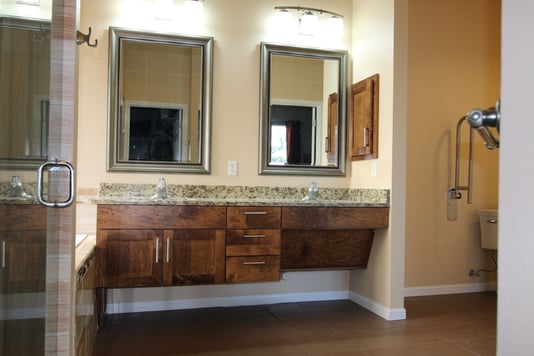 Offering adaptability in a vanity is a universal design aspect. Everyone has equal access while standing or using a wheelchair--if only for a short time during recoveries. More adaptability is offered using multiple height countertops. Lever faucets are easier for everyone to operate, even for those users with arthritis. Motion-sensor faucets create washing areas that are completely hand-free.
When you are ready to take the next steps toward your accessible future, contact T-Square Company in Austin, Texas. We can show you how to address your personal needs using our more than thirty years of knowledge and design/build accessibility experience. We guarantee to keep you safer in your existing home longer and out of dangerous and uncaring institutions using our proven design methods. We offer all handicap accessible home renovations or additions--especially accessible bathrooms.
David L. Traut, CAPS #1636580