Making your home accessible for a child with special needs can be costly; but, it will also give your entire family a feeling of security and freedom if done correctly. It is estimated that 5.4 percent of children five to seven years old are disabled representing a considerably large portion of the population. For those children, having a home they can feel comfortable in is very important as they mature. Modifying your home for a child with a disability can be accomplished using Universal Design techniques. This concept will also benefit everyone within the family. When your child has a disability, whether from birth or following an accident, you must evolve quickly from being only a parent into a caretaker. It suddenly becomes your job not only to nurture your child but to identify his or her basic abilities and needs so your child can flourish in their world. Sometimes this is nearly impossible to do within a traditional home design. Since each type of disability is different; then each disability will require it's own special modifications to the house. Note that no one single type of disability is experienced the same by everyone because everybody is unique and has special needs. Specific modifications for wheelchair accessibility, visual impairments, sensory concerns, autism, or the use of special medical equipment along with any other of the child's special needs must be considered if the overall design is to be effective for the child. Generally, if a design works well for the disabled, it works equally well for everyone. With Universal Design thoughtful aesthetics and usability are harmonious.
There are seven criteria which must be met to be considered a Universal Design no matter which area of the home you are referring to. Any design must be equally useful to everyone, have flexibility in it's usefulness, be simple and intuitive, be perceived by everyone, have a tolerance for error, require little physical effort, and it must maintain an adequate area for approach and use. Any complexity or discriminating attribute to a design will doom it in terms of being considered universal in nature.
Neither the Universal Design or Inclusive Design concept is age driven nor is the aging in place issue. Universal Design addresses the design of all homes both new and existing while Aging In Place deals mostly with the built environment. Universal design/build addresses not only the problems all of today's homeowners face but the professional skills involved in design, building, remodeling, and all social and health services. This new evolving concept in home remodeling is catching on nation wide and has been for several years as a sign of the times. Universal design techniques used in building makes a home more accessible to all regardless of their mobility, age, or adaptive abilities. The multi-generational appeal of Universal Design is appealing to any homeowner, their children, or their parents. An evolution of new products used for disability home modifications is making those homes more accessible and has finally come about in the remodeling industry. These new advances in accessible home remodeling in Austin not only keep the living environments safer but will not compromise the home's aesthetics.
Wheelchair Accessible Bathroom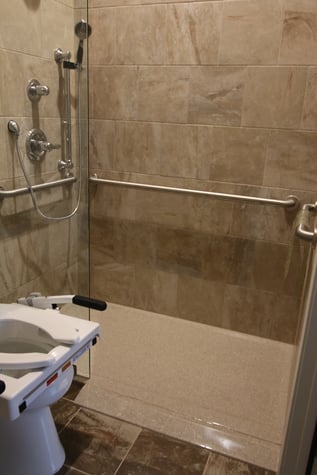 Universal Design doesn't strictly deal with accessibility and does not implement precise ADA standards but it does offer flexibility to add accessories now and later to those planning ahead or to the end user of a dwelling. It also provides for a wide range of human performance characteristics for the way people use spaces within their homes including well integrated usability features. These adaptations have a broad market appeal to everyone for achieving ease of use, safety, and convenience accommodating a certain reality. That reality is that all people exist along a continuum of human performance as per their personal traits and characteristics regardless of their age. A universal approach to design takes into account that everyone has varying degrees of ability and disability rather than someone is either fully-functional or disabled. A Universal Design is appealing to all users. It is very important to consider the safety of each room, as well as the exterior of the house and common spaces. Consider your child's unique needs and how you can make your house safer for them. Whether your child recently acquired a disability or you have moved into a house that needs modifications for increased accessibility, your home must be assessed by a qualified CAPS design/build remodeler. They will be able to correlate the changes to the home environment with the needs of your disabled child.
Fortunately, to answer the demand for Universal Design, manufacturers continue to develop products for the home that help make the user's experience safer and more comfortable. To answer the increasing demand for universal design, home appliance and plumbing manufacturers continue to develop products for the home that help make the user's experience safer and more comfortable without sacrificing beauty.
The main focus of any home modifications done for a disabled child must make them feel more comfortable and be able to maneuver through and use the home more safely. It must present a safe place where he or she will be able to develop the life skills they need in their daily environment rather than just focusing on treatment regimens. Sometimes the living environment must be changed to make a significant impact on the child's life so they are able to feel safe and free to be themselves. Whatever is needed in the way of home modifications to create a safe and comfortable environment for your child is available through the registered and certified CAPS program practitioners. CAPS stands for Certified Aging In Place Specialist. This national designation is taught through the National Association of Home Builders in collaboration with AARP. CAPS connects responsible professionals with home owners who need these services on an ever increasing basis and is not age related. CAPS is a nationwide initiative and all active CAPS members can be found at nahb.org/CAPSdirectory.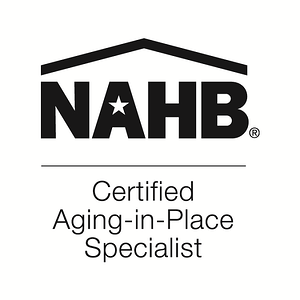 Universal Design does not equate to aging in place and accessibility design even though they both are concerned with ergonomics and human function issues. The ADA guidelines for accessibility were created as a means to help those people with extreme disabilities within our society who represent a narrow but specific sample of the masses. It provides a great cross section with average guidelines for people and their surroundings. A Universal Design approach broadly takes into account moderate impairments or disabilities, temporary health conditions, and the varying abilities of anyone within a home regardless of their age or size. In other words, an ADA accessible home would be designed for the one person with the disability whereas a Universal Design home is designed for everyone. Each situation should be assessed separately and the designer must take into account the parameters of the space, budget, and client priorities. If all of these needs are met, the result can be beautiful, efficient spaces that improve the independence, safety, and convenience of all household members with particular attention toward the needs of the disabled child.
.
David L. Traut, CAPS owner of T-Square Company in Austin, Texas as a handicap remodeling contractor is one of the select group of professionals nationwide to earn the Certified Aging In Place Specialist (CAPS) designation, identifying him as a home remodeler and builder with the skills, training, and knowledge necessary to design and remodel or modify a home to meet the unique needs of the older population, disabled owners or children, or their visitors. For more information about T-Square Company, visit www.tsquareco.com or call 512-444-0097.
We offer complete Aging In Place Services and designs and we are just a phone call away!