When families are suddenly thrust into caring for an ill or injured family member, knowing how to make their homes accessible, barrier-free and safe can be challenging, especially when it involves an aging parent. A professional CAPS-certified remodeler is needed to offer guidance and solutions to the discovered family problems. Aging in Place is not for everyone, but as increasingly older Americans choose to Age in Place and remain in their homes, issues related to maintaining mobility, promoting home safety, and creating an environment to meet care needs are becoming increasingly crucial to caregivers and care recipients, along with the building community. Even savvy and experienced families may have trouble figuring out whom to call for a roll-in shower or door widening. According to the AARP, nearly 90% of older adults want to Age in Place and maintain independence however, 85% have done nothing about it. Many retirees want to stay in their own houses for as long as possible. But being able to do so will depend on how easy it is to maneuver your home as you age. Research by the Centers for Disease Control and Prevention shows that Aging in Place home modifications may prevent up to 50% of home accidents among seniors in older homes, including falls. T-Square Company is a certified disability access contractor in Austin, Texas, doing accessibility jobs for the VA, HUD, and the private sector for nearly thirty years. T-Square Company offers a complete line of Aging in Place services using their design/build approach. T-Square Company's Aging in Place services incorporate the principles of Universal Design to better accommodate wheelchair users or people with varying disabilities, making the home environment more comfortable for all generations with or without specific needs.
The National Association of Home Builders, in partnership with the AARP and Home Innovation Research Labs, created the CAPS program, which includes training and education on the technical, business management, and customer service skills essential to compete in the fastest-growing segment of the residential remodeling industry--home modifications for Aging in Place. David L. Traut, CAPS, the owner of T-Square Company in SW Austin, Texas as a handicap remodeling contractor, is one of the select group of professionals nationwide to earn the Certified Aging-In-Place Specialist (CAPS) designation, identifying him as a home remodeler and builder with the skills, training, and knowledge necessary to design and remodel or modify a home to meet the unique needs of the older population, disabled owners, or their visitors. David is certified in Universal Design in the United States and Australia. He has recently published a book entitled "Age In Place At Home: Adapting the Home Environment For All Generations". It is available through Amazon. It acts as a guidepost for accomplishing better accessibility throughout the home. He takes you room by room showing you how you can make your home inclusive to everyone living there and for all visitors.
ADA-Compliant Kitchens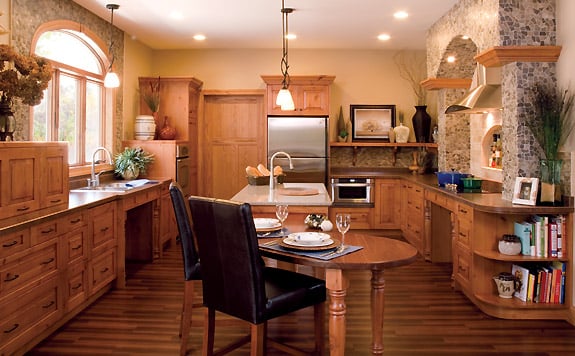 People interested in Aging in Place services and Aging in Place home improvements are generally looking for a level entry into their home along with the clear maneuverability that a more open floor plan with more extraordinary clear unobstructed floor space presents. They desire flat floors without transitions requiring steps or stairs to move around. Ramps having a correct 1:12 slope or less can be used to get them up to the level floor space at the exterior entries or the garage entrance. ADA-compliant kitchen cabinets and ADA bathroom cabinets will more than likely come into play to complete any accessible home remodeling project. Aging in Place services and home modifications should include adding non-slip flooring, widening hallways or installing stair lifts, and widening doors. You might consider lowering light switches and thermostats and installing easier-to-use lever door hardware. To provide safety and independence, many considerations for an Aging in Place design should be considered. Provide a clear barrier-free path or accessible route to the most visited areas of the home, as the ADA recommends. The three areas needing improvement for a person wanting to age in place include the bathroom, the kitchen, and the family area in order of importance. The goal of an accessible design in Austin is to make the areas in the home a safe space for everyone who uses the facilities, regardless of age, size, or ability.
For additional information about the CAPS program, visit nahb.org/CAPS. For more information about T-Square Company, visit www.tsquareco.com or call 512-444-0097 to schedule a home assessment by a CAPS professional.