Finding a remodeling contractor familiar with the guidelines of accessibility and aging in place design can be quite difficult. Be sure to check out the credentials of any potential bidders you contact. Be sure they understand that the alterations you are seeking are for wheelchair accessible home remodeling and modifications. Furthermore be sure this person knows and practices both the federal and most importantly your state's requirements before entering into any contract.
Designing for specific physical conditions will lessen the impact of say arthritis, restricted mobility, or loss of vision by using combinations of products, concepts, and techniques available today. Working as a team, a trained CAPS specialist along with any family caretakers or therapists is able to identify the day to day problems weighing on those with health limitations. If you are considering an aging in place remodel for your home don't just contact any local remodeler in your area and expect a satisfactory accessible home modification. A professional design/build accessibility project can only be created for your specific needs by a qualified home remodeler having a nationally accepted CAPS (Certified Aging In Place Specialist) certification. This credential is backed by the NAHB. Only a CAPS home remodeler possesses the specific knowledge that will insure a successful outcome for your accessibility or aging in place project and what's more, keep you in your home longer.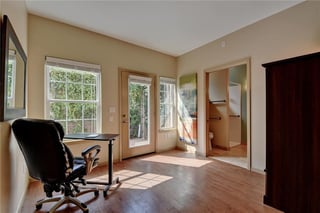 Many people find themselves needing accessible homes for themselves or family members. There are approximately 30 million Americans using wheelchairs and the number of people who need accessible homes will continue to increase as disabled and aging people are finding more ways to remain living in their homes. One important way to increase independent living is making a home accessible to an individuals personal needs. Home modifications can increase safety, accessibility, and independence for people who want to live independently.
What really defines the accessible homes and elder construction in Austin? Barrier free architectural design and accessibility for all who enter the structure while approaching the main living areas of the home in question is a fair definition. Universal design and aging in place trends have taken hold in the residential remodeling industry. The current housing inventory doesn't offer the features needed for safety and accessibility in the numbers needed to accommodate the ever growing demand. It is ultimately up to the individual homeowners and their families to plan for future housing needs. Once it is discovered that modifications to an existing home are not possible to accomplish total accessibility then it is time to consider a newer or custom built accessible home. What are the main design issues regarding aging in place home modifications in Austin?
Low maintenance with little need for landscaping or exterior upkeep which could translate into newer rather than older homes that are the accessible homes of Austin.
An accessible level entry either achieved with ramps or the rare flat lot in Austin. Consumers are looking for the free maneuverability that more open floor plans offer having greater clear unobstructed floor space. Wider doorways and unobstructed accessible routes are truly a concern. These structures will provide flat floors without transitions requiring steps or stairs to move around.
An accessible master suite and kitchen located on the same floor is preferable. If two story homes are mandated by the community then the guests will inhabit the second floor. If the master suite needs to be located on the second floor then closets can be stacked to house a future elevator installation.
Evolving kitchens have sprung up due to the more open floor plans. Fewer wall cabinets, lowered cabinet tops, pullout shelves or specialized drawers, and a reduced number of mobility obstructing doors represent the evolution of today's cabinetry. Knee spaces can be incorporated into a kitchen design for roll under access to the sink, prep area, and cook top. Higher toe kicks can facilitate greater wheelchair access. Fewer doors are a must for accessibility.
Appliances are being installed at more comfortable heights due to decreased reach distances and bending motion. Raised dishwashers, refrigerator drawers, dish washing drawers, and non-stacked double ovens are just a few changes within the appliance world. Microwaves can be installed below the cabinet top and cooktops with controls located on the front represent another appliance metamorphosis helping with reach problems.
The lack of cabinet doors creating a new accessible open look for cabinetry is taking hold on the market. This is becoming more popular in both the bath and kitchen of accessible homes. Doors are definitely an architectural barrier if you're in a wheelchair and open or pull out shelves are preferable.
Bathroom modifications for the elderly include vanities with 34" universal height cabinet tops and open knee spaces with a 27" height clearance are taking over the marketplace. These new residential vanities do not need to look institutional. They can be designed like any other piece of fine furniture. Comfort height toilets around 18" high can be covered with any one of a multitude of available seats to fit every need prevent deep knee bends required for seating. Curbless roll in showers are advised for everyone on a universal level. The shower should contain at least a shower wand on a sliding bar to be available for varying heights of use along with a regular height shower head with diverter control if desired. Folding seats are useful if caretakers are involved and secure grab bars around the shower perimeter will increase the safety factor and prevent falls. All of the bathroom floor surface must be nonskid to prevent slipping on a guaranteed wet floor.
The National Association of Home Builders, in partnership with the AARP and Home Innovation Research Labs, created the CAPS program, which includes training and education on the technical, business management and customer service skills essential to compete in the fastest growing segment of the residential remodeling industry--home modifications for aging in place. David L. Traut CAPS owner of T-Square Company in Austin, Texas is one of the select group of professionals nationwide to earn the Certified Aging-In-Place Specialist (CAPS) designation, identifying him as a home remodeler and builder with the skills and knowledge necessary to remodel or modify a home to meet the unique needs of the older population, disabled owners or their visitors.
For additional information about the CAPS program, visit nahb.org/CAPS. For more information about T-Square Company, visit www.tsquareco.com or call 512-444-0097.