If you have made a decision, along with the support of your family, to remain in your existing home while you Age in Place, you must determine a definite pathway forward to ensure your desires are successfully met. This is a sign of the times as today over 80% of homeowners share your desire to remain in their familiar home, surrounded by familiar surroundings and neighbors. Amongst any caregivers involved in your life, you will also need to obtain help from a trained and seasoned Certified Aging in Place Specialist.
Fortunately, construction and design professionals are taking advantage of the CAPS training across the nation. This designation is taught through the National Association of Home Builders in collaboration with AARP. CAPS connects responsible professionals with home owners who need these services on an ever-increasing basis. CAPS stands for Certified Aging in Place Specialist. It is a construction credential that has builders, architects, remodelers, designers and even occupational therapists buzzing. Aging in Place principles are changes designed to custom fit your existing home to you and your family's needs as time goes by. CAPS design takes your current and future circumstances into consideration and the principles focus on elegant, aesthetically enriching, barrier-free environments. Home modifications do not need to look institutional and this is why many seniors are resisting the very changes that can help them the most. Be aware, the vast majority of uncertified builders and remodelers do not have the knowledge and training to perform home modifications for Aging in Place. Take for instance when you are considering installing a grab bar, which seems like a simple endeavor, understand that a run of the mill contractor or handyman has no idea of the safety regulations involved or the knowledge concerning where and how to install the grab bar. This leaves the consumer in an unsafe predicament. However, if performed correctly, any modifications will actually increase the value of your home because they appeal to multiple generations of home buyers.
David L. Traut, CAPS the owner of T-Square Company in Austin, Texas is one of the select group of professionals to earn the Certified Aging In Place Specialist (CAPS) designation, identifying him as a home remodeler and builder with the skills and knowledge necessary to remodel or modify a home to meet the unique needs of the older population, disabled owners, or their visitors. T-Square Company offers a full compliment of Aging in Place services for their clientele. These services include the initial home assessment, a design followed by a detailed drawing, all city permits and fees, and the construction or remodeling work involved. David has been successfully operating as a CAPS professional for nearly thirty years while performing his design/build projects. His clients include many members of the private sector, the VA, and HUD. David is a CAPS certified remodeler and master builder providing a one-stop-shop which is even more valuable to anyone wanting to Age in Place. As a master craftsman, his construction knowledge enables any Aging in Place design to come to fruition via practicality and best practices.
David always practices what he preaches to his clients. He takes an inductive qualitative research approach with every client, because everyone has diverse physical needs. As an answer to his clients requests over the years, he has recently published a book entitled "Age in Place at Home: Adapting the Home Environment for All Generations". The book reflects on thirty years of accessibility improvements and identifies why our traditional homes specifically lack this very basic need. It is available on Amazon and stands as a reference book for increasing home accessibility using the principles of Universal Design in every room of the home. David is certified in the United States and Australia in the Universal Design process. Universal Design elements can be installed into a home at any time avoiding the need for reactive remodeling following a health crisis. This thoughtful proactive design process segues seamlessly into what is required for Aging in Place. Furthermore, Universal Design prevents the need to perform future modifications except under extreme circumstances. The presence of Universal Design provides access for both wheelchairs and walkers and perhaps avoids future injuries because you have accessibility.
For additional information about the CAPS program, visit nahb.org/CAPS. For more information about T-Square Company, visit www.tsquareco.com or call 512-444-0097 to schedule a home assessment by a local Austin CAPS professional.
So, just exactly what takes place once you schedule a home assessment? During the home assessment for increasing accessibility, the structural changes needed for the client will be noted and documented through sketches, photos, and conversation. CAPS professionals are generally paid by the hour or receive a flat fee per initial visit or project because they are offering a service backed by education and experience. Typically an assessment takes approximately 60-90 minutes. It's best if you or a family member can accompany the CAPS professional during the home safety assessment, as you or they can ask questions about specific safety items as they come up. The comprehensive Home Safety Assessment determines a direct and safe path forward for you, the client. You will have a better chance of avoiding the high cost and physical disruptions of future injuries leading to assisted living. All the surroundings within your home will be taken into account from the flooring to the layout of a specific room or location as it pertains to the your ease of use. Your physical and emotional needs also come into play because of mobility, sensory, or cognitive concerns. The goal is to modify the home in a custom manner to provide for your maximum health, independence, and safety. Often the input from any caretakers like a physical or occupational therapist during the assessment phase can prove to be invaluable. The three main rooms involved in Aging in Place home modifications are the bathroom, the kitchen, and the family room in that order. The basic needs involve access through wider doorways, level non-slip floor surfaces, and lower cabinets with plumbing fixture accessibility like roll-under sinks with easily operated lever controls.
Aging in Place Bathroom Modifications in Austin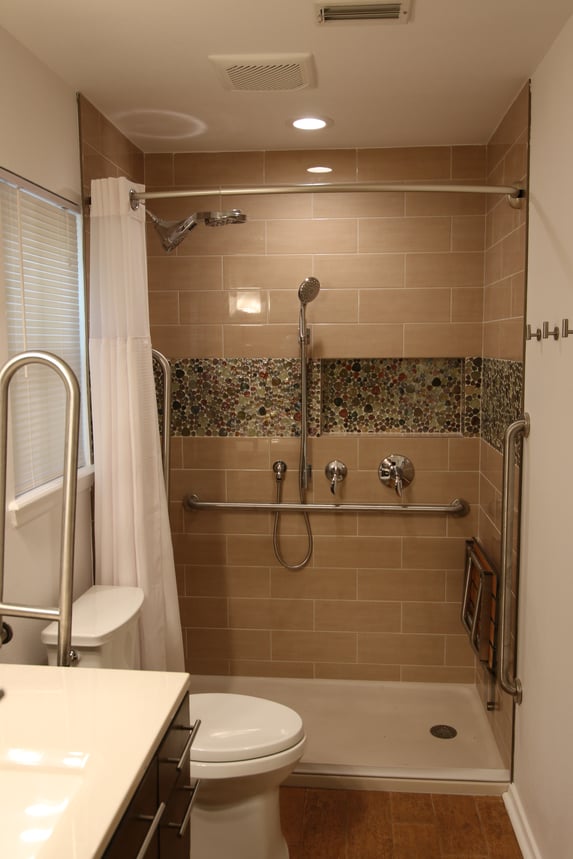 Quite often it is the home that presents the greatest difficulties for homeowners accompanied by limited mobility or other physical impairments as they age in their existing surroundings. Designing for specific physical conditions will lessen the impact of arthritis, restricted mobility, or loss of vision by using combinations of products, concepts, and techniques available today. Keeping safety in mind, interior modifications commonly include adding grab bars or handrails throughout the home, installing ramps or vertical platform lifts, lowering upper cabinets and countertops to Universal Design heights, adding non-slip flooring, widening hallways or installing stairlifts, and widening doors. You might also consider lowering light switches and thermostats and installing easier-to-use door levers or electric door openers. Try to provide a clear barrier-free path or accessible route to the most visited areas of your home like a disability access bath containing a roll-in ADA compatible shower, the kitchen, and the family room.