Austin Handicap Remodeling
Increase Your Home's Accessibility
Why not let the knowledge of a Nationally Certified CAPS remodeler with over 30 years of accessible remodeling experience show you how to make your daily life easier and more accessible within your existing home?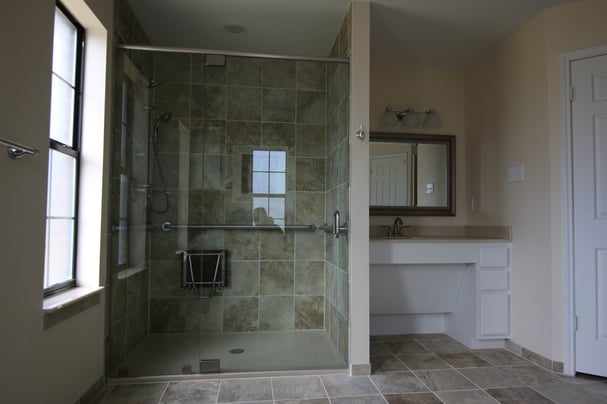 As reported by AARP, 80% of seniors have a firm plan to age in place. There are some home modifications that should be completed to make aging in place more possible for older adults, though. These modifications are a proactive approach to increasing the level of safety in the home, and they often add convenience and comfort for seniors as well. While there are sometimes high costs associated with modifying homes to enable seniors to age in place, many older adults are happy to incur these expenses to fulfill their wish to remain in their own homes.
Regardless of your age, you may want to recognize and take under advisement some universal design techniques for your next new construction or home remodeling project. Some people confuse aging in place with universal design. Both are a method to increase accessibility within the home but aging in place strictly deals with an existing home. Aging in place also implies modifying any home for it's older occupants to insure that the inhabitants can safely remain there as long as they possibly can. This time will expire once they need assisting medically trained help for safeguarding their personal safety in a nursing home or an assisted living environment. Universal design is just that; offering choices to all of a home's residents no matter their age or physical capabilities. It starts with a design and then the construction begins. When universal design ideas are incorporated into their floor plan, homes can accommodate the needs of their owners as those needs evolve over time. Better yet, at time of resale your home will be available to a much larger market of consumers. Each individual with similar impairments describes his or her limitations differently. The blind don't experience their world the same as a person with deafness.
When working with home modifications, we see two primary client types. First, are aging-in-place customers. These clients want to remain living in their homes as they get older rather than move to a facility. The second client is a person with a disability. These clients have become disabled by means other than the aging process.
Handicap modifications don't end with the inside of the home. To bolster comfort, safety and accessibility out of doors, portable ramps -- such as modular aluminum models -- with slopes of no greater than 1:12 assist those in wheelchairs, while any person with mobility issues benefits from high-contrast, nonslip color strips on ramps, walkways or steps. Likewise, handrails installed on exterior stairways or ramps boost overall safety. Motion-detecting lights aid those with low vision or low mobility as they make their way indoors at night. If your home plans include parking areas, consider moving them as close as possible to the main entrance. On the same note, automatic garage door openers make for a smoother transition from outdoor to indoor spaces.
Finding a contractor familiar with the guidelines of accessibility and aging in place design can be quite difficult. Be sure to check out the credentials of any potential bidders you contact. Be sure they understand that the alterations you are seeking are for wheel chair accessible home remodeling and modifications. Furthermore be sure this person knows and practices both the federal and most importantly your state's requirements before entering into any contract.
The National Association of Home Builders, in partnership with the AARP and Home Innovation Research Labs, created the CAPS program, which includes training and education on the technical, business management and customer service skills essential to compete in the fastest growing segment of the residential remodeling industry--home modifications for aging in place. David L. Traut CAPS owner of T-Square Company in Austin, Texas is one of the select group of professionals nationwide to earn the Certified Aging-In-Place Specialist (CAPS) designation, identifying him as a home remodeler and builder with the skills and knowledge necessary to remodel or modify a home to meet the unique needs of the older population, disabled owners or their visitors.
For additional information about the CAPS program, visit nahb.org/CAPS. For more information about T-Square Company, visit www.tsquareco.com or call 512-444-0097.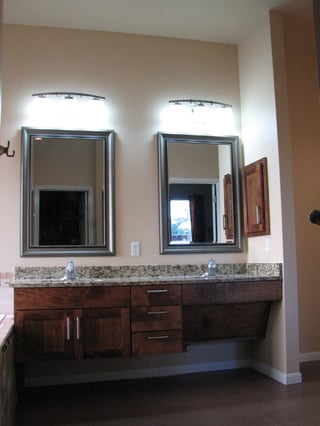 Simply by filling out the form below an assessment of your home's architectural barriers can be scheduled and completed. This will begin our design/build remodeling solution process outlined around your personal requirements and needs.
We are handicap remodeling contractors in Austin specializing in:
Accessibility designs

Disability home modifications

Roll In showers

ADA bathroom vanity

ADA compliant kitchen cabinetry

Tub to Shower Conversions
Austin Handicap Remodeling