Let's face it, accessible homes are needed by all of us at some time during our lives. This is true whether it's for ourselves, a family member, or a guest. The need for handicap remodeling is certainly not driven by age but is a result of life's experience. Any family living with disability among any of it's generations within the group can always benefit from additional accessibility. This will in turn increase safety and independence for all people involved as they go about life. Except under extreme situations, complete ADA-compliance normally isn't required for a remodel used to increase residential accessibility. The ADA rules are a great place to begin a design when dealing with a lack of home accessibility. However, any and all compliant items are a great help for everyone. The ADA specifications deal with explicit measurements, but these stringent rules do not apply to many people. Diverse body sizes and abilities are overlooked, and everyone is dealt with on average. More so, only if modifications involve government backed housing and funding are the ADA guidelines followed to the letter. In other words, the guidelines aren't a consideration when dealing with a single private family residence. So how did the ADA guidelines come about?
During the 1960's, the Americans with Disabilities Act (ADA) was signed into law, protecting the civil rights of those with disabilities. This law was merely a beginning, acknowledging a part of our population was dealing with disabilities. Although this law did not directly address disabilities per se, it served as a foundational piece of civil rights legislation. Disability advocates applied the language used in the Civil Rights Act for later legislation concerning civil rights for those with disabilities. Later on, the Americans with Disabilities Act, also known as ADA, as we know it today began. First implemented in 1990, it was our government's first step toward addressing the needs of citizens living with disabilities. Yet as technology and our culture evolved, so did the challenges faced by disabled Americans. Accessibility became a hurdle not only in the physical world but also the vast digital realm of today. The law is constantly evolving while changing with the times; thereby making everyday life easier for individuals with unique needs.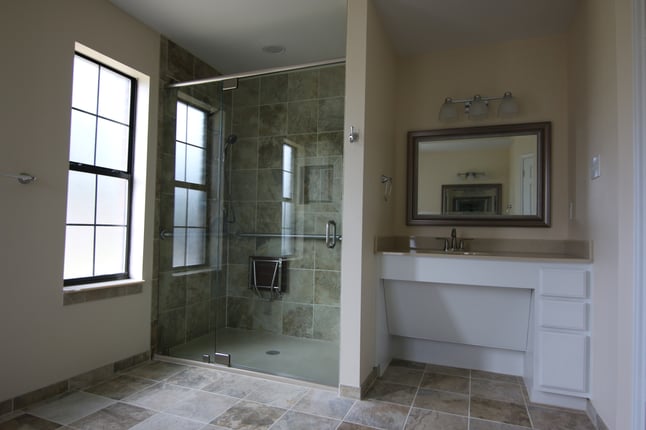 Disability is a complex phenomenon representing an interaction between one's physical impairments, the activities they need to perform, and the architectural barriers within the space in which this situation occurs. The terminology and jargon used for disabilities evolves regularly whereas, "handicapped" is no longer acceptable. It is no longer merely a description of intellectual or physical impairments. Each individual with similar impairments describes his or her limitations differently. The blind don't experience their world the same as a person with deafness and so on. Physically challenged has become the more socially accepted description of a person with an impairment, regardless of age. No matter how old you are, you should periodically evaluate your residence to determine whether it suits you not just for the present but the future. Your personal home assessments will be revised every time your living situation changes. Whether childproofing for a newborn, making a home more accessible following a sickness or unfortunate accident to someone in the family, or making a toilet area safer for an aging residing parent, there will be an immediate evolution to your primary domicile. These same life-span design features become more important if you believe you're past the age of wanting to move and are relishing the thought of aging in your own home, no matter what physical limitations you might later develop. This way of thinking has created a niche residential market known as Aging in Place. Solving Aging in Place issues will soon become the number one challenge concerning the present obsolete housing inventory in our country. Incorporating smart aging design concepts like a roll-in-shower into a home will attract a larger group of buyers when you decide to finally sell your home. Preparing for one of those highly likely events involving someone in your home needing room modifications for even a short time while recovering from surgery is surely a wise move.
In our daily lives, we all know what to do if the front door is no longer secure, if the kitchen sink backs up, or if the air conditioning suddenly goes out on a hot day. However, for those suddenly facing a catastrophic illness, life can suddenly be a scary and confusing place in which our existing homes are no longer a sanctuary but become a prison within the nightmare of limited accessibility. With the onset of a life-altering illness or catastrophic injury, knowing who to call to solve problems faced performing our usual daily tasks suddenly becomes very challenging.
Knowledgeable construction and design professionals are utilizing the CAPS training across the nation. CAPS stands for Certified Aging In Place Specialist. This designation is taught through the National Association of Home Builders in collaboration with AARP. CAPS connects responsible professionals with home owners who need these services on an ever-increasing basis. CAPS is a nationwide initiative and all active CAPS members can be found at nahb.org/CAPS. Look for the CAPS designation as a reliable way to identify professionals to modify your home or build a new forever home that is designed for a lifespan. CAPS graduates receive training about the technical/construction aspects and learn about the unique aspects of working with older Americans. They must take formal business training to maintain their credential through continuing education and subscribe to a Code of Ethics.
David L. Traut, CAPS the owner of T-Square Company in Austin, Texas is one of the select group of professionals to earn the Certified Aging In Place Specialist (CAPS) designation, identifying him as a home remodeler and builder with the skills and knowledge necessary to remodel or modify a home to meet the unique needs of the older population, disabled owners, or their visitors. T-Square Company offers a full compliment of Aging in Place services including bathroom modifications for elderly clients with special needs. Each design/build project will be customized to fit your personal needs increasing your accessibility. Call 512-444-0097 today to begin the accessible second chapter of your life while remaining safe and secure in your existing home. CAPS #1636580
As an answer to his clients requests over the years, David has recently published a book entitled "Age in Place at Home: Adapting the Home Environment for All Generations". The book reflects on thirty years of accessibility improvements and identifies why our traditional homes specifically lack this very basic need. It is available on Amazon and stands as a reference book for increasing home accessibility using the principles of Universal Design in every room of the home.