Honestly, accessible homes are needed by all of us at some time in our lives. This is true whether it's for ourselves, an elderly family member, or a physically-challenged guest. The need is certainly not driven by age, but is a result of life's experience. For example, a child or young adult who has sustained a cervical spine injury will benefit from precise home modifications to increase their independence much like an elderly person. Any family living with disability among any of it's generations within it's group can always benefit from additional accessibility. This will in turn increase safety and independence for all family members involved as they go through life.
Each physically-challenged child or aging individual having similar impairments describes his or her limitations differently. The blind don't experience their world the same as a person with deafness. Some of our societal statistics that weigh into aging in place situations include reports stating that 19% of the population between the ages of 16 and 64 and 42% of those of us 65 and over have a physical disability affecting the activities of their daily lives. For an adult's progressive condition, elderly home design in Austin and aging in place home remodeling definitely comes into play. Elder construction and remodeling is the only way to insure the safety, mobility and independence of the homeowner or family member requiring the home modifications.
The two main groups driving this aging in place market are those people who are 65 and over and the baby boomers. The first group is projected to reach 55 million in 2020. The baby boomer generation born between 1946 and 1965 today make up 28% of the U.S. population and are made up of some 77 million people. Bathroom modifications for the disabled in existing homes is important because people of age 50 and older want to remain in their current home for as long as possible requiring elder living solutions.
The National Association of Home Builders, in partnership with the AARP and Home Innovation Research Labs, created the CAPS program, which includes training and education on the technical, business management and customer service skills essential to compete in the fastest growing segment of the residential remodeling industry--home modifications for Aging in Place. Elderly home design in Austin should only be done by an experienced CAPS certified remodeling company like T-Square Company, providing a full compliment of Aging in Place services. These services include assessment of the home, specifications and designs to modify the home for increased accessibility per the client, city permitting when required, and carrying out the renovations turn-key. T-Square Company, CAPS #1636580, has over twenty-seven years of home accessibility experience. All registered CAPS program graduates and their remodeling company will be listed in a national registry in Washington. The information can be found by simply visiting nahb.org/CAPS.
Handicap Accessible Showers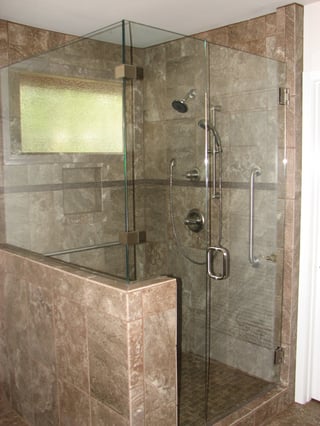 Physical limitations affect many more people than the daily users of walkers and wheelchairs. Many members of our life experienced or elder society have significant problems in dealing with their home environment. Today's conventional building standards conflict with most people's accessibility when you consider our created architectural barriers concerning cabinetry and door opening widths, individual strength, range of motion, movement, manual dexterity, balance, and coordination. Once the demands of our built environment exceed their capacities we become excluded from a room or even the entire home. The building world must work in unison to be sure the entire living environment meets basic needs in addition to affordability and structural integrity for the consumer and home owner. This includes both the home and the components within the home being accessible to all inhabitants. Privacy, sense of belonging, sense of control, and the sense of safety and security make up the quality of life for any home and should be considered for any design.
The Aging in Place market in the US today is constantly being influenced by the increasing size of the aging population, the market desire to remain in one's home, a constantly increasing cultural diversity, and our aging housing stock associated with it's reduced affordability. Our elderly population is really made up of two prominent age groups formed by the age 65 and over population and the baby boomers who were born between 1946 and 1965. Together these two groups own over 48% of all the US home inventory today. The desire to remain in one's home is driven by social attachments via a network of neighbors, friends, and family. Our cultural diversity assures that the same Aging in Place solutions cannot work across the board for all individuals just as an individual's ability to live independently varies from person to person. With constantly aging housing, costs can be a major barrier in home modification for many residents. A catch 22 situation can arise when you consider the reduced affordability of another home versus the one that is presently occupied. In this case the homeowner must use the equity that has accrued in their home's value in order to make the modifications required. You will find out in the long run that it's cheaper to remodel your existing home using your accrued assets than it is to buy a new home in today's market and move.
There are really three categories of Aging in Place customers. Those who are simply and wisely planning ahead for their futures to remain in their present homes. The second category concerns those people who know they have a chronic medical disorder and need to prepare in advance for accessibility issues which will come as a result of their disease. People with diseases that are constantly causing increased physical or mental changes to their being are a good representative of this second group. The third group involves those people who either have had a chronic problem that has progressed severely altering their mobility or those who have sustained a life altering tragedy such as being involved in an accident. All of these groups will drive the future metamorphosis of existing inaccessible dwellings.
Some people confuse the terms Aging in Place with Universal Design. Both are a method to increase accessibility within the home but Aging in Place strictly deals with an existing home. Aging in Place also implies modifying any home for it's older occupants to insure that the inhabitants can safely remain in the home for as long as they possibly can. This time will expire once they need assisting medically trained help for safeguarding their personal safety in a nursing home or an assisted living environment. Universal Design is just that; offering choices to all of a home's residents no matter their age or physical capabilities. It begins with a design and then the construction begins. Items like wide-open rooms containing a sixty-inch by sixty-inch area for turning, unobstructed corridors at least 40-inches wide, adequate lighting throughout the home, having adaptable kitchen work areas, the use of contrasting colors in all rooms, a shower seat to increase safety, raised electrical outlets positioned at 18-inches above the floor, reinforced bathroom walls to allow for installing grab bars when required, easy-to-reach storage with greater organization, and non-slip flooring are major concerns within any elderly house design. However, the number one safety hazard to consider during an elderly home design is negotiating level changes within the home--steps at the entry, stairs between floors, and curbs to step over when entering the bath or shower. Eliminating level changes is very difficult in existing homes and almost impossible to do aesthetically and without major compromises, unless there is a major renovation. The result is that most homeowners decide to sell the house rather than make the modifications. When Universal Design is periodically incorporated into their design, homes can accommodate the needs of their owners longer as those needs evolve over time.
David L. Traut, CAPS owner of T-Square Company in Austin, Texas is one of the select group of professionals nationwide to earn the Certified Aging-In-Place Specialist (CAPS) designation, identifying him as a home remodeler and builder with the skills and knowledge necessary to remodel or modify a home to meet the unique needs of the older population, disabled owners or their visitors.
After over a year of writing to fulfill his customers' requests, David's new book, "Age in Place At Home: Adapting the Home Environment for All Generations" , is available for purchase from Amazon. Please go to the link below to order his paperback book, which was released in late December, 2022. It provides a great guideline for using the principles of Universal Design in new home construction and/or remodeling for every room in your home. Get your copy today.
https://www.amazon.com/gp/r.html?C=2Z24ENUUAEWUK&K=13Y7YU7PKKYAC&M=urn:rtn:msg:20221010201802eb9acb7b24004a4785cd2ec1d4f0p0na&R=3R6MK9WDXJPH7&T=C&U=http%3A%2F%2Fwww.amazon.com%2Fdp%2FB0BHTV28RV%3Fref_%3Dpe_3052080_276849420&H=7FWEPMGCH0TT8LN6SKPMUOCVJNYA&ref_=pe_3052080_276849420
David's book acts as a guidepost for perplexed homeowners and caretakers trying to determine their family's next immediate direction and imminent future. The first half of the book explains why homes have always been inaccessible, except on the day they were purchased. The second half takes you room by room through the home as I explain how applying the principles of Universal Design for Aging in Place makes the home comfortable and accessible for the largest number of people.
For additional information about the CAPS program, visit nahb.org/CAPS. For more information about T-Square Company, visit www.tsquareco.com or call 512-444-0097.