T- Square Company in Austin, Texas is an industry leading accessible, universal, certified Aging in Place and VA approved Specially Adapted Housing custom home builder and remodeler. We offer both new totally accessible homes and complete handicap modifications for existing homes. Traditional home builders and remodelers don't really consider the needs of the disabled or elderly like ADA vanities , roll in showers, or specially adapted kitchens which are universal in nature. It takes a special breed of contractor to realize special needs for special people.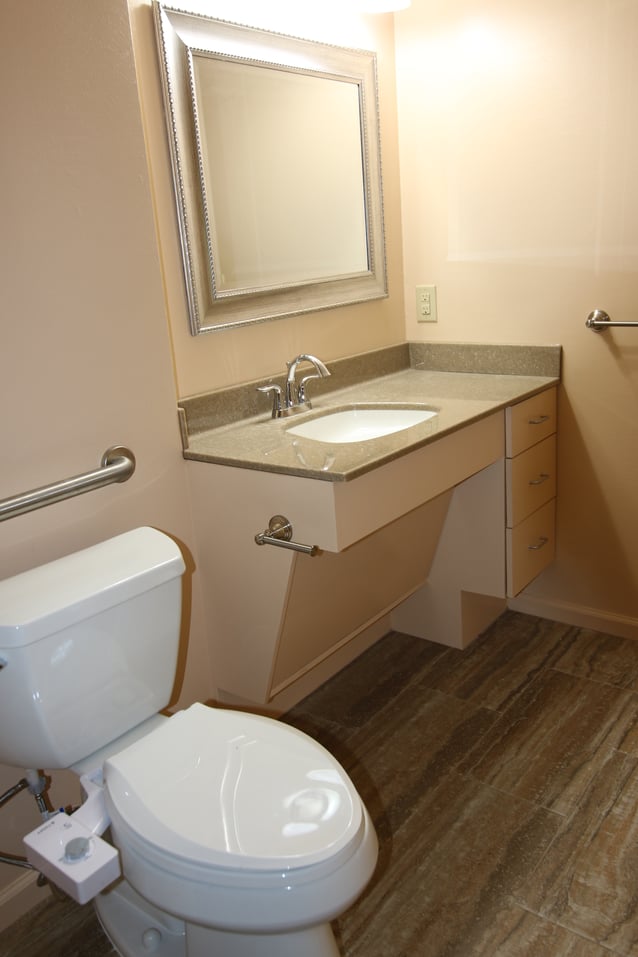 A revolution in building design standards is long overdue. Our current building design standards do not address the needs of more than one third of our existing population. Many more people can greatly benefit from accessible design versus conventional design. Our rapidly aging population is experiencing the limitations of our personal living environments. Any evolution in building practically always begins in the common areas of the commercial building sector. The American Disabilities Act of 1990 increased the attention needed for those people having the right to equally access their work place and any recreational or leisure facilities. These rules at least offer minimal solutions for those needing the most help with any building access. In Austin, we now must provide access to one bathroom on the first floor in new homes as deemed by our newly adopted building regulations. This basic right to a handicap accessible bathroom is finally being enforced by the city's building inspectors. What a tremendous needed and basic design improvement!
Finding the right design/build contractor with ADA knowledge and experience can be a challenge. Obtaining help for maintaining your independence throughout an accessible wheelchair design in Austin is possible. You should be looking for a CAPS certified contractor who understands life changes. A local contractor who offers specialty products and services standing out from the rest of the pack. A contractor who has the ability, through experience, to help clear the murky water impeding your accessible route and how it can be accomplished. One who takes ADA remodeling to another level promoting safety. A well versed construction professional can take on and solve any residential ADA challenge creating handicap accessible house plans. These can include widening doorways, ADA compliant kitchen cabinets, or ADA compatible baths.
Accessible floor plans can include level no step entries, wider hallways and doorways, adequate maneuvering space for a wheelchair turning radius throughout the home, non-slip flooring, ramps to overcome level changes, clear unobstructed walkways, special area lighting, accessible closets and storage, roll out or pull out shelving, easy grab door hardware, automatic and graspable faucets, full extension drawers, accessible switches and outlets, roll in showers, ADA roll under vanities, counter tops, and work spaces, accessible kitchen appliances, and many other specialty features designed around the homeowner's abilities.
A handicap accessible house plan takes the special needs of the physically disabled into consideration throughout the entire design. This type of home layout typically includes fewer walls, more open space, and wider hallways for increased mobility throughout the home for those that require the use of a wheelchair.
The Americans with Disabilities Act (ADA) ensures that public spaces are designed to accommodate disabled patrons, and this type of home does as well. After all, living with a disability presents many challenges, as the ADA acknowledges, and navigating the home shouldn't be one of them. The home shouldn't ever make the homeowner feel like a prisoner within it's walls.
Aging in place construction and Austin ADA remodeling has become synonymous with handicap accessible home design and modification during our lifetime. Home modifications can be used to accommodate anyone from people with mobility impairments to those with vision loss, hearing loss, or even cognitive or developmental disabilities. Accessibility home modifications or wheelchair accessible kitchen and bathroom remodeling in Austin will allow anyone with limited mobility within your home to feel more empowered and independent. The extent of a customized accessibility design is dependent upon the activity level of the person requiring the modifications.
Today's conventional building standards conflict with most people's accessibility when you consider our created architectural barriers concerning cabinetry and door opening widths, individual strength, range of motion, movement, manual dexterity, balance, and coordination. Once the demands of our built environment exceed their capacities we become excluded from a room or even the entire home. The building world must work in unison to be sure the entire living environment meets basic needs in addition to affordability and structural integrity for the consumer and home owner. This includes both the home and the components within the home being accessible to all inhabitants. Privacy, sense of belonging, sense of control, and the sense of safety and security make up the quality of life for any home and should be considered for any design increasing home accessibility.