The baby boomer sector of our society born between 1946 and 1965 are 77 million strong and make up 28% of the U.S. population. This group is quickly catching onto the trend of aging in place and accessible homes. The economics of aging in place home modifications are necessary for anyone trying to remain healthy, independent, and safe within their existing home. Moving to a typical assisted-living facility can cost up to and beyond $60,000 annually. The cost to widen the bathroom door, put in safety bars, and add a roll-in shower would typically start at around $8,000 to $12,000, but doing so is a one-time expense, not a yearly drain on your finances when remodeling a bathroom for disability access.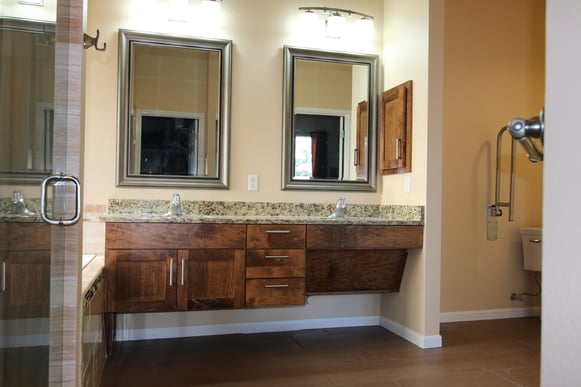 In our daily lives, we all know what to do if the front door is no longer secure, if the kitchen sink backs up, or if the air conditioning suddenly goes out on a hot day. However, for those suddenly facing a catastrophic illness, life can suddenly be a scary and confusing place in which our existing homes are no longer a sanctuary but become a jail within the nightmare of limited accessibility. With the onset of a life-altering illness or catastrophic injury, knowing who to call to solve problems faced performing our usual daily tasks suddenly becomes very challenging.
Let's face it, accessible homes are needed by all of us at some time in our lives. This is true whether it's for ourselves, a family member, or a guest. The need for handicap remodeling is certainly not driven by age but is a result of life's experience. Any family living with disability among any of it's generations within it's group can always benefit from additional accessibility. This will in turn increase safety and independence for all involved as they go through life
Knowledgeable construction and design professionals are utilizing their CAPS training across the nation. CAPS stands for Certified Aging In Place Specialist. This designation is taught through the National Association of Home Builders in collaboration with AARP. CAPS connects responsible professionals with home owners who need these services on an ever-increasing basis. CAPS is a nationwide initiative and all active CAPS members can be found at nahb.org/CAPSdirectory.
Look for the CAPS credential as a reliable way to identify professionals to modify your home or build a new one that is designed for a lifespan. CAPS graduates receive training about the technical/construction aspects and learn about the unique aspects of working with older Americans. They must also take formal business training to maintain their credential through continuing education and even must subscribe to a Code of Ethics.
Physical limitations requiring accessibility home modifications affect many more people than the daily users of walkers and wheelchairs. Many members of our life experienced or elder society have significant problems in dealing with their home environment. Today's conventional building standards conflict with most people's accessibility when you consider our created architectural barriers concerning cabinetry and door opening widths, individual strength, range of motion, movement, manual dexterity, balance, and coordination. Once the demands of our built environment exceed their capacities we become excluded from a room or even the entire home. The building world must work in unison to be sure the entire living environment meets basic needs in addition to affordability and structural integrity for the consumer and home owner. This includes both the home and the components within the home being accessible to all inhabitants. Privacy, sense of belonging, sense of control, and the sense of safety and security make up the quality of life for any home and should be considered for any design.
Disability is a complex phenomenon representing an interaction between one's physical impairments, the activities they need to perform, and the architectural barriers within the space in which this situation occurs. The terminology and jargon used for disabilities evolves regularly whereas, "handicapped" is no longer acceptable. It is no longer merely a description of intellectual or physical impairments. Each individual with similar impairments describes his or her limitations differently. The blind don't experience their world the same as a person with deafness and so on. Physically challenged has become the more socially accepted description of a person with an impairment. No matter how old you are you should periodically evaluate your residence to determine whether it suits you not just for the present but the future. Your home assessments will be rethought every time your living situation changes. Whether childproofing for a newborn, making a home more accessible following a sickness or unfortunate accident to someone in the family, or making a toilet area safer for an aging residing parent, there will be an immediate evolution to your primary domicile. These same life span design features are even more important if you believe you're past the age of wanting to move and are relishing the thought of aging in your own home, no matter what physical limitations you might later develop. Incorporating smart aging design concepts like a roll in shower into a home will attract a larger group of buyers when you decide to finally sell your home. Preparing for one of those highly likely events involving someone in your home needing room modifications for even a short time while recovering from surgery is surely a smart move. Solving aging in place issues will soon become the number one challenge concerning the present obsolete housing inventory in our country.
What really defines accessible home modifications and elder construction in Austin? Barrier free architectural design and accessibility for all who enter the structure while approaching the main living areas of the home in question is a fair definition. Universal design and aging in place trends have taken hold in the residential remodeling industry. The current housing inventory doesn't offer the features needed for safety and accessibility in the numbers needed to accommodate the ever growing demand. It is ultimately up to the individual homeowners and their families to plan for future housing needs. Once it is discovered that modifications to an existing home are not possible to accomplish total accessibility then it is time to consider a newer or custom built accessible home.
There are really three categories of aging in place customers. Those who are simply and wisely planning ahead for their futures to remain in their present homes. The second category concerns those people who know they have a chronic medical disorder and need to prepare in advance for accessibility issues which will come as a result of their disease. People with diseases that are constantly causing increased physical or mental changes to their being are a good representative of this second group. The third group involves those people who either have had a chronic problem that has progressed severely altering their mobility or those who have sustained a life altering tragedy such as being involved in an accident. All of these groups will drive the future metamorphosis of existing inaccessible dwellings.
Aging in place home modifications are available through T-Square Company in the Austin area. We have an A plus rating with the local BBB and have over 30 years of remodeling experience. We are additionally a certified aging in place specialist offering complete aging in place services. Each design/build situation will be customized to fit your personal needs increasing your accessibility. Call 512-444-0097 today to begin the accessible second chapter of your life while remaining safe and secure in your existing home. CAPS #1636580