Many people are finding themselves needing to modify the existing architecture of their homes due to the use of a wheelchair or walker while preparing to remain in their homes as they age in place. This alone brings about the need for elder construction. There are currently over 30 million Americans using wheelchairs and those numbers continue to increase as a large population of people with age related challenges look for ways to live independently in their homes. Physical limitations affect many more people than the daily users of walkers and wheelchairs. Many members of more experienced or elder society have significant problems in dealing with their home environment requiring certified handicap remodeling contractors to solve their issues for greater accessibility. Today's conventional building standards conflict with most people's accessibility when you consider our created architectural barriers concerning cabinetry and door opening widths, individual strength, range of motion, movement, manual dexterity, balance, and coordination. Once the demands of our built environment exceed their capacities we become excluded from a room or even the entire home. The building world must work in unison to be sure the entire living environment meets basic needs in addition to affordability and structural integrity for the consumer and home owner. This includes both the home and the components within the home being accessible to all inhabitants. Privacy, sense of belonging, sense of control, and the sense of safety and security make up the quality of life for any home and should be considered for any design.
There are really three categories of aging in place customers needing disability access baths. Those who are simply and wisely planning ahead for their futures to remain in their present homes. The second category concerns those people who know they have a chronic medical disorder and need to prepare in advance for accessibility issues which will come as a result of their disease. People with diseases that are constantly causing increased physical or mental changes to their being are a good representative of this second group. The third group involves those people who either have had a chronic problem that has progressed severely altering their mobility or those who have sustained a life altering tragedy such as being involved in an accident. All of these groups will drive the future metamorphosis of existing inaccessible dwellings. The goal of an accessible bathroom design in Austin is to make the bathroom a safe space for everyone who uses the facilities. This falls under universal design which better accommodates wheelchair use and can make the bathroom more comfortable for all generations and specific needs of each user. It is important to carefully outline the scope of work during the remodeling of an accessible bathroom by first taking inventory of the users capabilities, needs, and preferences. Disability bathroom remodeling in Austin must be done considering all the data provided by the client, his or her family, and any caretakers involved.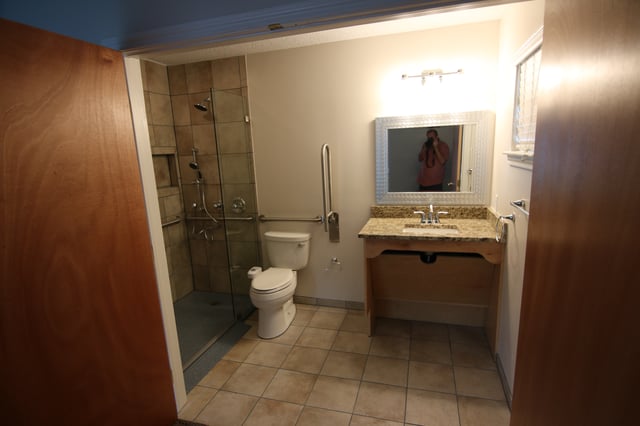 The Top Five Items To Include In An Accessible Bathroom Design
1. Vanity Sink Accessibility
Accessible bathrooms today contain stylish vanities set at a universal height of 34 inches with clear knee spaces. The sink faucets must be easily controlled by either wrist handles or levers. Bathroom vanities with universal height cabinet tops and open knee spaces are taking over the marketplace. These new residential vanities do not need to look institutional. They can be designed like any other piece of fine furniture. Scalding must be guarded against by using either insulating pipe wrap or a removable panel for the plumbing.
2. Toilet Accessibility
Toilets are available in comfort heights eliminating the deep knee bend needed for seating. Grab bars should be installed on at least both sides of the toilet. Creating a toilet within an open area and not a closet is much more accessible. Toilet seats are available with a heat feature and some have the ability to self close or have a night light.
3. Bathing Facilities
Curbless roll in showers with a 36" clear entrance are advised for everyone. The shower should contain at least a shower wand on a sliding bar for varying heights of use along with a regular shower head and control if desired. Installing fixtures with a scald guard or lowering the temperature at the water heater is a must to prevent burns. Folding seats in the shower are useful if caretakers are ever involved. Grab bars around the bath and especially in the shower should be used while non slip floor covering should always be considered. Walk in tubs are also a consideration but some people get chilled while the tub is draining.
4. Safety and Accessibility
Always choose fixtures and fittings that are easy to control with a single hand motion or a closed fist. Motion controlled sensor fixtures are also a possibility when specifying finishes. Provide easily accessible storage compartments with pull out shelving eliminating architectural barriers by not using doors on the cabinetry. Always consider the individual needs of the occupant and find the best placement of any reachable items within their reach distance of 24". Fully consider where the best access is for all accessories such as robe hooks, towel bars, paper dispensers, soap dishes, toothbrush holders, shower shelves. The distances and clearances required will be dictated by the user and not by an accepted general outline. With falls in the wet area of the bathroom being such a great concern, a non slip tile floor should be installed without placing loose rugs in the general area.
5. Lighting
Natural lighting is always better for anyone using the bath. Adequate task lighting in the shower, dressing area, and vanity vicinity should be installed. Lowered switches at around 48" above the floor in reaching distance should control all the lighting. Outlets that are ground protected should be installed at 18" above the floor.
In Summation:
You say to yourself that your needed aging in place home modifications basically require general home remodeling in Austin, Texas or in any other town for that matter. That is true but a specialized remodeling contractor holding a national CAPS certificate is who you need as a partner to insure that the accessibility issues of your home are solved correctly. With over 30 years of remodeling experience I obtained my registered CAPS certificate. By offering a design/build firm to my aging in place customers, I get personal satisfaction from giving my clients their independence back while the remain in their existing home. Without the training required to earn the CAPS certificate on top of my decades of building knowledge I could not offer my customers such a thorough and complete solution for solving their accessibility issues. Only an experienced qualified remodeler holding a CAPS certificate has the qualifications to design an accessible route and perform the construction required to make it safe and functional for the AIP customer. There is nothing more rewarding than seeing a person with mobility impairments be able to independently roll into his or her shower and be a part of that accomplishment.
The National Association of Home Builders, in partnership with the AARP and Home Innovation Research Labs, created the CAPS program, which includes training and education on the technical, business management and customer service skills essential to compete in the fastest growing segment of the residential remodeling industry--home modifications for aging in place. David L. Traut, CAPS the owner of T-Square Company in Austin, Texas is one of the select group of professionals nationwide to earn the Certified Aging-In-Place Specialist (CAPS) designation, identifying him as a home remodeler and builder with the skills and knowledge necessary to remodel or modify a home to meet the unique needs of the older population, disabled owners or their visitors.