Everyone ages differently and has different needs and wants. The factors that constitute the aging in place market for all individuals are based on a persons genetic makeup, their lifestyle including the choices they have made while living their life, and their environment. These factors have brought about the need for universal design. This is the design of products, services, and environments that are usable by as many people as possible regardless of age, ability, or situation without the need for adaptation or specialized alterations. It provides for the greatest safety and access for any home guests or occupants and is undetectable when done well. Since so very few homes share the accessibility offered by universal design, to satisfy the needs of a particular household member brought about by an accident, an illness, or simply the aging process there will always be a need for customized accessibility features. This will be accomplished by a CAPS accredited remodeling professional producing a truly functional design. This same competent home remodeling company who understands and practices aging in place home modifications in Austin should carry out the work to fit the design and insure your safety and accessibility.
Physical limitations affect many more people than the daily users of walkers and wheelchairs. Many members of our life experienced or elder society have significant problems in dealing with their home environment. Today's conventional building standards conflict with most people's accessibility when you consider our created architectural barriers concerning cabinetry and door opening widths, individual strength, range of motion, movement, manual dexterity, balance, and coordination . Once the demands of our built environment exceed their capacities we become excluded from a room or even the entire home. The building world must work in unison to be sure the entire living environment meets basic needs in addition to affordability and structural integrity for the consumer and home owner. This includes both the home and the components within the home being accessible to all inhabitants. Privacy, sense of belonging, sense of control, and the sense of safety and security make up the quality of life for any home and should be considered for any design.
There are really three categories of aging in place customers. Those who are simply and wisely planning ahead for their futures to remain in their present homes. The second category concerns those people who know they have a chronic medical disorder and need to prepare in advance for accessibility issues which will come as a result of their disease. People with diseases that are constantly causing increased physical or mental changes to their being are a good representative of this second group. The third group involves those people who either have had a chronic problem that has progressed severely altering their mobility or those who have sustained a life altering tragedy such as being involved in an accident. All of these groups will drive the future metamorphosis of existing inaccessible dwellings.
Disability is a complex phenomenon representing an interaction between one's physical impairments, the activities they need to perform, and the architectural barriers within the space in which this situation occurs. The terminology and jargon used for disabilities evolves regularly whereas, "handicapped" is no longer acceptable. It is no longer merely a description of intellectual or physical impairments. Each individual with similar impairments describes his or her limitations differently. The blind don't experience their world the same as a person with deafness. Some of our societal statistics that weigh into aging in place situations include reports stating that 19% of the population between the ages of 16 and 64 and 42% of those of us 65 and over have a physical disability affecting the activities of their daily lives. For a progressive condition, aging in place home remodeling in Austin definitely comes into play. This is the only way to insure both the safety and mobility for the homeowner or family member requiring the home modifications. The two main groups driving this aging in place market are those people who are 65 and over and the baby boomers. The first group is projected to reach 55 million in 2020. The baby boomer generation born between 1946 and 1965 today make up 28% of the U.S. population and are made up of some 77 million people. Modifications of existing homes is important because people of age 50 and older want to remain in their current home for as long as possible. Aging in place home modifications in Austin should only be done by a CAPS certified remodeling company. This is the only way that you can be assured that the home modifications are the right choices to satisfy your needs. There is no need to waste money only to find out that the wrong alterations were done by an inexperienced and nonqualified remodeling company. Always check their creditials to verify that the remodeler holds a CAPS certification. All registered CAPS program graduates and their remodeling company will be listed in a national registry in Washington. The information can be found by simply visiting nahb.org/CAPS.
If you have been considering an aging in place design for a fine bathroom makeover or remodeling project in Austin there are a few things you should take into consideration. Accessible home remodels and bathroom upgrades in Austin, Texas can take on many looks and facets. The scope of work you choose to accomplish should effectively solve your problems and most importantly, your needs as the home owner. The identification of these specific needs belongs to you the home owner. The way your home is structurally altered to accomplish these needs is the job of the professional remodeling contractor. Accessibility should be a concern no matter what your age. If your concerns are not for you, barring any life changing accident, they could concern the accessibility of another generation's independence is using the restroom. Aging in place services performed by CAPS professionals in the remodeling industry can help with solutions in solving these issues.
Whether you desire a roll in shower, accessible sink , or merely a clear and unobstructed access to your existing bath, a CAPS professional can help you increase your accessibility. The CAPS certification holder can not only help you with the design of what you desire but is competent and professionally qualified to carry out any construction needed. Certainly there are many upgrades available when planning an accessible bathroom transformation. The replacement of the tub with a new walk in shower can create a bold look but will run you around $10,000 while a roll in shower will run around $14,000. There are no spending limits for bathroom remodels. You can plan on spending around $12,000 to $15,000 for a hall bath remodel. The price tag can approach or exceed $35,000 for a complete master bath remodel. The type of fixtures and building components chosen alongwith the labor will compose the overall cost of the remodeling project. These prices are based on long lasting home modifications requiring time to install using proper construction techniques and are not to be confused with pop in kits offered by others they claim will be accomplished in a couple of days.

Who do you choose to help you with your dream? It is true that a professional remodeling contractor with years of experience will cost you more than a handyman illegally playing among the trades at your peril but then again there are those professional guarantees to consider. The professional verses the handyman is more likely to seek your overall satisfaction that will follow him into his next job. A true building professional can also orchestrate the job's smooth flow limiting the down time of a most useful room. Subcontractors will not be covered up and each skilled trade is brought onto the sight as needed in an orderly fashion. Professionals normally have insurance to cover on the job accidents to protect the homeowners from having legal action brought against them personally. Be sure you ask for a certificate of insurance from your chosen professional contractor so that you aren't held personally liable for medical expences covering a worker's accident while on your property. Don't forget that only a certified aging in place (CAPS) professional can help you solve your accessibility issues.used specifically in homes today where the owner is planning to retire.
The National Association of Home Builders, in partnership with the AARP and Home Innovation Research Labs, created the CAPS program, which includes training and education on the technical, business management and customer service skills essential to compete in the fastest growing segment of the residential remodeling industry--home modifications for aging in place. David L. Traut CAPS owner of T-Square Company in Austin, Texas is one of the select group of professionals nationwide to earn the Certified Aging-In-Place Specialist (CAPS) designation, identifying him as a home remodeler and builder with the skills and knowledge necessary to remodel or modify a home to meet the unique needs of the older population, disabled owners or their visitors.
For additional information about the CAPS program, visit nahb.org/CAPS. For more information about T-Square Company, visit www.tsquareco.com or call 512-444-0097.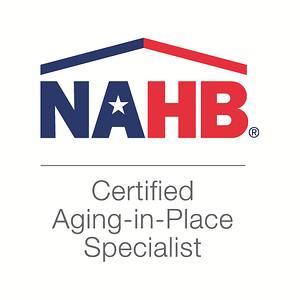 A Custom Roll In Shower Conversion in Austin, Texas