A traditional home builder has never truly considered the special needs of the disabled or aging within any home design. Unfortunately the design emphasis is always put on aesthetics and takes for granted everyone's mobility. There certainly are no guarantees or clauses within any home's sales contract that will prevent our future personal life experiences from introducing us to at least a temporary disability. Accidents will always happen and you could find yourself having to utilize a wheelchair or walker to facilitate your independence for mobility. Limitations in our mobility or constantly changing needs experienced by both the disabled and the elderly have sprung a new dimension in construction known as ADA remodeling to accomplish increased kitchen and bathroom accessibility.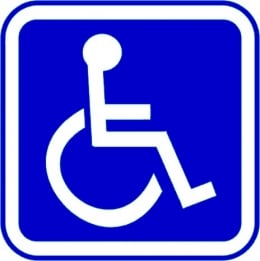 As we age, just maneuvering around within our home becomes more difficult. Some debilitating diseases slowly take over our bodies completely reducing mobility over time. The situation is complicated further once we are forced to use any device for increased mobility. That's when we find ourselves asking how we are to negotiate a set of stairs or a doorway that is too narrow to allow entry into a room or even the entire house. These types of overpowering circumstances can certainly make life terribly difficult to deal with at times. Who would ever have imagined that just passing through a doorway we had negotiated many times could now present such a problem in our life?
Designated accessible routes can be created by first hiring a knowledgeable residential construction contractor in Austin, Texas. The experienced builder you contract with must be skilled in both home remodeling and all ADA guidelines tom successfully accomplish disability bathroom remodeling in Austin. The noted accessible route will first provide ways to accomplish any elevation changes in your yard that once required only stairs leading up to your front door. A correctly angled ramp following ADA guidelines will help you gain access into the house. Maybe the front door itself needs to be widened or additionally equipped with an electronic opener.
Once inside, the accessible route will continue into all the rooms increasing their accessibility provided for by wheelchair remodeling. Kitchen upgrades and disability access bathrooms will provide roll under capability for wheelchairs at all sinks. A required underneath clearance and scalding protection below the sinks must be observed for the end user with special needs. The correct handles must be used controlling all sink faucets assisting those with limited mobility. Reach limits must not be exceeded above the new 34 inch high cabinet top. Roll in or transfer showers outfitted with hand held showers and adjustable slide bars can also be of assistance. Hallways need to be wide enough for wheelchair clearance and all entry doors at each room must be at least 36 inches wide for unobstructed entry. A clear and unobstructed wheelchair turning radius will be built into the design for increased accessibility to facilitate leaving a small rooms in the bathroom. Lowering the light switches in certain rooms may be a requirement to help with decreased mobility.
Your professional builder will be able to access the costs associated with the accessible route designed plus he must be able to lead you in the right direction for the available budget you have to spend for your ADA remodel. Your biggest and most important duty will be in qualifying the builder you choose. Remember that this special type of information is not common knowledge with all builders and remodelers. You must be sure he has both the experience and knowledge for understanding any and all of the ADA requirements that will most certainly increase your accessibility. If he uses the correct methodology, your lifestyle can become much more manageable and independent making adapting to life's changes far easier. Do your homework and don't depend on advise from others for guidance in solving your most personal problems in life.