An accessible home refers to the construction or modification of housing to enable independent living for disabled people. Usability or accessibility is accomplished through universal design techniques and proper planning around the homeowner's personal abilities. There is no "one size fits all" for an accessible home design when considering the many types of disabilities. Furthermore, no one disability is experienced the same by everyone. Once inside the home, accessibility can be further enhanced by using adaptable and universal products, components, and finishes. The slightest change found in an accessible design can make the greatest difference for a homeowner living with a disability.
T- Square Company located at 14141 Highway 290 West, Suite 800 in Austin, Texas is an industry leading accessible, universal, certified Aging in Place and VA approved Specially Adapted Housing accessible home builder and remodeler. We offer design/build projects for both totally accessible homes from the ground up and complete handicap modifications for existing homes to age in place. Traditional home builders and remodelers do not consider or understand the needs of the disabled or elderly. They deal mainly with the two thirds of our society without disabilities. They do not have the knowledge or experience required to think out of the box when creating a special needs home. It requires an educated accessible home builder and contractor to realize special needs for special people. T-Square Company will design and build you an adapted living environment which is completely customized toward your abilities. Whether your project concerns home modifications, an accessible addition or wing, or new construction using handicap accessible floor plans generated around the client so we can help you increase your accessibility. We are CAPS certified (1636580) and have over three decades of building and remodeling experience practicing as a disability contractor for special needs. We want to help our clients be as self sufficient and independent as possible. Let us show you how to increase the safety and accessibility within your personal living environment.
Disability Contractors For Special Needs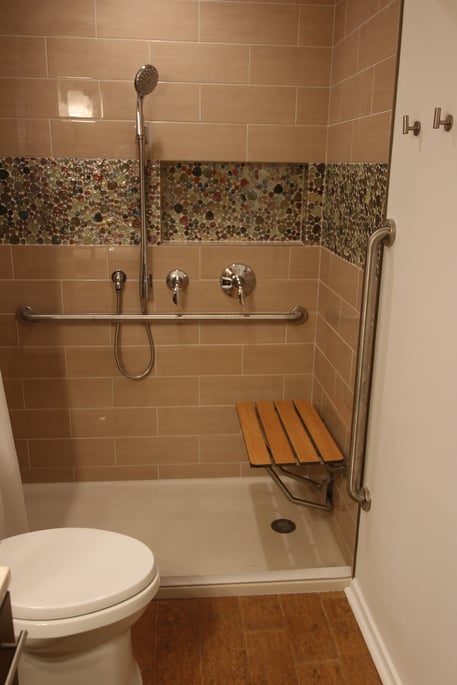 Handicap accessible floor plans or designs can include level no step entries, single level designs, smart home features, wider hallways and doorways, adequate maneuvering space for a wheelchair turning radius throughout the home, non-slip flooring, ramps to overcome level changes, residential elevators, clear unobstructed walkways, special area lighting, accessible closets and storage, roll out or pull out shelving, easy grab door hardware and electric door openers, automatic and graspable faucets, full extension drawers, accessible switches and outlets, automated controls, roll in showers, ADA roll under vanities, counter tops, and work spaces, accessible kitchen designs, accessible appliances, and many other specialty features designed around the homeowner's abilities and needs. Basically the rooms in an accessible home are more spacious while the amount of architectural barriers within the home is decreased. Accessibility is very important in the bathroom, kitchen, and the most visited living areas of the home.
Architects and designers with the help of CAPS professionals have been revising design basics in the recent past, creating design principles and strategies that accommodate the full range of human capability. This field of flexible or inclusive design is called Universal Design and its goal is to create easily accessible living and working spaces. Instead of appearing as a hospital extension, the designs are appealing and stylish and comfortable for everyone, not just the severely disabled among us. The world of boundaries and barricades is beginning to lessen and catch on nationwide one home at a time. This is a testament to the disabled population demanding equal access as the ADA rules which came about in 1990. Unfortunately the ADA rules do not apply to the residential market and disabled homeowners need to depend on the knowledgeable CAPS certified private sector of builders and remodelers. Every home should be accessible to all inhabitants and their visitors regardless of their age, size, or physical abilities. Caring for someone with special needs is a unique and sometimes lifelong challenge. Whether it's a child born with a disability, someone who has suffered an unfortunate accident or medical event causing them to lose abilities they once had, or an older family member in declining health needing assistance with daily life, the work of a special needs contractor can help make things easier for both the affected individual and their caregivers.
Today's conventional building standards conflict with most people's accessibility when you consider our created architectural barriers concerning cabinetry and door opening widths, individual strength, range of motion, movement, manual dexterity, balance, and coordination. Once the demands of our built environment exceed their capacities we become excluded from a room or even the entire home. The building world must work in unison to be sure the entire living environment meets basic needs in addition to affordability and structural integrity for the consumer and home owner. This includes both the home and the components within the home being accessible to all inhabitants. Privacy, sense of belonging, sense of control, and the sense of safety and security make up the quality of life for any home and should be considered for any design increasing home accessibility. Contact T-Square Company for a personal assessment at 512-444-0097. We pride ourselves on helping our customers stay healthy, independent, and safe.