The focal point of the master bath suite has shifted in recent years from the whirlpool bath to the totally tricked out custom walk in shower. Bubble tubs have gotten a bad reputation for the lack of sterilization associated with them. There is also a concern with the associated link concerning long term lower back and kidney damage. Custom shower designs Austin is slowly doing away with the problem.
Some people confuse Austin handicap remodeling and aging in place with universal design. Both are a method to increase accessibility within the home but aging in place strictly deals with an existing home. Aging in place also implies modifying any home for it's older occupants to insure that the inhabitants can safely remain there as long as they possibly can. This time will expire once they need assisting medically trained help for safeguarding their personal safety in a nursing home or an assisted living environment. Universal design is just that; offering choices to all of a home's residents no matter their age or physical capabilities. It begins with a design and then the construction begins. The number one safety hazard for elderly people is negotiating level changes within the home--steps at the entry, stairs between floors, and curbs to step over when entering the bath or shower. Eliminating level changes is very difficult in existing homes and almost impossible to do aesthetically and without major compromises, unless there is a major renovation. The result is that most homeowners decide to sell the house rather than make the modifications. When universal design is incorporated into their custom walk in shower design, homes can accommodate the needs of their owners as those needs evolve over time. Custom tub shower conversions make the home safer and more accessible.
The National Association of Home Builders, in partnership with the AARP and Home Innovation Research Labs, created the CAPS program, which includes training and education on the technical, business management and customer service skills essential to compete in the fastest growing segment of the residential remodeling industry--home modifications for aging in place. David L. Traut, CAPS owner of T-Square Company in Austin, Texas is one of the select group of professionals nationwide to earn the Certified Aging-In-Place Specialist (CAPS) designation, identifying him as a home remodeler and builder with the skills and knowledge necessary to remodel or modify a home to meet the unique needs of the older population, disabled owners or their visitors.
For additional information about the CAPS program, visit nahb.org/CAPS. For more information about T-Square Company, visit www.tsquareco.com or call 512-444-0097
All new construction for roll in showers or any bathroom upgrade to provide wheelchair accessibility should involve multiple shower head combinations in multiple locations to fit anyone's desires. Rain heads coming out of the ceiling, body heads coming out of the walls in many locations, or hand held units attached to the shower walls can make things very interesting. These combinations of heads and locations can be used to create rain effects, provide relief for muscle aches through body massages, or simply provide pin point convenience with hand held variable heads. The possibilities are endless as you dial in your bathing environment. Steam generators are also being considered as an investment in today's fine bathrooom designs. The steam heads can make the difference after a tough day when you're looking for that more therapeutic spa experience. This has certainly led the way to the thermostatic shower valve with plumbed-in hand held shower that is being used specifically in homes today where the owner is planning to retire.
Roll In Showers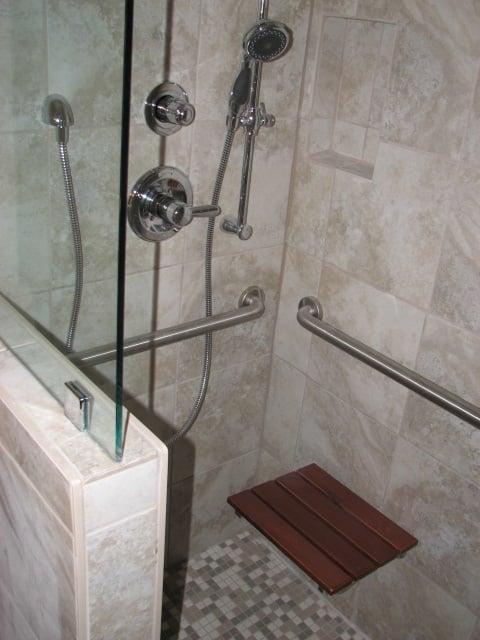 Dry saunas should also be a consideration to be incorporated into any custom bath suite. The cleansing environment accented with eucalyptus cuttings helps to dry out the sinuses and also adds it's part to the body's total muscle relaxation. There is probably no better way to completely warm up after coming in from a cold wet winter day. Always remember to install a floor drain for the days when the sauna must be scrubbed.
A Completely Natural Dry Sauna