---
Our existing architecture does not lend itself well to accomplishing any easy aging in place home remodels in Austin. In fact, there are more inaccessible homes in all of the US than there are accessible homes and 45% of these existing homes are owned by the baby boomers representing the oldest group of homeowners. Generally speaking in most residential US properties there are no easy ways to enter into bathrooms or utilize kitchens without coming into contact with one architectural barrier or another-especially if a wheelchair or walker is being used to help with mobility issues. While an estimated 80% of aging homeowners have a firm plan to age in place, everything requires the proper clearance and distance for a new customized accessible route in your home to function properly provided by wheelchair remodeling.
The concept of successful aging has become increasingly important as senior citizens begin to dominate the population. An active engagement in life through participation in social and productive activities is one component of successful aging. The built environment directly impacts the engagement profiles of older adults so it is necessary to provide environments designed to suit the needs of aging adults. Of all the design theories that attempt to accommodate the aging process, universal design may be the most desirable option as it provides built environments that benefit everyone. Universal design is a promising voluntary philosophy that requires increased attention from designers and builders participating in aging in place. Taken as a whole, it is evident that the application of universal design to the built environment is a positive step toward successful aging.
But you say to yourself that your needed aging in place home modifications basically require general home remodeling in Austin, Texas or in any other town for that matter. Aging in place services provided by a specialized remodeling contractor holding a national CAPS certificate is who you need as a partner to insure that the accessibility issues of your home are solved correctly. With over 30 years of remodeling experience I obtained my registered CAPS certificate. By offering a design/build firm to my aging in place customers, I get personal satisfaction from giving my clients their independence back while the remain in their existing home. Without the training required to earn the CAPS certificate on top of my decades of building knowledge I could not offer my customers such a thorough and complete solution for solving their accessibility issues. Only an experienced qualified remodeler holding a CAPS certificate has the qualifications to design an accessible route and perform the construction required to make it safe and functional for the Aging In Place customer. There is nothing more rewarding than seeing a person with mobility impairments be able to independently roll into his or her shower and be a part of that accomplishment.
Let's compare the alternative costs associated with aging in place verses when you already own your home. The more institutional alternative of assisted living accompanied by more medical expertise and staff training plus the access to emergency medical facilities is available as opposed to renting an apartment. These are two of the main alternative choices for seniors who decide not to remain in their own homes. According to a national study done in 2014, the average cost for assisted living ranged from $3,000 to $3,500 per month. However, if you decide to age in place in a high quality one bedroom apartment, the rent will run around $1,300 per month. Seniors living in their own home or with loved ones represents a preference by most seniors and property taxes must be taken in account.
An average Aging in Place bathroom home modification providing total accessibility given there is a large space to remodel at onset will come in around $30,000. This can vary in many aspects if there is not enough room to change the existing floor plan. Smaller bathrooms can cost $15-20,000 but will not have the barrier free accessibility as the larger modified bathroom. Fully accessible kitchens will run on the average of $50,000 depending on the size of the existing kitchen. These are both one time costs for sustainability of a given lifestyle and location providing future independence and safety for the homeowner who participates in accessible home remodeling. A wheelchair accessible roll in shower alone can cost $15,000 depending on the given plumbing situation and the size required for maneuverability. Many aging homeowners are more than willing to accept these costs if the modifications will give them the freedom to age in place.
There are five criteria which must be modified in a home to provide a highway for aging in place.
Widen Doorways
If a senior relies on mobility aids, such as a walker or wheelchair, to navigate through her home, widening doorways is a must-have home modification. Depending on the insulation and placement of electrical switches and outlets in the home, costs vary greatly for widening doorways.
Install Ramps
Exterior stairs may be a challenge for seniors who are unsteady on stairs or who have balance issues, so installing ramps is a necessary home modification that is well worth the cost to provide greater independence. CAPS certified contractors are trained in building and installing ramps of the correct height and slope for seniors.
Indoor threshold ramps are also necessary home modifications for older adults who use wheelchairs. These indoor ramps provide smooth transitions from one surface to another, making it safer to navigate throughout the home. The threshold ramps often are constructed of rubber, so they're easily adjustable to accommodate the step or door jamb height that is involved in the transition.
Kitchen Modifications
As seniors age, they may find that their appliances are no longer in ideal locations and that their counter tops and cabinetry are too high, especially if they are in a wheelchair. Every appliance must be placed within the reach distance for a seated person between 18 and 48 inches. Professional Caps certified contractors may need to come in and adjust the counter height and lower the sink, to allow for easier access from a seated position. Additionally, seniors aging in place often find it easier when microwaves are placed in microwave stands, as opposed to being at the back of the counter or in raised microwave cabinets. Providing multi-level counter tops is a way to give accessibility to everyone in the kitchen.
Shower and Bathtub Modifications
A senior opting to age in place also should consider home modifications for the bathroom, particularly the bathtub. One option is a bathtub to shower conversion, which provides a much easier and safer entry and exit than a bathtub. A second bathroom modification option is to replace a traditional bathtub with a walk-in tub.
Roll in showers without curbs are advised for everyone on a universal level for an accessible bath. A 5 feet square clear floor space is an optimum size when a caretaker is involved. Using a 32-36" wide barrier free entrance in a shower partition with an out-swinging door is advised for everyone. Remember wider is better in all respects. Upon exiting the shower a clear floor space of 30"x48" for approach to the shower should be present and this area intersects with a five feet turning radius within the room. The shower should contain a shower wand on a sliding bar mounted at 48" above the floor to be available for varying heights of use accompanied by a regular height fixed shower head above. These diverse shower heads are both regulated using a diverting controller valve. Always use a shower valve that is thermostatically controlled and pressure-balanced to prevent scalds. If you desire a full body wash, you can include a regular shower head as well. Installing fixtures with a scald guard or lowering the temperature at the water heater is a must to prevent burns. Fold down seats attached to the shower wall are useful if caretakers are involved. Recessed shampoo niches are helpful to eliminate clutter on the shower floor. Secure grab bars installed on wood grounds buried within the walls around the entire shower perimeter installed at 34-36" above the finished shower floor increases the safety factor and helps to prevent falls. A recessed can light fixture should be installed above the shower area for proper lighting. All of the bathroom floor surface must be nonskid type to prevent slipping on a guaranteed wet floor. The ultimate goal in accessible design is to make the bathroom space safe for everyone who uses the bathroom. Universal design can better accommodate wheelchair users and can make the bathroom more comfortable for all users and many times can be done without sacrificing style. It is important to carefully plan the building or remodeling for a wheelchair accessible bathroom by taking inventory of the users capabilities and preferences.
If a senior wants to keep his existing bathtub, or cannot afford to replace it, there are less expensive modifications that can be made to prevent slips and falls in the bathtub. One modification is to add a grab bar to the tub, while another is to install safety strips. Both of these simple modifications can help prevent slips and falls in the bathtub.
Yet another modification for the bathtub, which is less expensive than replacing the bathtub or shower, is to purchase a bathtub transfer bench. Transfer benches straddle the side of the bathtub, enabling seniors to sit safely on the bench while getting into the tub by lifting each leg, one at a time, over the bathtub wall. Getting into the tub while seated greatly reduces the risk of dangerous slips and falls for seniors. Some seniors who cannot spare the required bathroom floor space for bathtub transfer bench legs opt for bathtub chairs, which sit completely inside the bathtub. Seniors may be able to turn around and sit on the chair with both legs outside of the tub and then lift one leg at a time over the tub wall while seated.
Flooring Modifications
Flooring is another consideration for older adults making home modifications with the goal of aging in place. The first step is to evaluate the home's existing floors. If the carpet is older and shaggy, you may want to consider replacing it with new carpeting that has a shorter nap. Seniors are less likely to trip on shorter-nap carpeting, and it's also more suitable for seniors who navigate through the home with the use of a walker or wheelchair.
Hardwood, tile, laminate, and vinyl floors are smooth and may allow for easier wheelchair maneuvering, but they also tend to be more slippery than carpeting. People often use throw rugs on these types of flooring, so be sure that you either get rid of them or securely tape them down to prevent trips and falls. Using the proper tile with an acceptable coefficient of friction will prevent slipping even when wet.
The best way to prepare for aging in place is to have a definite plan considering all possible outcomes and needs for those involved. Aging in place isn't for everyone like those with major health issues. For others with more independence, it can be a practical decision providing quality of life and safety for many years. Everyone's needs are different as we age and one must allow for flexibility and change for all future decisions.
The best course of action to take when making home modifications for seniors aging in place is to consider all of the areas of the home that present the most trouble or concern. If there are things that are especially difficult for seniors, like reaching the counter tops or light switches, modify them. If there are potential tripping or falling hazards, eliminate them or modify them accordingly. Taking a proactive approach to modifying the home means that seniors can age in place independently while their loved ones have peace of mind knowing that their aging loved ones are safer in their homes.
Construction and design professionals are taking advantage of the CAPS training across the nation. This designation is taught through the National Association of Home Builders in collaboration with AARP. CAPS connects responsible professionals with home owners who need these services on an ever increasing basis. CAPS is a nationwide initiative and all active CAPS professionals can be found at nahb.org/CAPSdirectory. David L. Traut, CAPS the owner of T-Square Company in Austin, Texas is one of the select group of professionals nationwide to earn the Certified Aging-In-Place Specialist (CAPS) designation, identifying him as a home remodeler and builder with the skills and knowledge necessary to remodel or modify a home to meet the unique needs of the older population, disabled owners, or their visitors.
ACCESSIBLE BATHROOM WITH WHEELCHAIR ACCESS
---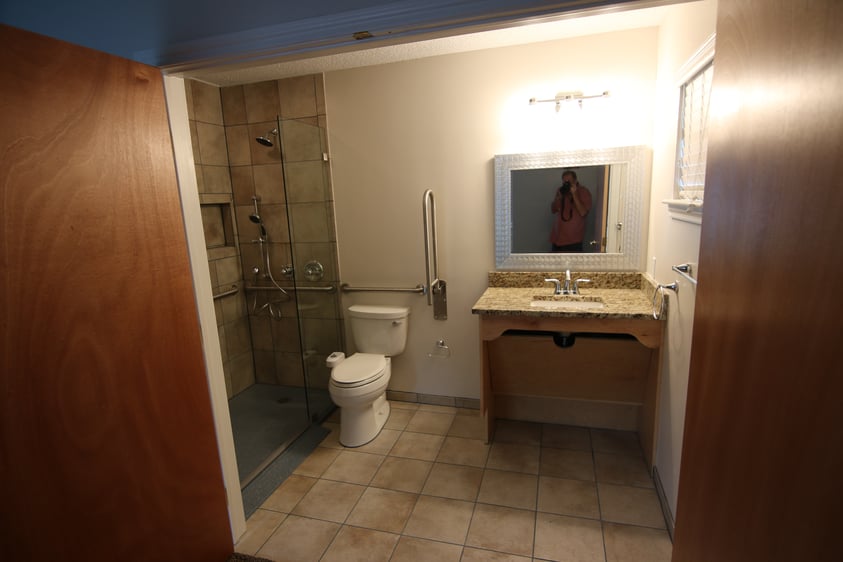 ---