Once you've had your home for a while or have recently closed on a new property, you need to analyze and discover any deficiencies that are incorporated into the overall functionality of one of your most private rooms. Make a list of your greatest wants and desires and begin to figure out how to make them affordable and real.
Conventionally, the master bathroom has featured a giant master bath tub. This might be a traditional tub or a jetted unit – but it seems that more and more clients are asking for something else. They are saying 'no' to the large master bath tub taking up more room that could be used for other activities. Specifically, the current trend is for smaller, freestanding tubs with stand alone larger custom showers that might include body sprays, steam showers, duel heads, etc. or maybe no tub at all. The tub no longer needs to take up so much of the usable square feet as the main focal point in the bathroom. Most likely, large showers will remain popular, while tubs will remain a more personal choice. There will likely be a certain group of people who really enjoy and want a nice long bath, regardless of the trends. Each situation is personal, and a home should be full of personal choices.
Keep in mind that moving plumbing, especially drains, is one of the more expensive aspects of a fine bathroom makeover involving floor demolition. If you can limit and control the costs involved with this issue you will have more money to spend on the things that show off your endeavors. Keeping this in mind will make your Austin bathroom remodeling a success.
Start with your vanity cabinet(s) to see if the proper amount and kind of storage is present. Can you accomplish your needs by using specialty items like pull out shelves, miscellaneous storage add ons as in wire pullouts, tilt out trays, or simply drawer inserts separating cosmetics or medicines? If this isn't enough, your vanity cabinet can be replaced with something that's been custom made or you may be able to find an off the shelf product that solves your storage problems.
How about your existing conventional tub? If it is no longer used or you have another tub in your other bathroom it can be transformed into a shower within the same footprint. You'll need to decide if you want a door and bring in the sides for the correct opening with either glass blocks or custom tile work on stick frame type construction. A walk in shower without a door requires a large enough area to enter so that the shower head is off to the side. Today's custom walk in showers can get pretty fancy with body and rain heads but remember these require a larger size supply line than is normally standard. Composite shower pans or liners beneath the floor tile can be composed of either a custom fiberglass application or the proper vinyl material. Waterproofing is the most important aspect of shower building and all precautions must be taken.
Changing your toilet is an easy way to change the look and efficiency of your bath. Older toilets use too much water when flushing and leaky flappers or malfunctioning fill valves are also water wasters. Toilets come in either a round or elongated shape and in standard and somewhat taller heights according to your comfort level.
Always use energy minded construction techniques in Austin, Texas and conserve water when making alterations to your home.
A Fine Bathroom Makeover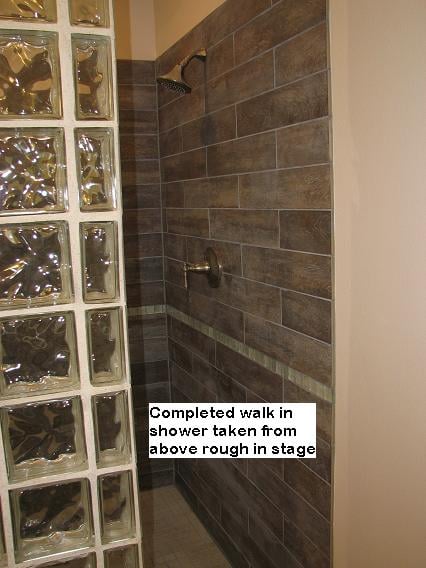 View our Video of a Custom Bathroom with walk in Shower!