Elder design takes on many facets because everyone ages differently. Once you pass through the entry door that begins a designated accessible route, the next phase of any ADA remodeling for greater accessibility includes making all destinations wheel chair accessible. Everyone requires the unrestricted use of any sinks and bathing facilities to promote personal hygiene and independence for any Austin bathroom remodel. This includes the sinks in both the kitchen and bath areas installed within ADA compliant cabinets at the correct 34 inch height. Roll under capability for wheelchair access will be included maintaining the proper clearances underneath the vanity during any bathroom modifications for elderly people. Furthermore those sinks must have accessible faucets with either automatic dispensing capabilities or manually operated blade (wrist) handles. Both the water supply lines and the sink drain underneath must be insulated or covered to prevent scalding when remodeling a bathroom with disability access.
Wheelchair Accessible Vanities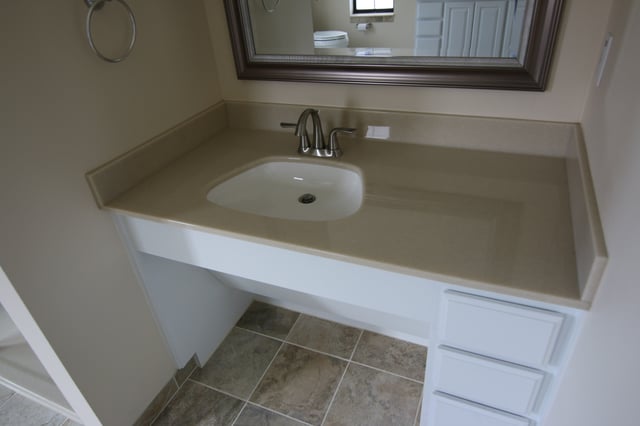 ADA accessible baths from a bath tub standpoint are generally limited to showers and the type of shower used is determined by the end user's physical capabilities. ADA compatible showers typically offer roll in or transfer situations. Custom tub shower conversions should be totally accessible. Regardless of the type ADA shower being used, a proper half inch threshold at the shower entrance should be observed for a custom walk in shower or you will need a means to add a ramp later. The splashing drawback of this situation can be remedied by installing a second wet trap floor drain overcoming any sewer gas problems arising from a dry trap.
The water controls located within the ADA accessible shower from a custom tub to shower conversion should include an easily adjustable faucet for temperature control with an automatic scald guard shield and an adjustable sliding wall mount capable of holding a hand held shower wand if desired. When the hand held shower is not mounted the user can rinse off easier using it as a hand held unit. The installation of grab bars as needed is a must.
Roll In Showers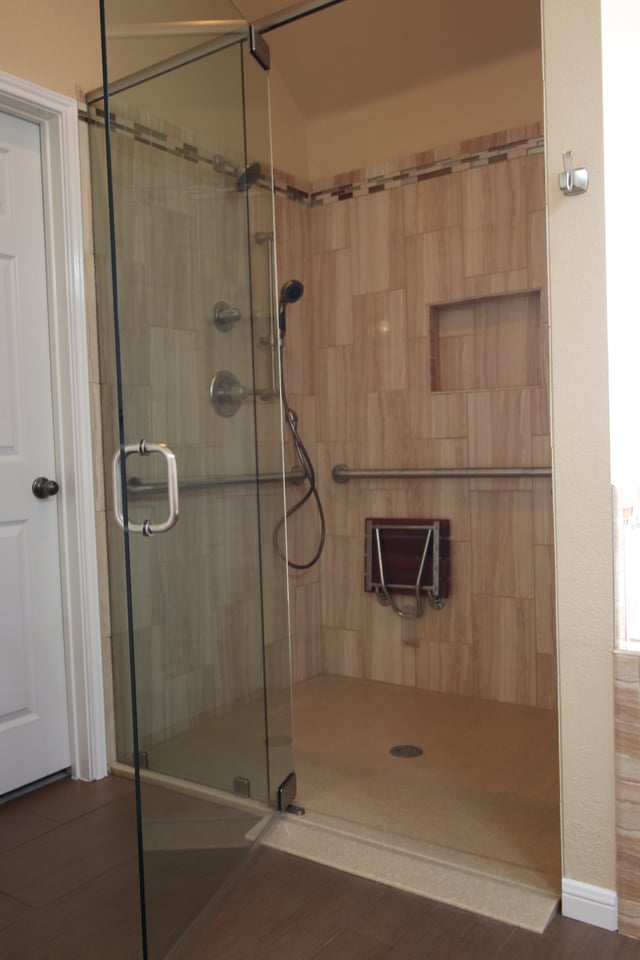 Toilets need to have the flush handle located toward the middle of the room and be of the correct height for comfort. Proper clearance from any walls must be observed and the approach to the toilet must be maintained. Grab bars should be installed both on the rear and sidewall of the toilet at 34 inches above the floor. Any bathroom transformation needs to include universal design characteristics and be accessible to everyone in the home.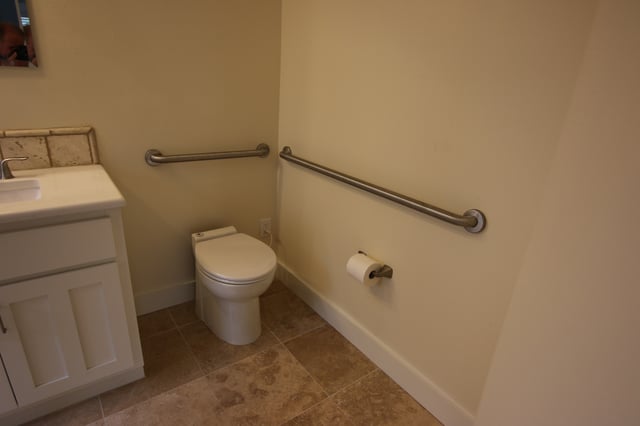 Remember to choose a remodeling contractor with ADA experience who is CAPS certified to show you how to get the greatest accessibility for your evolving lifestyle.