There are three categories of aging in place customers. Those who are simply and wisely planning ahead for their futures to remain in their present homes. The second category concerns those people who know they have a chronic medical disorder and need to prepare in advance for accessibility issues which will come as a result of their disease. People with diseases that are constantly causing increased physical or mental changes to their being are a good representative of this second group. The third group involves those people who either have had a chronic problem that has progressed severely altering their mobility or those who have sustained a life altering tragedy such as being involved in an accident. All of these groups will drive the future metamorphosis of existing inaccessible dwellings requiring bathrooms with disability access. The goal of Austin ADA compliant remodeling and an accessible bathroom design in Austin is to make the bathroom a safe space for everyone who uses the facilities. Aging in place services use design techniques to accommodate wheelchair use and can make the bathroom more comfortable for all generations with or without specific needs. It is important to carefully outline the scope of work during the remodeling of an accessible bathroom by first taking inventory of the users capabilities, needs, and preferences. All disability home remodeling or disability bath remodels in Austin must be done considering all the data provided by the client, his or her family, and any caretakers involved. CAPS certified remodeling and aging in place design must be carried out by an aging in place specialist and residential remodeling professional.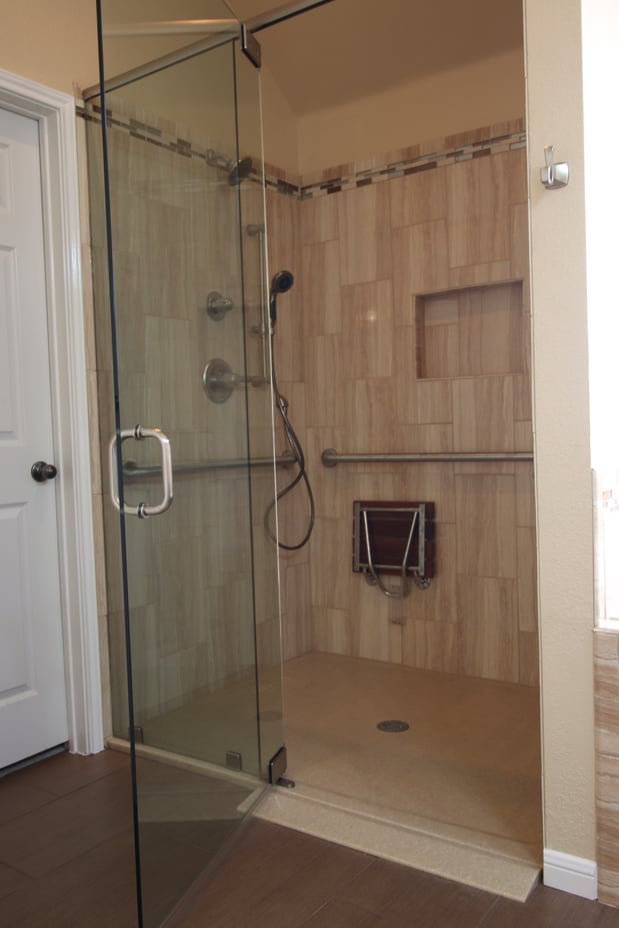 Many people find themselves needing accessible homes for themselves or family members. There are approximately 30 million Americans using wheelchairs and the number of people who need accessible homes will continue to increase as disabled and aging people are finding more ways to remain living in their homes. One important way to increase independent living is making a home accessible to any individual personal needs. Home modifications can increase safety, accessibility, and independence for people who want to live independently.
Millions of Americans are living longer and have more active lives. While this group is embracing newly found and changing lifestyles, a need to revitalize their home environments has come about. Identifying this major opportunity while developing the skills to interact with those needful homeowners has created a new type of elder remodeling. A certified aging in place specialist or CAPS home remodeler has completed the coursework and training in how to help keep existing homeowners in their homes longer. They will be listed in a national directory compiled by the NAHB in Washington.
The National Association of Home Builders, in partnership with the AARP and Home Innovation Research Labs, created the CAPS program, which includes training and education on the technical, business management and customer service skills essential to compete in the fastest growing segment of the residential remodeling industry--home modifications for aging in place and ADA accessibility in Austin, Texas. David L. Traut, CAPS the owner of T-Square Company in Austin, Texas is one of the select group of professionals nationwide to earn the Certified Aging-In-Place Specialist (CAPS) designation, identifying him as a home remodeler and builder with the skills and knowledge necessary to remodel or modify a home to meet the unique needs of the older population, disabled owners, or their visitors.
The new evolving concept known as Universal Design for home remodeling is catching on nation wide and has been for several years as a sign of the times. Universal design techniques used in building makes a home more accessible to all regardless of their mobility or adaptive abilities. An evolution of new products used for disability home modifications is making those homes more accessible and has finally come about in the remodeling industry. These new advances in accessible home remodeling in Austin not only keep the living environments safer but will not compromise the home's aesthetics.
The three main rooms involved in aging in place home modifications are the bathroom, the kitchen, and the family room in that order. These areas make up the most occupied spaces of any home and will be connected by a designated accessible route. Here we will need access through wider doorways, non slip floor surfaces, and adequate cabinet and plumbing fixture accessibility. What is more important is that we must observe safety for everyone as the baby boomers choose to age in place within their homes. Just remember one thing and dispel any myth that aging in place construction and remodeling must appear institutional or out of the ordinary. When the work is done with style and taste it will only compliment the home.
An accessible bathroom should try to maintain a five foot turning radius for wheelchair use if at all possible. Have your plumbing facilities brought into compliance to enable freedom and safety. The use of grab bars withing the tub or shower and around the toilet can be very helpful insuring your safety for maneuverability. These should be installed at 34 inches above the finished floor to safeguard your use of them. Having roll under capability for the new 34" high vanity can be very helpful while you are in the wheelchair. Exact clearances of 27" high and 32" in width should be complied with underneath the vanity. The proper safety equipment should be installed on the plumbing pipes that don't allow scalding of your legs. The toilet may need to be replaced providing a comfort level height that is around 18" in height for easier access. The tub or shower may need to be altered to become only a shower with roll in or possibly transfer capabilities. All of these changes must be done along the ADA guidelines for your safety.
The door width requirement of 32" or more will be true for any room in the house if you are to enter them barrier free. The kitchen, your bedroom, and any other rooms you require accessibility to enter could be affected. Even the closet door within your bedroom will need to be wide enough so that you can manage getting your clothes to dress. Any other bedrooms that you may need to enter with your wheelchair will also need alterations.
The accessible kitchen is another story altogether. You will at least need the roll under capability as mentioned above at the sink. Upper kitchen cabinet heights may become an issue if you still plan to do meal preparations. No matter what you end up doing, make sure to hire an experienced building professional who understands the ADA guidelines for your well being.