Including Universal Design ideas when periodically remodeling anywhere within the home and especially in the bathroom means the design personally fits a family for a longer period of time. Universal Design contains the natural ability to adapt with people. Many times, an existing bathroom's layout is changed regarding fixture arrangement and orientation to increase efficiency. Remodeling an existing bathroom using Universal Design possibly involves changing the wall configuration for a more open feeling. Additional space is needed in the bathroom once caretakers providing assistance are required for aging adults or young children.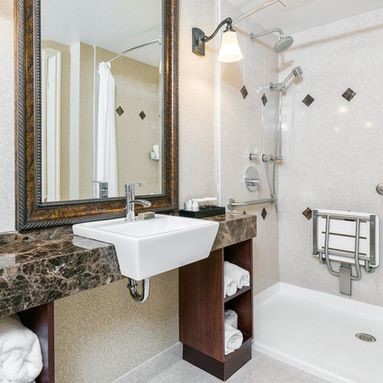 Modifying the bathroom following practiced wheelchair accessibility guidelines is a great place to start a Universal Design remodel in any home. The expanded clearances involved create a more comfortable and roomy environment for every family member. Universal Design principles provide access for the users of wheelchairs or walkers including everyone else including children. A functional, well organized, and attractive layout placing the items used in close proximity and within reach of the users meets the needs of most homeowners including children and aging adults. This includes people with limited mobility or impaired reach due to physical or medical conditions. The diversity of all people is accounted for. Therefore, it represents a perfect design concept for multi-generational households. Regarding the current multi-generational living environments there are varying participants of many ages with multiple sizes and abilities within the family group indicating the need for Universal Design's use throughout the home. A major difference in these special family units is a better probability function and dexterity is negatively affected by a group member.
Planning for the future involving Universal Design principles is so important with any remodel for both now and in the future. Using Universal Design to remodel a bathroom space increases aesthetics, sustainability, usefulness, and safety while lending itself to privacy in a functional surrounding. Universal Design bathroom accessibility includes opening up the area with a clear five foot diameter in case a wheelchair is needed, adding grab bars or handrails throughout the home (or at least blocking for them for a later time when needed), adding a seat within a roll in shower, lowering upper cabinets and counter tops, providing an accessible comfort height toilet, offering at least one vanity sink with roll under capability, adding non-slip flooring, widening hallways, and widening doors. Privacy, sense of belonging, sense of control, and the feelings of safety and security make up the quality of life for any home and are considered for any successful Universal Design project. The reasons for embracing these ideas go beyond aging and disability. They include being an asset for children, is inviting to visitors, it promotes long term health and wellness, works well for seniors, all this paired with the fact it is smart and invisible.
Designing task oriented bathroom fixture locations takes into account their use, placement, or how they make up the bathroom environment. This defines the current way of thinking universally. A clear floor space of 30 by 48 inches is provided for approaching all bathroom fixtures. These areas can overlap one another and the five foot turning radius within the design. Always choose quality plumbing fixtures and fittings easily controlled using a single hand motion or a closed fist. Motion controlled sensor fixtures offering hands free operation are a possibility when specifying fixtures and finishes. Sometimes, the master bath today is one of the busiest rooms in the home. It has the potential of becoming the family bathroom. If young children are a part of the family, bath time transforms the bathroom into a very busy and crowded area. If aging parents are visiting, they also need their time in the bathroom because it is a larger and safer space.