What does CAPS stand for?
First of all, CAPS stands for Certified Aging in Place Specialist. The aging societal changes and inventory of inaccessible existing houses created the need for a CAPS certification program. This designation program, offered through the National Association of Home Builders, NAHB, in collaboration with The American Association of Retired Persons AARP, incorporates components of assessment, technical knowledge, and management skills related to disability home modifications used to help people stay at home safely and independently for a longer time. The program was developed in 2001.
How do I receive a senior home assessment?
Simply contact T-Square Company at www.tsquareco.com or call 512-444-0097 to schedule an appointment and find out what is involved. David L. Traut, CAPS (#1636580), the owner of T-Square Company in Austin, Texas, is one of the select group of professionals nationwide to earn the Certified Aging-In-Place Specialist (CAPS) designation, identifying him as a home remodeler and builder with the skills and knowledge necessary to remodel or modify a home to meet the unique needs of the older population, disabled owners, or their visitors. T-Square Company offers turn-key design/build projects to help with senior living solutions in Austin.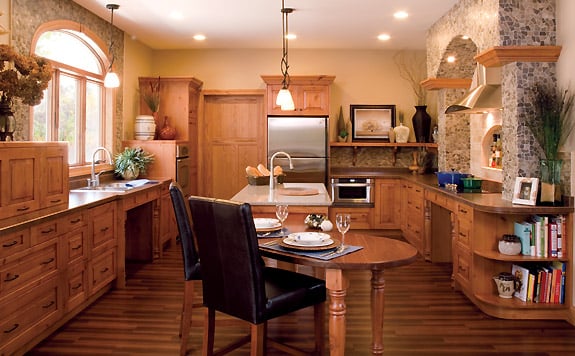 What can I gain from a certified home assessment?
During a home assessment for increasing accessibility, the structural needs of the client will be noted and documented through sketches, photos, and conversation. All the surroundings will be considered, from the flooring to the layout of a specific room or location as it pertains to the inhabitant's ease of usability. The physical and emotional needs of the occupant will also come into play because of mobility, sensory, or cognitive concerns. The goal is to modify the home in a custom manner to provide for the occupant's maximum health, independence, and safety. Often the input from any caretakers like a physical or occupational therapist during the assessment phase can prove invaluable. The three main rooms involved in Aging in Place home modifications are the bathroom, the kitchen, and the family room. These three areas comprise the most occupied spaces of any home and will be connected by a designated accessible route.
What are the five best home modifications for seniors Aging in Place?
Seniors' five basic needs involve installing ramps, access through wider doorways, bathroom renovations, kitchen alterations, and non-slip floor surfaces. Freedom to move about the home without encountering architectural barriers and increased usability is the goal of the process.
What Are The Benefits of Aging in Place?
Reasons for choosing to Age in Place include staying in your existing home surrounded by your neighbors and family and avoiding the prohibitive cost of senior living communities or assisted living. While it may be overwhelming to consider aging in your own home and the costs of the modifications required, many temporary and permanent options can help you stay in your home well past retirement. We all must observe safety for everyone as the baby boomers choose to Age in Place within their homes.