Austin Kitchen Remodeling
Call 512-444-0097 Today!
Remodeled Kitchens In Austin
Austin Kitchen Cabinets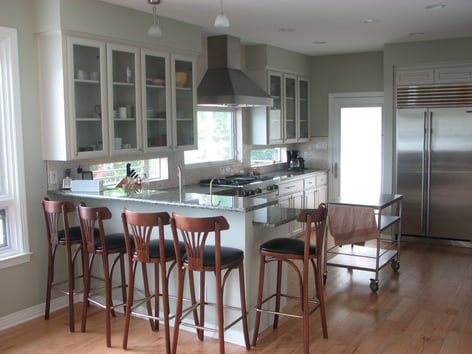 Kitchen Remodeler Austin, Texas
T-Square Company has been successfully designing and remodeling kitchens in the Austin area for over 30 years!
We offer expanded additions to your existing kitchen layout or enhance and streamline your existing work space.
We solve specific kitchen storage problems providing pull out shelves, specialty drawers, mixer lifts, dough boards, vegetable bins, and plate racks.

We offer

many door styles including laminated or wooden flat plane faces, shaker, flat or raised panel of varying designs, and lip molded doors.

We build custom pantries with fold out and pull out ability.


We design and build kitchen islands to solve your expanding kitchen needs.

We offer both traditional and ADA compliant kitchen cabinets.



Ten Kitchen Expenses Worth the Investment

1) Having a second sink: Typically existing in an island, it is placed outside of the main cooking and cleanup zone so a second chef can prep food, wash their hands for dinner, or a space for bartending during parties without getting in the way of the kitchen's main functions.

2) Paneled cabinet ends: These decorative panels, which are essentially oversize doors fixed to any exposed sides of cabinets, give your kitchen a custom-built, furniture-like look.

3) Full-extension, soft-close drawer glides: Installed under or on the sides of a drawer, allow it to pull completely out of the cabinet so that you can reach everything inside. Plus, they eliminate slamming with their "dampering" closing mechanism.
4) Pull-out Shelves verses Doors: Doors can become architectural barriers to anyone with limited mobility or who is performing kitchen duties when seated.
5) Pot Fillers: They are available to fill pots while sitting on the stove.
6) Pull out mechanisms in blind corner cabinets: Too often items can be lost beyond sight within blind corner cabinets. These devices bring the contents out in plain sight.
7) Installing multiple height cabinet work surfaces: Multiple cabinet heights from 28-36 inches satisfies a wider number of kitchen users from grandma using a wheelchair to young child helpers.
8) Storing kitchen items in the vicinity where they will be used: Having kitchen items, especially the heavier ones, near their point of use increases kitchen efficiency.
9) Installing pull down shelf mechanisms in upper cabinets: This universal idea satisfies shorter people's desire to see the cabinet contents along with cooks in wheelchairs.
10) Providing wider passageways between cabinets: This concept not only helps with congestion for anyone using a mobility device but it also makes appliance deliveries easier.
Using Face Frame Cabinetry with Raised Panel Doors And Granite Top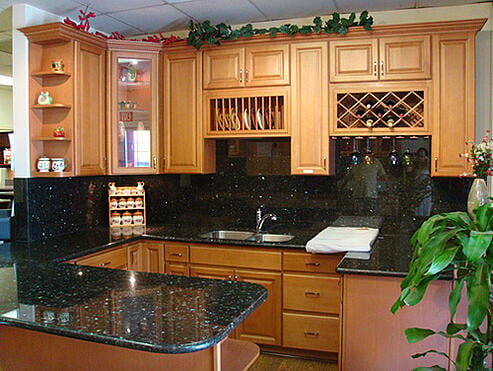 A Modern Frameless European Kitchen Design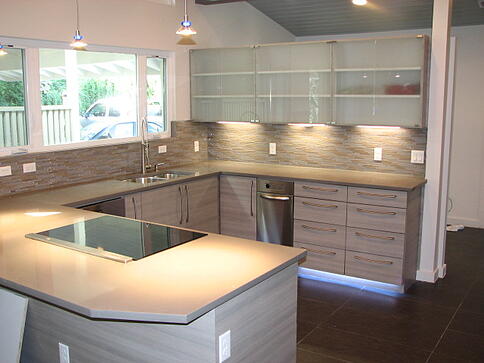 Traditional Kitchen Cabinets With Square Shaker Doors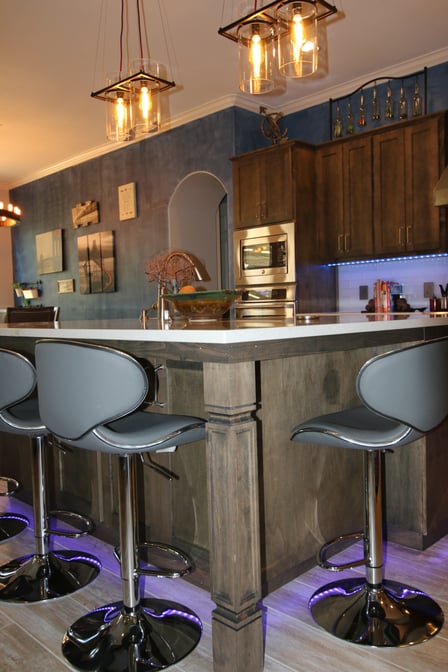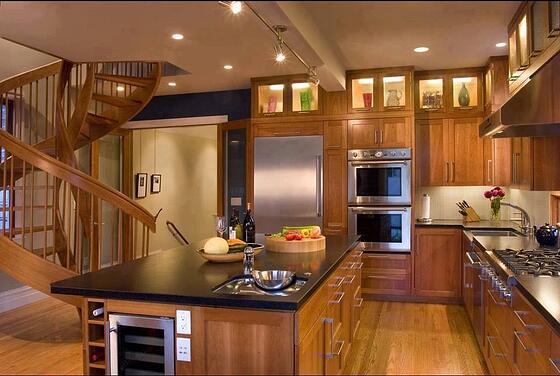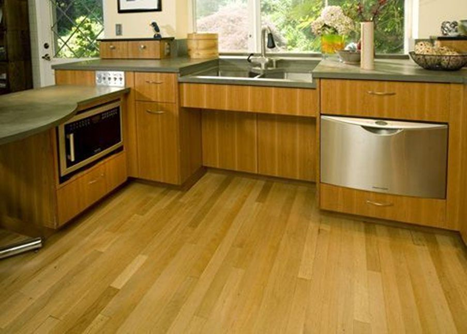 A Copper Backsplash Accents This Commercial Look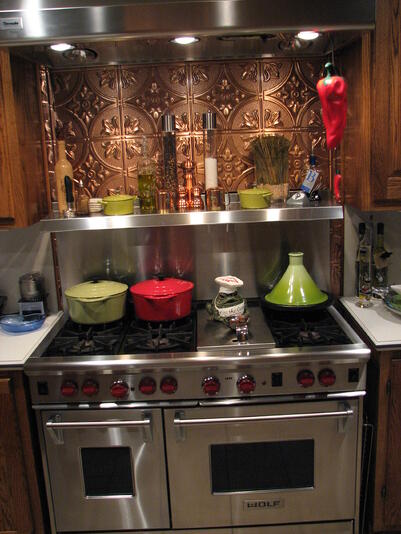 Custom Kitchen with Stained Maple Raised Panel Doors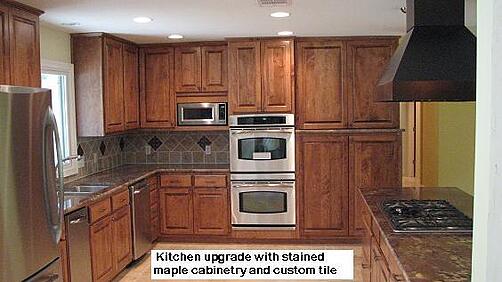 A Cozy Corner Kitchen With Plate Rack and Elevated Dishwasher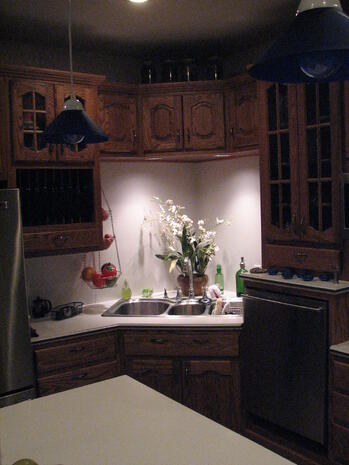 A Highly Functional Kitchen With Raised Panel Doors And Cabinet Ends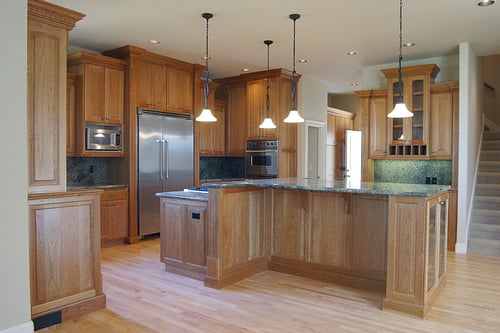 Ornate Kitchen Designs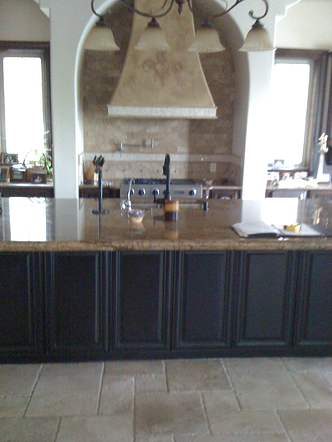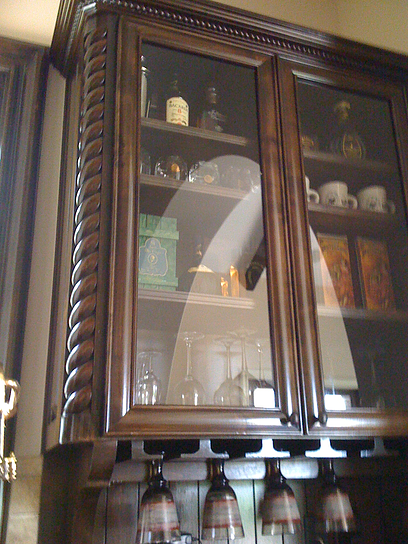 An Angular Kitchen With Stained Red Oak Double Arched Raised Panel Doors On A Northern Face Frame Carcass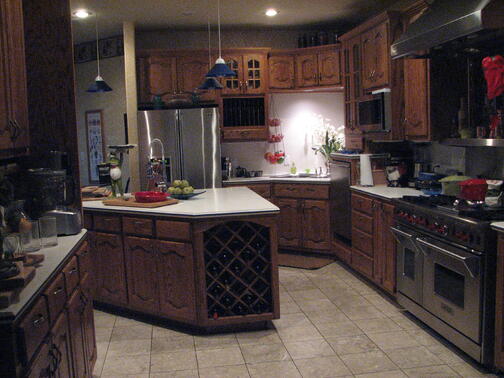 An Upgraded Kitchen Using Flat Panel Wood Doors and Granite Tops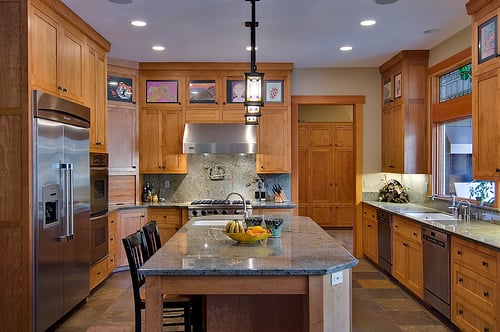 We Offer Custom Kitchen Transformations