While it may not be possible for every older adult to live independently in their existing home forever, there are many modifications that can be made to the home to increase safety and make it more functional for the homeowners to remain in their own homes longer. By gradually implementing home alterations that support aging in place, today's seniors maintain their independence, and in the long run, may save a substantial amount of money on senior living.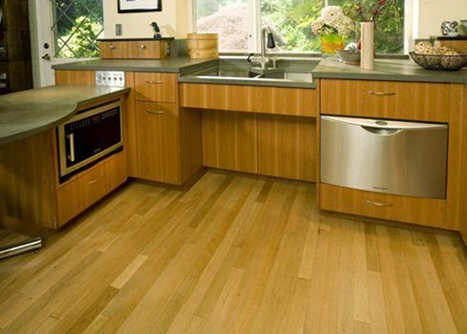 More seniors are opting to age in place than ever before. This trend is driven in part by the rising costs of long-term care, coupled with the rapidly growing senior population as the Baby Boomer generation ages. This particular generation is enjoying a more active, vibrant lifestyle than all other previous generations. Increasing technology and the wider availability of personal services, such as home meal delivery, are making it easier for seniors to remain in their own homes independently. However, aging in place is not for everyone, especially when major disabilities are involved.
As with any successful endeavor, You must establish a reasonable plan of action to age in place. This action will involve the input of all parties associated with the homeowner(s). The participants include caregivers, occupational therapists, physical therapists, extended family members, and any other professional medical personnel. Steps taken to move in a positive direction include:
Take note of your personal abilities and any difficulties you have moving around your home within specific areas.


Seek out a professional assessment of your home provided by a CAPS (Certified Aging in Place Specialist)member.

This way you know that you are in good hands because sometimes the renovations required to accommodate a senior or any disabled person, regardless of age, are no easy task and instead take a lot of time, knowledge, and effort

.
If you live in a multi-story home, combine the main rooms for activity on the first floor. If this isn't possible, entertain the idea of installing a stair-lift, or better yet, an elevator in your home.


Widen all doorways to 36-inches, and include pocket doors in certain areas to limit architectural barriers caused by swinging doors. Make sure there is at least one no-step entry into the house. Install lever-style door hardware when possible throughout the home.

Install a slip-resistant floor throughout your home using wood flooring, cork, rubber, or porcelain tile. Be mindful of the chosen flooring's hardness in case of falls. Carpet offers too much resistance when using any mobility device causing tripping, falls, and instability. Ensure all transitions when changing floor materials are as smooth as possible and below 1/2 inches in height.


Take note of any lighting issues producing dark areas in any room. Add layered lighting throughout the home to increase safety.


Reduce the clutter in all rooms and provide a clear five-foot turning radius in every room.


Reduce the number of doors on cabinets opting for full-extension pull-out shelves or drawers.


As for the bathroom, provide a walk-in or roll-in shower with grab bars on all sides versus a garden tub. A hand-held and fixed shower head provides options for the user or caretaker. A roll under vanity is great for wheelchair use or applying makeup from a seated position. A comfort height toilet associated with grab bars reduces the discomfort of deep knee bends.


For the kitchen, make it as adaptable as possible to suit the needs of child helpers or granny in her wheelchair. Offer varying cabinet heights and work surfaces. Plan for the shortest work triangle formed by your main sink, refrigerator, and stove locations. Raise your dishwasher 9-12 inches above the floor making it easier to load and unload for everyone.


Last, but not least, comes the laundry. Install side-swinging doors of opposite swings for the washer and dryer enabling you to simultaneously access both machines from the middle. Don't forget to set the machines on a pedestal to raise them above the floor, in case you ever find yourself using a wheelchair.


T-Square Company, located in Austin, Texas offers complete design/build Aging in Place Services to its clientele. David L Traut, the President, and owner of T-Square Company is national CAPS certified and has been doing successful accessibility remodels, additions, and construction for over 30 years. Some of our clients include HUD, the VA, and many private homeowners. Contact us today to see how T-Square Company can help you solve issues to streamline your home accessibility to Safely and Comfortably Age in Place in your existing home.