ADA guidelines state that accessible sinks shouldn't be mounted higher than 34 inches above the floor for adults. For children, the sink should be set at 29 inches maximum above the finished floor. Both these heights are dependent on the individual using the sink and are truly a set of guidelines. Adults should have a knee clearance of 27 inches high by 30 inches of width with 11-25 inches deep. For children or smaller adults, a knee clearance of 24 inches above the floor is recommended. All sinks for the handicapped user should have no more than a 6 1/2 inch depth.There should also be a clear associated floor space for approach in front of the vanity which measures 30 by 48 inches. This clear space is needed to approach all bathroom fixtures and the clear spaces can overlap within the bathroom design. To assure a clear floor space the lavatory must be installed at 24" from any side wall measuring from the center line of the sink. The distance from one sink to another if using a double lavatory layout should be at least 30" center to center. In the case of wall hung freestanding sinks the minimum distance between them should be 4" between the sink edges. A clear 24 inch reach distance must be observed to help assist a seated person.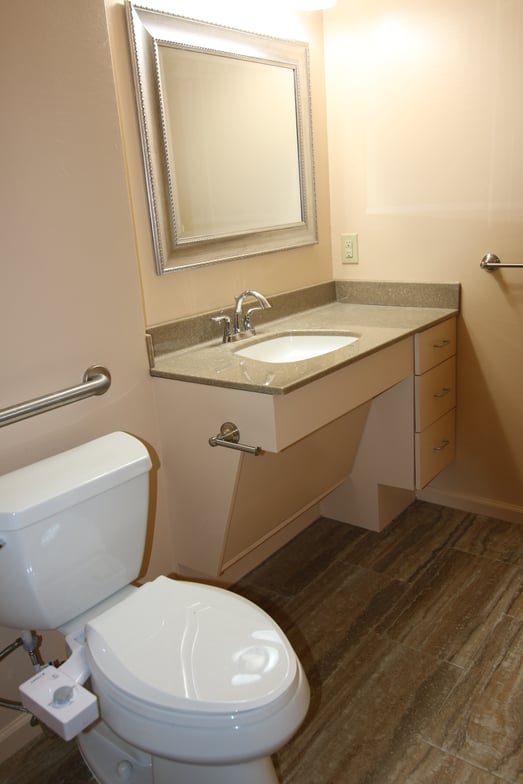 There is no one set of dimensions which works for everyone with special needs since everyone is different. Bathroom cabinets in Austin vary by style and usability needs. There are basically two styles of ADA bathroom vanities that comply with an unobstructed 27" tall roll under area below the sink. ADA sinks with a rear drain location provide for better plumbing drain hook ups. This modification has everything to do with both the water supply lines and the waste line connecting the sink. There must be provisions made to protect the user from being scalded when coming into contact with any one of the plumbing pipes serving the sink. These connecting pipes may become heated merely by the water passing through them creating the problem. The open type model should always receive both waste and supply insulating jackets applied directly to the pipes providing protection for the wheelchair user. The closed model concealing the pipes will be equipped with a removable face or face board covering the pipes. This pipe concealing panel must be installed at the correct wheelchair user clearance angle. This allows for the needed unobstructed legroom required for the user. The vanity can extend beyond the sink but the area containing the sink is required to have this roll under capability. This section of the vanity top must not be any taller than 34 inches above the finished floor with sufficient lower leg clearance. Clear unobstructed reach distances around the counter top area must be observed. Any motion controlled sensors integrated into the various dispensing devices and/or plumbing fixtures throughout the restroom present a true hands free benefit to all the restroom users. If these aren't in the budget then at least wrist handles used for controlling the faucet can be incorporated into the design of the vanity. Furthermore, automatic flush valves should be used on all toilets and urinals that provide for hands free use.
Finding a disability contractor familiar with the guidelines of Elder construction and accessibility for people with special needs can be quite difficult. Be sure to check out the credentials of any potential bidders you contact. Also be sure they understand that the alterations you are seeking are for wheelchair accessible home remodeling and modifications. Furthermore be sure this person knows and practices both the federal and most importantly your state's requirements before entering into any contract. We offer complete handicap accessible floor plans generated around our individual clients.
Aging in place home modifications are available through T-Square Company. We are a certified aging in place (CAPS) specialist. Each design/build situation will be customized to fit your personal needs. Call 512-444-0097 today to begin the accessible second chapter of your life while remaining safe and secure in your existing home. CAPS #1636580
Let's face it, accessible homes are needed by all of us at some time in our lives. This is true whether it's for ourselves, a family member, or a guest. The need is certainly not driven by age but is a result of life's experience. Any family living with disability among any of the generations within it's group can always benefit from additional accessibility. This will in turn increase safety and independence for all involved as they go through life.